California
Why Vic's Ice Cream is the Best Retro Diner in Sacramento
For more than 70 years, it doesn't get any better than Vic's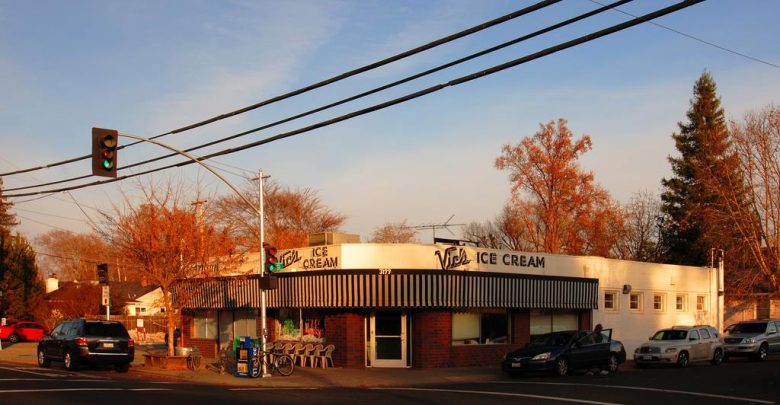 Everyone loves a unique restaurant with delicious food, and Sacramento is the perfect place to go to find just that. From burger joints to upscale eateries and everything in between, this old city has something for everyone.
Of course, one of the best restaurant types out there is the old-school diner. Luckily, Sacramento has plenty of those, and every single one is awesome in its own way. That said, as far as we're concerned, Vic's Ice Cream is the best of these retro diners. After all, ice cream is a food group of its own, and since this diner has chosen to add ice cream to its name, they are way ahead of the game.
Obviously, we love ice cream, but that isn't the only reason Vic's gets the top pick. Read on the learn why this tiny food stop is—in our humble opinion—the best diner in Sacramento.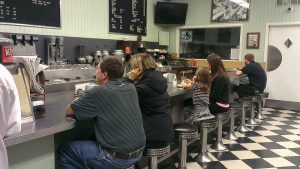 Adorable Atmosphere
The first thing you'll notice upon entering Vic's is the adorable atmosphere. The building hasn't changed since the late 1940s when it opened, which is 100% a good thing.
From the moment you step foot on the checkerboard floor tiles, you are transported back in time. Everything from the swiveling bar stools to the decor takes you back to a simpler time, and we just can't get enough of it!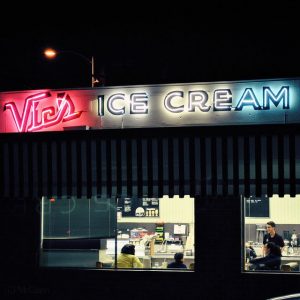 Nostalgic Vibe
Vic's Ice Cream is a popular neighborhood hangout and has been for 70 years (and counting). Therefore, many locals grew up heading to this happy little place for a special treat on hot summer afternoons, or a cocoa after school on chilly fall days. It's a huge part of the community, and a place many feel at home.
That said, even if you didn't grow up getting ice cream at this corner shop in the Land Park area, you can feel the nostalgia that lives here as soon as you open the door. Places with a history like Vic's are hard to come by, and the nostalgic vibe it creates is truly magical.
Convenient Location
For those who live in Land Park, Vic's is in an incredibly convenient location and can easily be reached by bike, which is how most locals choose to make the trip.
However, this little diner is actually well situated even for those who have to visit by car as well. The shop is right off the interstate, and since it's in Land Park, a walk after enjoying your meal or treat is a must.
The one drawback to driving to Vic's is the fact that parking is relatively limited and fills up quickly. To get around this, try visiting during off-hours.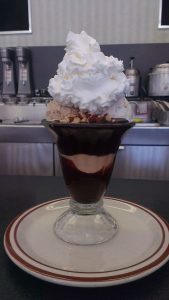 Incredible Ice Cream
As the name suggests, the main draw at Vic's Ice Cream is, well…the ice cream. This stuff is seriously delicious and not to be missed by anyone who finds themselves in the Land Park area.
Vic's makes all of their ice cream onsite, and you can rest assured the scoops you're getting at this little shop are super fresh. To top it all off, the ingredients used when making this ice cream are as good as they get, adding to the sweet, fresh, melty deliciousness that is Vic's ice cream.
Not sure which flavor to get? People rave about the mint chip flavor here, and the peanut butter cup is just as good. Of course, you can never go wrong with cookies and cream or rocky road.
Tasty Sandwiches
Sure, Vic's serves amazing ice cream, but that isn't all they serve. While the diner's menu is a bit limited, they do offer a small selection of absolutely delicious sandwiches.
As simple as they are, the tuna sandwich, hot dog sandwich, and grilled cheese served up by the Vic's staff are incredibly well made and definitely a perfect lunch or light dinner. Go ahead and order one before you get ice cream and you'll see what we mean!
Specialty Drinks
In addition to the awesome menu items mentioned above, Vic's also has some pretty awesome specialty drinks. They have the things that every old-fashioned ice cream parlor should have—such as floats, ice cream sodas, and malts—but they also have some things that are a bit more interesting.
"Lime Rickey", for instance, is a fresh squeezed lime soda that couldn't be any more refreshing. Another favorite is the "Suicide" which is a secret blend of sodas that tastes unusual yet still delicious.
Additional Desserts
As if amazing ice cream and awesome specialty drinks weren't enough, Vic's goes even further and offers some take-home desserts that are just perfect for parties and events. Their ice cream cakes are to die for, and the ice cream pies provide a convenient way to serve up delicious Vic's ice cream to a large group.
Of course, the little ice cream-filled, chocolate-covered bonbons are pretty great as well, and make it super easy to snack on a small amount of ice cream rather than overindulging on a full scoop.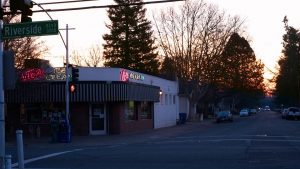 Helpful Staff
The staff at Vic's Ice Cream always have been—and always will be—friendly and helpful. These awesome people understand the kind of experience guests want when coming in for a special treat or a hot meal after a long day, and they provide just that. Not only that but they do all of these with a smile because honestly, who could serve up scoops of incredible ice cream with a frown?
Nearby Cafe
In addition to this old-school ice cream parlor, Vic's also owns a cafe that is conveniently located right next door. Of course, this little coffee shop is nearly as good as the original Vic's eatery and is well worth a visit. This is especially true if you're looking for high-quality coffee or a more substantial meal than what's offered at Vic's Ice Cream.
These are just some of the reasons we adore this local retro diner. We could keep going, but instead, we'll let you discover for yourself just how awesome this popular place is.