Florida
Central Florida: 5 Great Spots Most People Overlook
Zoos, parks, museums and so much more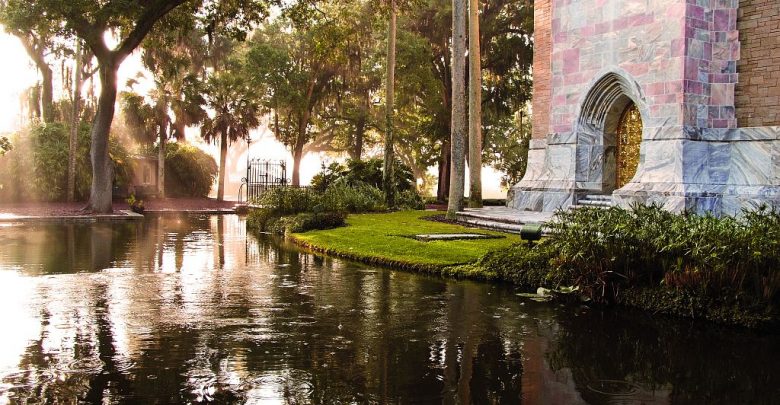 Central Florida is known as the Theme Park Capital of the World, and it is also the top family tourist destination in the United States. That doesn't mean that you will find only roller coasters and funnel cakes if you are visiting or if you are local. There is much to do in the area that you may not know about. There are parks, museums, shops, great dining experiences, and so much more. In fact, it is easy to spend a decent amount of time in Central Florida and not visit one theme park! Here are five great spots and places that are too often overlooked in Central Florida. They are great for tourists as well as people who call the Sunshine State home.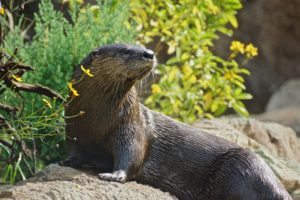 Central Florida Zoo and Botanical Gardens
3755 W. Seminole Boulevard, Sanford, FL
The history of the Central Florida Zoo dates back to 1923, although it's been in its current location since 1975. There are over 400 animals that call the Central Florida Zoo home. You'll see monkeys, lemurs, leopards, many different species of birds, plenty of reptiles, and more. For the kids, there's the Barnyard Buddies Children's Zoo, and on certain days you can feed giraffes. There is a carousel and a train, but the thrills don't end there. Central Florida Zoo is also where you'll find Zoom Air Adventure Park. That's a zip line area with three different courses. The whole family can cool off on a hot day at the Wharton-Smith Tropical Splash Ground. Events such as Sunset at the Zoo and Night Hike at the Zoo take place on a regular schedule. The Central Florida Zoo has teamed up with several conservation organizations, and also operates the Orianne Center for Indigo Conservation, which helps eastern indigo snakes. Central Florida Zoo and Botanical Gardens is open year-round, except for Thanksgiving and Christmas.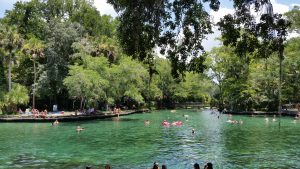 Wekiwa Springs State Park
1800 Wekiwa Circle, Apopka, FL
Central Florida is known for theme parks, rushing from place to place, and crowds. At Wekiwa Springs State Park, you won't experience any of those things. The atmosphere is so peaceful that you might forget that you aren't far from the busiest theme parks in the world. Wekiwa Springs State Park is a popular swimming destination for locals. The water remains at 72 degrees all year long, making it refreshing on a hot day in July. Snorkeling is also possible at the park. Keep in mind that there are no lifeguards, all activities are at your own risk. If 72 degrees is a little bit cold for you, there are miles of hiking trails. The longest trail is over 13 miles long. Geo-Seeking is also becoming popular within the park. Wekiwa Springs State Park is known for wildlife viewing, and there's also canoeing, kayaking, and an equestrian trail. At Wekiwa Springs State Park, you'll get a taste of what Central Florida used to be like decades ago.
World of Chocolate Museum and Cafe
11701 International Drive, Suite 400, Orlando, FL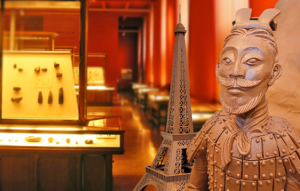 Even though the Orlando area is known for rushing from one ride to the next, there are also plenty of quirky places that you can visit if you want to spend a day at a more relaxed pace. One of those is World of Chocolate Museum and Cafe. Located in the heart of the tourist district, you will start your self-guided tour by learning a bit about the history of chocolate. Next, you'll see 25 sculptures that have been created out of solid chocolate blocks. They include landmarks such as the Eiffel Tower and Mount Rushmore. The third part of the tour will teach you how chocolate is made. Finally, you'll reach the tasting section, where you will sample some of the finest chocolate that you've ever tried. There is a cafe there as well, you can order many different chocolate creations, as well as paninis and a few other non-chocolate selections. World of Chocolate also features a wine Happy Hour on weekdays. Of course, you can pick up some delectable treats to take home. World of Chocolate Museum and Cafe is open seven days a week.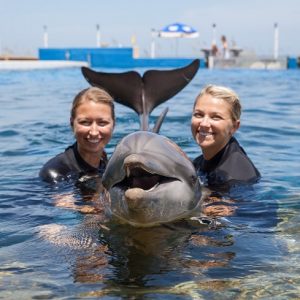 Marineland Dolphin Adventure
9600 Oceanshore Boulevard, St. Augustine, FL
Located on the eastern coast of Central Florida you'll find Marineland Dolphin Adventure. It is billed as "the world's first oceanarium". It was one of the first parks for marine animals in the State of Florida, it dates back to 1938. Marineland might be best known as a place to swim with dolphins, but there is much more to it than that. There are several different dolphin related programs that you can sign up for, including a chance to be a Trainer for a Day. Marineland is also known for educational and conservation programs. There are adventures off property, such as Eco Excursions and Fins & Freedom Tours. For those looking for a memorable place to say their vows, there is a wedding venue on property. Special events and birthday parties can also take place there. Marineland Dolphin Adventure is accredited by the Alliance of Marine Mammal Parks & Aquariums and the International Marine Animal Trainers' Association.
Bok Tower Gardens
1151 Tower Boulevard, Lake Wales, FL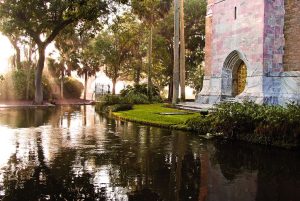 If you've ever driven through Lake Wales, you've probably driven right past Bok Tower Gardens, but have you taken the time to stop and see what the tower is all about? Bok Tower Gardens is a National Historic Landmark, but there's more to the property than that. The tower itself is referred to as The Singing Tower. Carillon bells play twice each day from the 205-foot tower. It was designed by architect Milton B. Medary. There is also a magnificent garden that is home to 126 species of birds and many other animals. There are both paved and mulched pathways, and there is a children's garden as well. Programs are held year-round at Bok Tower Gardens. There is a Visitor Center, an Exhibit Hall, a cafe, and a gift shop. The history of Bok Tower Gardens goes back to the 1920's, and it is definitely worth a visit.