New York
New York's Most Awesome Live Music Spots
From the iconic to the modern, NYC has your magical music moments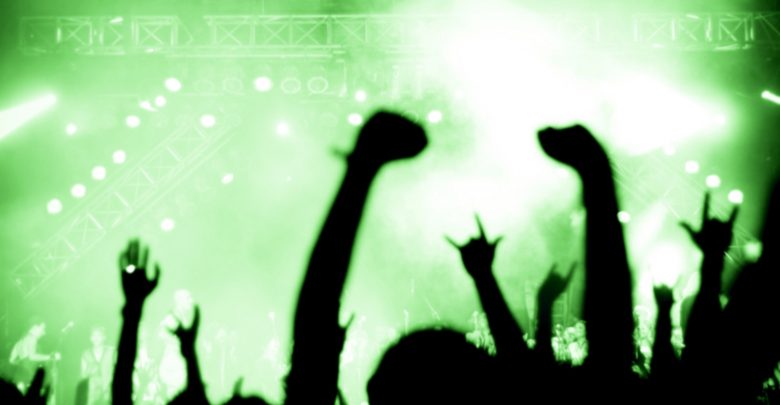 There is perhaps no place in the world as vibrant and beloved as New York thanks to its incredible combination of art, culture, nature, architecture, history, dining, entertainment, and more. While New York is home to millions, even more tourists travel to the area each year to enjoy all that it has to offer. One thing that makes New York so amazing is its vast array of locations that offer up live music on a regular basis. From massive stadiums that sell out for megastars to small and intimate theaters that have rich histories and stories behind them, there is no shortage of live music venues in New York and each venue has its own amazing details and atmospheres that draw in fans of all ages. Here are the best live music spots to enjoy in New York.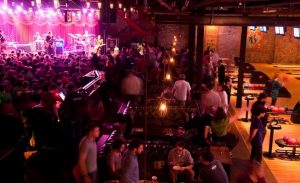 1. Brooklyn Bowl
One of the most popular locations in New York to live and visit is Brooklyn, particularly the up and coming hipster neighborhood of Williamsburg. There, visitors can enjoy amazing city views, dining, the popular Brooklyn Brewery, and a great live music venue. Brooklyn Bowl is part bowling alley and part concert venue while also serving up delicious food and drinks. Part of what makes Brooklyn Bowl so amazing is its diversity of acts that can include things like late-night electronica and disco, family concerts, jazz, salsa, classic rock and roll, and so much more.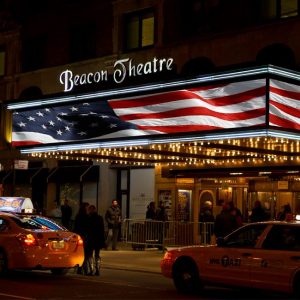 2. Beacon Theater
New York City's west side is home to a beautiful theater that has a long history that many patrons are unaware of. The Beacon Theater was built in 1929 by Walter Ahlschlager and features gorgeous art deco style architecture and details. Currently owned by Madison Square Garden, the theater continues to host a variety of musical acts and has previously held concerts by acts such as Tom Petty & the Heartbreakers, the Rolling Stones, and the Allman Brothers Band. Currently, the Beacon Theater features many live music events including artists such as Beck, Alice Cooper, Joan Baez, Hozier, Steely Dan, and Lake Street Dive.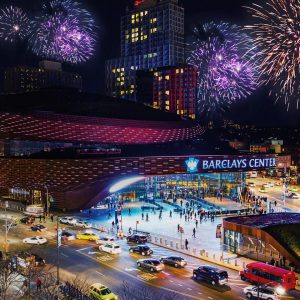 3. Barclays Center
A very popular live music venue that hosts some of the most popular artists in the world can be found in Brooklyn. The Barclays Center is home of the New York Nets and the New York Islanders and first opened its doors to the public in 2012. Since the venue is so incredibly large, it is a popular tour stop for superstars such as the Rolling Stones, Paul McCartney, Beyonce, and Jay Z. Patrons who attend a show at Barclays Center can enjoy amazing dining options and amenities while listening to upcoming artists such as Drake, Bruno Mars, and Elton John.
4. Madison Square Garden
One of the most recognizable live music venues in all of New York can be found in the heart of midtown Manhattan. Madison Square Garden is a historic venue that originally opened in 1879 with its current location having opened in 1968. Home to the New York Knicks and New York Rangers, Madison Square Garden has had its fair share of historical music events over the years including Billy Joel's record-breaking residency and the Concert for New York City held at 9/11. With the luxury of space, many very popular artists visit and sell out Madison Square Garden and some upcoming shows include Radiohead, Foo Fighters, Paul Simon, Eric Clapton, and the Eagles.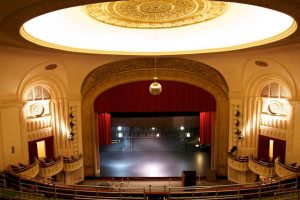 5. Capital Theater
The town of Port Chester in Westchester, New York is home to a more intimate concert venue that also has a long musical history. The Capital Theater was built in 1926 by Thomas Lamb and originally played classic films before being renovated in the 1960s for the influx and popularity of rock and roll. Historical acts such as Janis Joplin, the Grateful Dead, and Pink Floyd have graced the stage and today the theater remains as a small venue with some big acts. Visitors can enjoy upcoming artists such as Keller Williams, Rufus Wainwright, Band of Horses, and Jeff Beck.
6. Saratoga Performing Arts Center
Saratoga, New York is perhaps best known for its popular and historical horse racing history, however it is also home to an amazing outdoor music venue that many visitors love to enjoy. The Saratoga Performing Arts Center, or SPAC, opened in 1966 and has always focused on celebrating many different parts of the arts such as dance and music. Featuring only a small section of covered areas, SPAC has a festival feel with guests sitting on a gently sloping grassy area to enjoy the music. Some upcoming artists include Dave Matthews Band, Jason Aldean, Pentatonix, and the Zac Brown Band.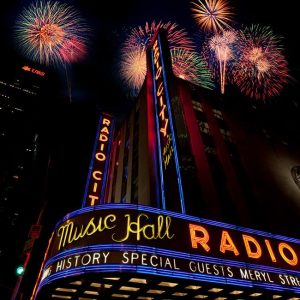 7. Radio City Music Hall
Another venue in Manhattan hosts live music all year long but is perhaps best known for its amazing Christmas entertainment. Radio City Music Hall is also owned by Madison Square Garden and originally was built by John D. Rockefeller Jr. after the stock market crash in 1929. Over the years, the beautiful theater has hosted everything from popular musical acts to films and its historic Christmas Spectacular. Currently, the space celebrates all arts, but does host a fair share of live music including upcoming artists like Britney Spears, Ringo Starr, Leon Bridges, and Ray LaMontagne.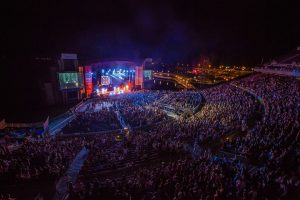 8. Northwell Health at Jones Beach
One of the most amazing live music venues in New York can be found on Long Island offering up amazing views of the beach and ocean. Northwell Health at Jones Beach is an open-air amphitheater that is currently sponsored by one of the largest hospitals in the area. Live music is always a treat at this relatively small theater as the music mixed with the ocean breeze makes for a totally unique experience. Featuring a variety of musical acts each summer season, the amphitheater is soon featuring the Foo Fighters, Weezer, Jimmy Buffet, Brad Paisley, and more.