New York
The Most Wonderful Time of Year in the World's Greatest City
The best things to do in New York City for Christmas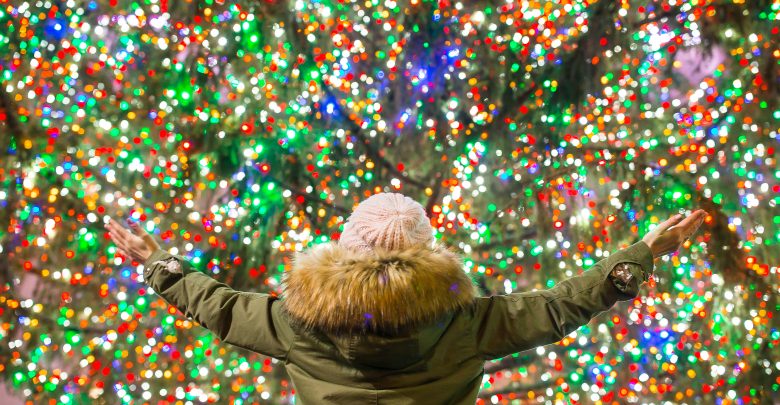 While there are plenty of amazing travel destinations in the country, none is so popular as the energetic and beautiful New York City. The iconic city is the perfect combination of history, culture, art, beauty, and more. Those who spend time in the city are sure to enjoy the endless options of restaurants, museums, parks, attractions, and more. However, there is one time of year when New York City becomes even more beautiful. Christmas is the most gorgeous time in New York City thanks to a transformation of twinkling lights, iconic traditions, and much more. From tourist attractions to dining experiences that are brimming with Christmas cheer, there is much to enjoy in the city during the holiday season. Here are the best things to do in New York City for Christmas each year.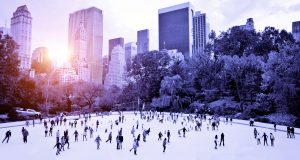 Ice Skating in Central Park
Central Park is a must visit location in New York City no matter what time of year, but the holiday season brings a new level of cheer and beauty to the location each winter. The park becomes quiet with colder temperatures and bare trees, and visitors can enjoy wandering the winding pathways and much more. On the East side of the park between 62nd and 63rd Street is a classic attraction that is very popular every holiday season. The Wollman Rink first opened in 1950 and is a 33,000 square-foot ice skating rink where visitors can lace up and skate with the park and city skyline in the background.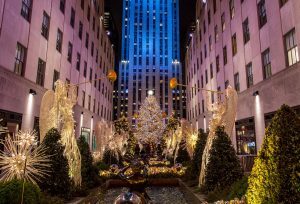 Rockefeller Center
Perhaps no Christmas activity in New York City is as iconic as visiting a massive decoration in the famous Rockefeller Center. Located on the West Side on 5th Avenue and 48th Street is the busy courtyard which is home to the Rockefeller Center Christmas Tree. Each year, the tree is meticulously selected from the country and erected in its historic location before being ceremoniously lit in a televised celebration the week after Thanksgiving. The Rockefeller Center Christmas Tree becomes even more impressive with each year and is the perfect location to enjoy a holiday photo and Christmas cheer each season.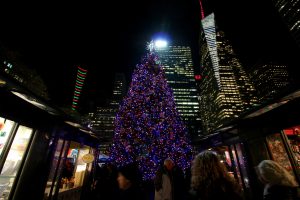 Bryant Park Winter Village
Those looking to find the perfect holiday gifts while soaking in holiday cheer and festivity can visit the iconic Bryant Park for a wonderful tradition that comes to life each season. The Bryant Park Winter Village typically begins at the end of October and runs through the New Year and offers shoppers the chance to ice skate in a massive rink before browsing over one hundred and seventy vendors that sell everything from food and beverages to handmade holiday crafts and more. This wonderful outdoor market is the perfect location to stroll through and find the perfect gifts each holiday season in New York City.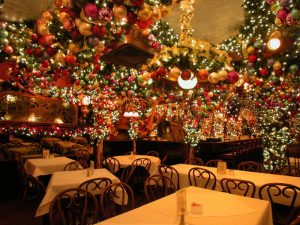 Rolf's German Restaurant
The Gramercy Park area of New York City is home to a popular restaurant that has a long history and becomes even more popular and iconic each holiday season. Rolf's is a famous German restaurant that serves up classic German dishes such as sauerbraten, schnitzel, cabbage, bratwurst, potato pancakes, and more. While the cuisine itself if delicious, Rolf's is most well-known for its holiday transformation that occurs each year. In a process that can take up to a month, Rolf's is adorned from floor to ceiling in extravagant Christmas decorations including ornaments, lights, and garlands hanging low from the ceiling above giving the dining area a cozy and intimate feel. Since both the food and decorations are both so wonderful, it is no surprise that Rolf's often is completely booked, taking reservations for the holidays months in advance. Visitors who are unable to get in at peak times need not worry- Rolf's leaves their popular holiday decorations up until the spring each year.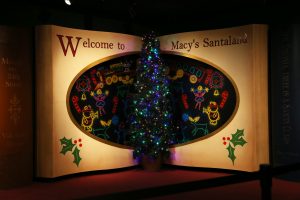 Macy's Santaland
Macy's in New York City's Herald Square is one of the oldest and most popular department stores in the city. In addition to amazing retail and historic details such as the original wooden escalators, Macy's has a seasonal experience that is extremely popular with both locals and visitors alike. Macy's Santaland is free of charge and takes up nearly an entire floor of the popular location. With free admission or the option of purchasing a photo package, visitors to Macy's Santaland is a completely immersive experience where individuals feel as though they have entered the North Pole as they work their way through Santa's buildings and more. The festive end of the experience is the chance to meet Santa himself which is a memory not soon forgotten. Since Macy's Santaland is so popular, reservations can be made in advance and the wait is well worth it for an incredible Christmas experience in the heart of New York City.