Missouri
You'll Be Charmed by These Interesting, Picturesque Small Towns in Missouri
The coolest, most adorable towns in our state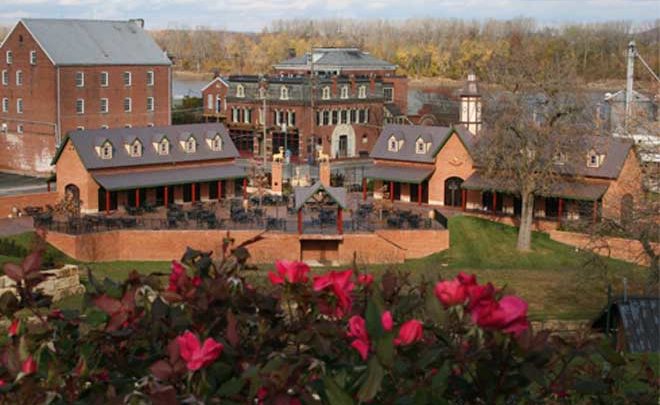 With its diverse landscape and rural roots that catapulted the United States' westward expansion, Missouri boasts some of the most charming little towns in the country. Whether you're looking to explore the outdoors, a wine festival or a new hobby, Missouri is sure to delight.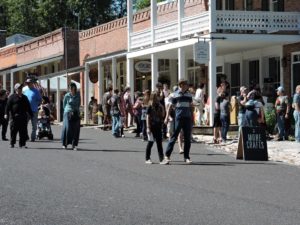 Arrow Rock
Arrow Rock absolutely oozes charm. The entire village has been designated a National Historic Site. With only 56 full-time residents in this Missouri River town, you wouldn't think it would be a destination of note, but the tiny town played a big part in U.S. pioneer history, including the Westward Expansion and Santa Fe Trail. George Caleb Bingham, one of America's great 19th century artists who captured portraits and scenes of river life, made Arrow Rock his home. Visitors can see his Federal-style home there.
Arrow Rock residents work to keep the village going. The Friends of Arrow Rock maintains 13 historic structures. And if you're looking for a bit of culture, the Lyceum Theatre, Missouri's oldest regional professional theatre, presents Broadway-caliber plays in a converted historic church.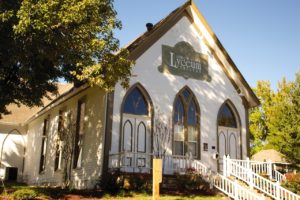 The community also hosts Missouri's oldest heritage festival. There you'll find traditional and modern artistic handcrafted items, historical reenactments and music for all to enjoy.
If you go for a visit, you will be greeted with quaint antique shops, art studios and general stores that harken back to the pioneer era. And you'll definitely find a place to stay at the area's bed & breakfasts.
Hermann
A walk through Hermann will have you second-guessing your whereabouts. Quaintly located in the Missouri River Valley, Hermann was settled by a group of German immigrants who were afraid of losing their culture on the east coast. Here, the area resembled Germany's Rhine Valley and it was secluded enough that they could be "German in every particular." The city still carries the European charm.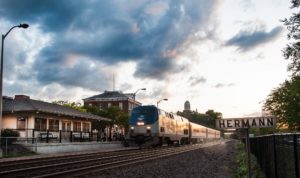 When the first few settlers came, they found they had purchased "vertical acreage" but made the best of a bad situation and planted vineyards. After 10 years, the first steamboats brought St. Louis tourists upriver to Hermann's first wine festival. And by the turn of the century, Stone Hill Winery, which still operates today, was the second-largest wine producer in the United States. Today, the seven Hermann wineries make up more than one-third of the state's production.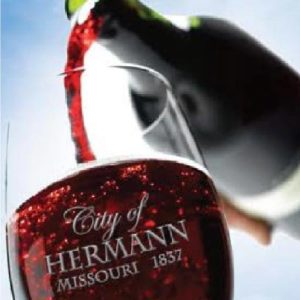 If you are ready to take a tour … and a sip … there are wine tours offered in the area, including the horse-drawn variety. Throughout the year there are themed wine trail events connecting the area wineries including the Chocolate Wine Trail (February), Farmer's Table Wine Trail (April), Wild Bacon Wine Trail (May), Berries & BarBQ Wine Trail (July), Holiday Fare Wine Trail (November) and Say Cheese Wine Trail (December).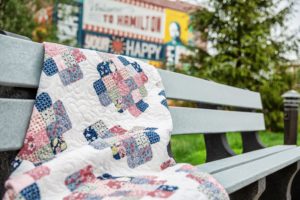 Hamilton
In the last decade, Hamilton has experienced a resurgence thanks in large part to the Missouri Star Quilt Company. With the establishment of the quilt company and its YouTube star owner, Jenny Doan, the town of 1,800 has become a quilter's paradise. Quilters from as far as Australia have made the pilgrimage to visit its 12 quilt shops on Main Street, all with a different theme. There's even a Sewing Center for quilting retreats and "Man's Land" full of comfy recliners and TVs, just in case.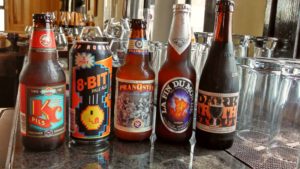 With all the new visitors, there has to be somewhere to eat. You have everything from the family-run Hank and Tank's BBQ and J's Burger Dive to Levi Garrison & Sons Brewery if you need a break.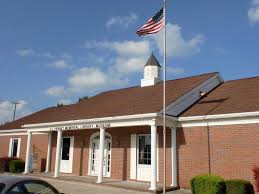 And if sewing doesn't suit your fancy, the community has plenty of cute shops and there is even the J.C. Penney Museum. Yes, Hamilton is the birthplace of James Cash Penney, the great American retailer.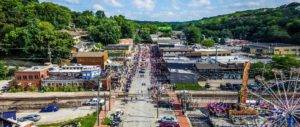 Parkville
Located just 20 minutes northwest of Kansas City, Parkville is tucked along the banks of the Missouri River, surrounded by beautiful trees. You would never know you're near the big city. And Parkville takes advantage of its secluded feel with charming shops lining its main street and art studios finding refuge in the bluffs.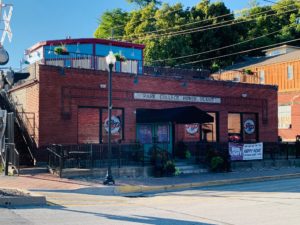 However, the shops aren't your typical craft shops. You have places like Cool Vintage Watches, the all-to-fun-to-explore Samsara Home, and the fashionable J. Quinn Boutique. The food also fits any appetite. Café de Amis is a truly French restaurant that sits on a second floor overlooking downtown Parkville, where Frank's of Parkville offers up great Italian for brunch, lunch or dinner in a hip atmosphere and the Riverpark Pub and Eatery lives up to its name.
If you make only one indulgent stop while in Parkville, make it Pop Culture Gourmet Popcorn. Just know you can get it delivered to your home … it's that good!
Shopping and dining aren't the only things to do in Parkville. English Landing Park has trails throughout its 60-plus acres and a farmer's market in the summer. The adjacent Platte Landing Park will have 140 acres of trails and access to the River once complete.
And the charm doesn't have to end with just a walk up Main Street, be sure to stay the night at one of the bed & breakfasts like Main Street Inn, which is in an historic 1885 home.
St. Genevieve
St. Genevieve makes a history buff's mouth water. This little town is Missouri's oldest established community, and it still holds many of the historic buildings from its founding by French settlers from the early 1700s. When you visit, you will get a glimpse into the town's French Colonial past with its original vertical log structures, narrow streets and fenced gardens surrounding its 18th-century architecture.
Make your way to St. Genevieve during one of its many festivals that celebrate its French culture. Le Reveillon French Christmas allows you to enjoy the holiday as you would have centuries ago. Experience a traditional French Colonial summer social gathering with French folk dancing, folk tales and candlelight tours of the Felix Valle House during French Veilleé. And don't miss the French Heritage Festival that is held every summer with traditional music, dancing, food, wine tastings, reenactors in period dress, historic home tours, promenades and even tea with Marie Antoinette.