Minnesota
You Must See the Amazing Architecture and Staggering Beauty of These Iconic Churches
7 majestic and inspiring houses of worship in the North Star State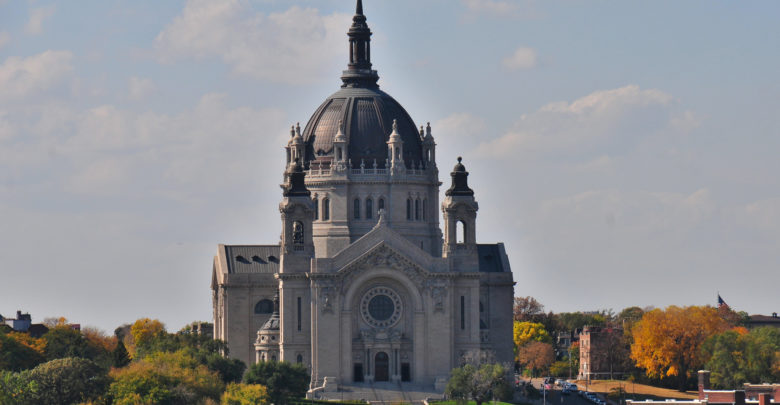 There are thousands of churches, chapels, cathedrals and basilicas in the state of Minnesota.  Some are clearly visible on the skyline of a bustling city, while others are more hidden, but are a haven for locals.  The grand, the tiny, the ancient, the bizarre – you can find churches of all types and sizes and ages here, more than any list could ever contain.  Here are some of our picks for most iconic, inspiring old churches in the state of Minnesota.   But don't stop here – who knows what new, iconic houses of worship you could uncover in your travels?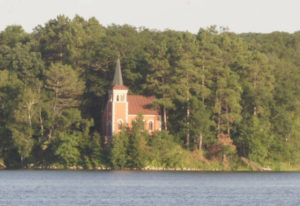 Stella Maris Chapel
This tiny, Romanesque church is doubly inspiring because of its idyllic setting, and you'll need to put in a bit of work to get there.  Stella Maris Chapel is part of St. John's University in Collegeville, right on Lake Sagatagan.  It can only be reached by canoeing across the lake, or hiking a mile.  But once you reach the chapel, you 'll be glad you made the effort!  Make sure you bring your camera to capture the picture-perfect image of the chapel reflected in the lake.  Stella Maris Chapel dates back to 1915, when it was built by monks from St. John's Abbey. Don't miss the stained glass windows here, especially the huge, round window with the star.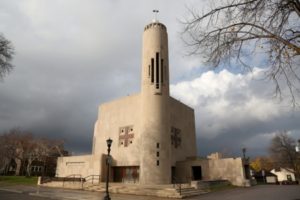 Church of St. Columba
Unless you live in the neighborhood of St. Paul, you've probably never seen anything like the Church of St. Columba, which is certainly one of the most unique churches we've ever seen.  Architect Barry Byrne, who previously worked under Frank Lloyd Wright, the church was built in 1949 using an eclectic mix of styles, including Norman and Art Deco.  The bell tower resembles an Irish round tower, while two overlapping circles create the interior; the resulting elliptical-shaped interior has a fish-shaped overhead profile.  You might not think of concrete and limestone when you think of churches, but that's what the exterior of St. Columba is made of, and it contrasts nicely with the light, airy interior.  It may not be as old as the other churches on our list, but the Church of St. Columba is in a class of its own, and worthy of your time when you're in the area.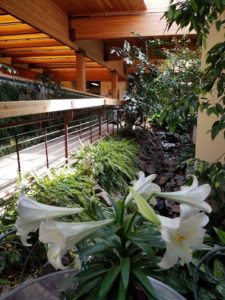 First Unitarian Church
It looks like it belongs on a Harry Potter film set, but this little stunner of a building is home to the Unitarian Universalist Congregation of Duluth.  First Unitarian Church dates back to 1910, and owes its charming English cottage look to its Tudor style.  Its black granite stone was locally quarried, and the half-timber and stucco exterior give it a classic "Shakespeare" look.  There are also stained glass windows to admire, not to mention the castle-esque turret.  You'll find this quaintly impressive church on an unassuming residential street.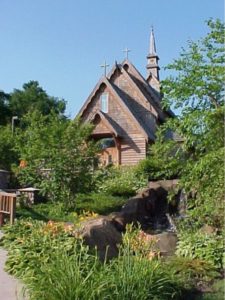 Green Lake Stave Church
Did you know that there is more than one stave church in Minnesota?  These medieval Norwegian churches, while commonplace in Norway, are decidedly less so, which makes Green Lake Stave Church near Willmar a must-visit old church in this state.  Dating back to 1940, this rustic church was built as a replica of stave churches from 12th century Norway, and it reportedly cost $3000 to build!  Green Lake Stave Church is a timber frame building that is just as impressive on the interior, where the wooden roof framework can clearly be seen, as it is on the outside.  In front of the church, you can enjoy a couple of ponds connected by a bridge, a favorite spot for wedding photos.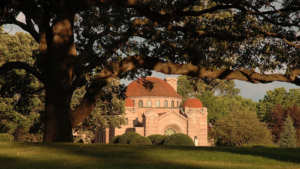 Lakewood Memorial Chapel
One look at Lakewood Memorial Chapel in Minneapolis, and you'll know this isn't your average Victorian church.  Built in 1910, this chapel inside Lakewood Cemetery is on the National Register of Historic Places – and for good reason.  Based on the Hagia Sophia from the early Middle Ages in Turkey, this is a church you won't soon forget.  It has a central dome that's 65 feet high, with two smaller domes in front.  The stained-glass windows around the dome act as a sundial, so you can tell the season and time without the use of your cell phone.  The interior, with its graceful arches and mosaics of stone, glass, marble, gold, and silver, is no less impressive.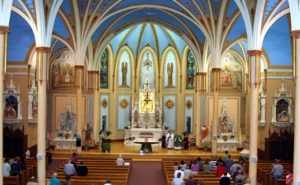 Church of the Sacred Heart
There's something delightful about an unassuming little church with a big secret inside.  This is one of the reasons we adore the Church of the Sacred Heart, in Freeport, Stearns County.  Built between 1905 and 1906, this humbly regal church looks pretty enough on the outside, but step inside and you'll be amazed at the gorgeous vaulted ceiling, decadent in white, gold and sky blue.  You won't easily find a more ornate church interior in the county!  Listed on the National Register of Historic Places since 1991, guests also visit the Church of the Sacred Heart for its historical significance: the Catholic Church played a large role in the communities of early German settlers in the area.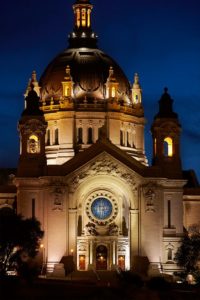 Cathedral of St. Paul
When it comes to churches, it doesn't get more iconic than this!  The Cathedral of St. Paul on Summit Hill, looking out over downtown St. Paul, is by far the most striking building in the city – and possibly even the entire state.  It was constructed in the early 1900s, and ever since, it's been impressing visitors and passersby with its French Renaissance and Classical architecture.  In fact, you'd be forgiven for thinking you've been transported to continental Europe when you first lay eyes on this beauty of a church.  The eye-catching dome is 186 feet high, and the building is full of gorgeous details.  The Cathedral of St. Paul boasts another claim to fame – it's the third-largest church in the country.