Connecticut
An Awesome Waterfall Everyone in Connecticut Should See Up Close
The scenery and fun of Wadsworth Falls State Park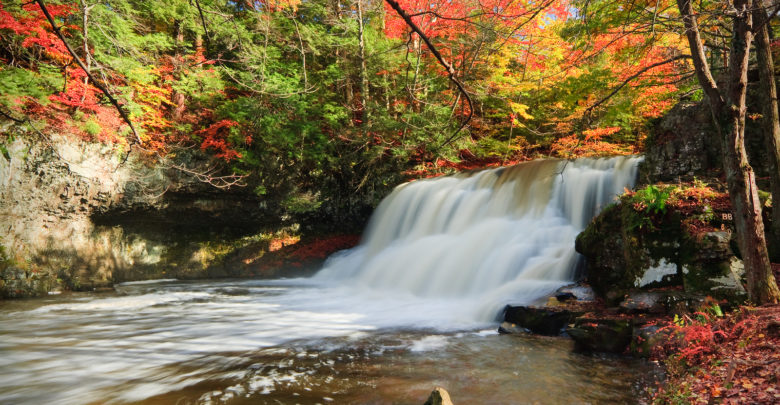 When thinking about awesome waterfalls, Connecticut may not be the first state that comes to mind. The Constitution State may be better known for its rich history, or its proximity to some of the largest cities on the East Coast. The truth is that Connecticut is also a state that is filled with beauty all year long. It may be small, but it is packed with treasures. One of those treasures is Wadsworth Falls. If you have not yet visited, you should. Here is what you need to know.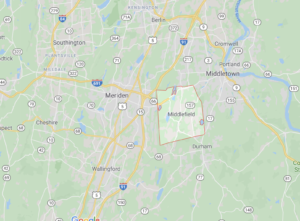 Location
Wadsworth Falls is located in the town of Middlefield. It is part of Wadsworth Falls State Park. It is easy to get there from any part of the state. Just take Route 66 to Route 157 and follow the Wadsworth Falls State Park signs.
History
A little bit of the history of how Wadsworth Falls State Park came to be. A gunpowder factory was built in the area in 1794. It remained in business until 1892, when it literally blew up. The factory made firearms during the Civil War. Eventually the land was owned by Clarence C. Wadsworth, who was a scholar and a linguist. He was also a conservationist. The land was part of the Long Hill Estate. Upon his death, he willed 267 acres to the people of Connecticut in 1942. Wadsworth Falls State Park was formed, and it bears his name.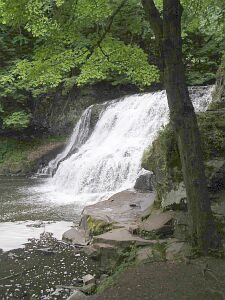 The Falls
There are two main waterfalls that you will want to visit. The larger of the two is called Wadsworth Big Falls. It is part of the Coginchaug River. The Big Falls are about 52 feet high, and approximately 30 feet across. The second is known as Wadsworth Little Falls. It drops about 40 feet. These may not be the highest falls in the United States or even in Connecticut, but their simplicity just adds to their beauty.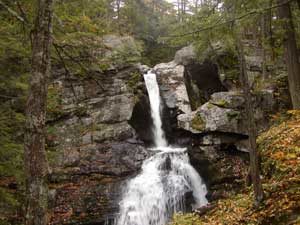 The Hike
Part of the reason why everyone needs to visit Wadsworth Falls up close is because the falls are easy to get to. There is a parking lot that is specifically for seeing Wadsworth Falls. Park there, not at the State Park's main parking area. You should be able to hear the falls from the parking lot! There is a trail map that you can study if you would like. It is then an easy walk to the falls. There are two different paths; one is stairs and the other is more of a flat pathway. You will be there before you know it. You can get up close to the falls, and there is also a viewing platform that will give you a chance to see the whole area.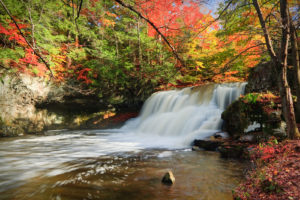 Seasons
There is no such thing as a season in New England that isn't beautiful, and Wadsworth Falls is no exception. The summer is the most popular time of year to visit. The weather is often favorable for spending the entire day outdoors. In the fall the area is alive with color. You'll see not only the beauty of the leaves, but you might be able to enjoy their reflection in the water above or below the falls. The winter brings a different type of beauty, with crisp air and sometimes a layer of snow and ice. (Be warned that the temperatures in New England can go well below zero!) In the spring everything comes to life once again. The water level might be higher in the spring, especially if there was a lot of snow during the winter.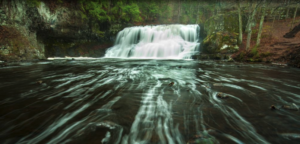 Main Hiking Trail
After you have visited Wadsworth Falls, your visit is not over. You need to plan to spend an entire day at Wadsworth Falls State Park. It is perfect for beginning hikers, but experienced hikers will love the trails as well. The main hiking trail is about 3.6 miles long. The trail does not have any large hills, and it is mostly dirt. If you visit after it has snowed, the trail is fantastic for snowshoeing. As you hike you will see a Giant Laurel, stone bridges, and other wonders. There are small trails that lead off from the main one, so you might want to take a map on your hike so that you won't get lost. You could also snap a picture of the map in the parking lot so that you will have it readily available on your phone. Dogs are allowed on the hiking trails as long as they are leashed.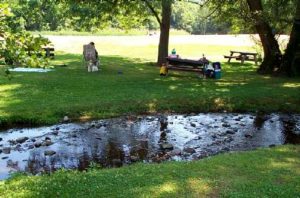 Pack a Picnic
You will want to pack a picnic to enjoy when you spend the day at Wadsworth Falls State Park. One word of warning, you are not allowed to picnic at the actual falls. Instead, you can enjoy your peanut butter and jelly sandwiches at a designated picnic area. There are several of them and they are clearly marked on the map. If you do not feel like carrying your picnic with you, one of the picnic areas is located near the park's main entrance. Tables and grills are available in some areas.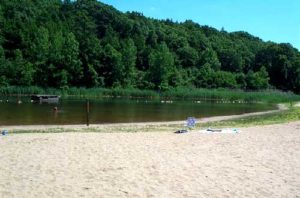 Swimming
Swimming is allowed at Wadsworth Falls State Park in season. There is a 300-foot sand beach, and the actual swimming area is part swimming hole and part pool. The area was hollowed out and then paved to prevent water from leaking out. The water in the swimming area is circulated from wells along the Coginchaug River. There are usually lifeguards on duty during the summer. A green flag will tell you that there is a lifeguard when you are there. There is a restroom and changing area near the beach.
Fishing
Stream fishing is also possible at Wadsworth Falls State Park. Anyone over the age of 16 needs to have a valid fishing license. Trout is the main catch. The fishing areas are marked on the map.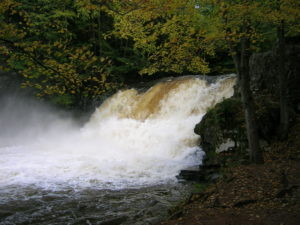 Price
There is no charge to visit Wadsworth Falls or Wadsworth Falls State Park, but there could be a fee to park. On weekdays parking is free to all. If your vehicle is registered in the state of Connecticut you can also park for free on weekends. If your vehicle is registered out of state, it will cost you $15 on weekends. The park is open daily from 8:00 until sunset.