Alabama
Dixieland Discoveries
5 Great Spots Most People Overlook in Alabama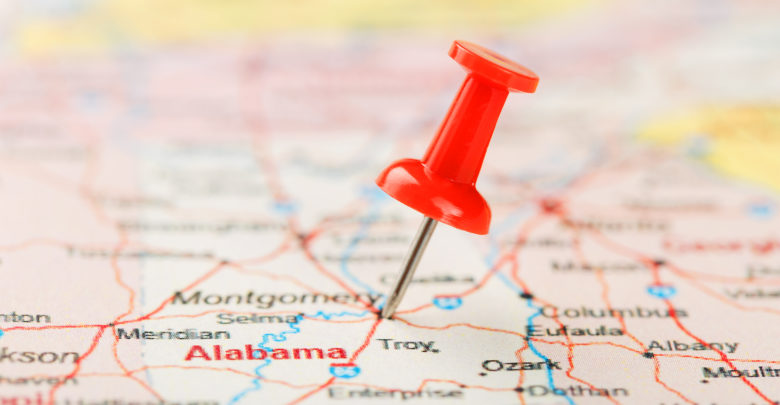 Though it is perhaps best known as "The Heart of Dixie", Alabama is actually the only state in the country that has not adopted an official nickname.  However, the unofficial moniker is fitting, as the area serves as both the geographic and industrial center of the south.  Here are five destinations that are not to be missed on your trip through the heart of Dixieland.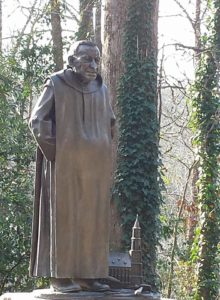 Ave Maria Grotto
This 4-acre park – constructed within an old quarry on the grounds of St. Bernard Abbey Monastery – features the life's work of Benedictine monk Brother Joseph Zoettl, who sought to enter the priesthood after suffering a horrific injury that rendered him permanently disabled.  At the time, his condition prevented him from becoming a priest, though the life of a monk would seemingly wind up being a better fit for the personality of Brother Joseph, who lived a rather reclusive life in which he would immerse himself in crafting miniature reproductions of world-famous religious landmarks.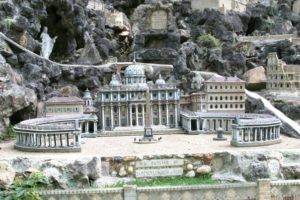 Made from a variety of repurposed materials – including costume jewelry, seashells, and discarded building materials – many of the painstaking recreations highlight Roman Catholic cathedrals, such as the Monte Cassino Abbey and St. Peter's Basilica.  The majority of the sites depicted in miniature form – like the Tower of Babel and the Leaning Tower of Pisa – were conjured from photographs and recorded descriptions, as Brother Joseph had only visited a handful of these locations in person.  The entire project took some 50 years to complete and resulted in 125 models, the final of which being a replica of Lourdes Basilica Church, which Zoettl finished when he was 80 years old.
Harmony Park Safari
Much like any safari, Harmony Park Safari affords visitors the opportunity to observe and even interact with a wide variety of animals without leaving the comfort of their own car.  Rather than board a Jeep or conventional safari transport, guests can drive right through this working ranch, provided their vehicle meets certain criteria (i.e. – no RV's, monster trucks, or trailers).  If, by chance, yours does not, there's no need to fret.  The park also provides appropriate rental vehicles, allowing everyone an opportunity to indulge in this unique experience.  While coasting through the preserve, visitors will find many free-roaming animals, such as bison, wild steer, and zebras.  Animal feed is available at the entrance (by the cup or bucketful), which comes in handy if a curious ostrich or emu were to stick its head through your window to say hello, as they're wont to do from time to time.  And for those who find themselves with some unwanted leftovers, they are welcome to take another lap around the park and unload their rations on the friendly (and oftentimes furry) residents of the ranch.  A reptile house and turtle pen also gives visitors a chance to disembark their vehicles and stretch their legs.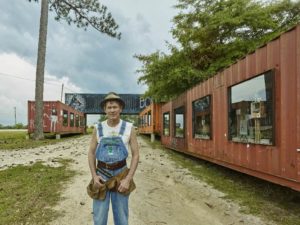 The Drive-Thru Museum
Another attraction that can be enjoyed from the comfort of your own auto is this museum created by artist Butch Anthony.  Located in the tiny burg of Seale, the idea for this attraction was hatched back in 2013 as a means to divert the crowds from Anthony's nearby Museum of Wonder.  The modest drive-thru rests just off the main highway and consists of a short corridor of modified shipping containers with windows cut into the sides, behind which the artist and collector proudly displays his assemblage of oddities.  In addition to his own original creations, visitors will also find such unique items as two-headed ducklings and "The World's Largest Gallstone".  Anthony has even coined a term for his brand of subversive art; "Intertwangleism", which includes hybrid taxidermy and sculptures that combine metal and bone.  The drive-thru is accessible 24-hours a day and exhibits are updated regularly, ensuring visitors receive a new experience each time they return.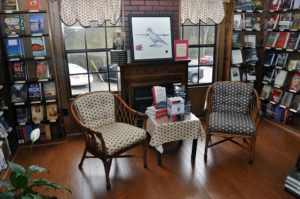 Alabama Booksmith
Looking for a signed copy of Anne Rice's Blood Communion or, perhaps Mitch Albom's The Next Person You Meet in Heaven?   Then look no further than the Alabama Booksmith, which deals exclusively in signed copies of works of literature and non-fiction alike.  That's right; every single book that crosses the shelves of this modest book shop has been autographed by the author, and includes works by unknowns as well as Pulitzer Prize-winning material.  Not only do each of these John Hancock's come with its own certificate of authenticity, but also the backstory of how they were obtained.  For instance, Sean Penn's debut novel, Bob Honey Who Just Do Stuff, includes a bookplate that the noted thespian signed specifically for Alabama Booksmith while fellow Academy Award-winner Octavia Spencer's young adult novel, Randi Rhodes Ninja Detective: The Case of the Time-Capsule Bandit, was signed in-store.  The best part of the shop's own unique claim to fame is that most of the tomes that pass through are sold at or near retail price, with a handful of notable exceptions.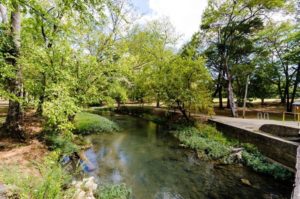 Tinglewood Trail
Located in Orr Park – a 40-acre recreation area that includes picnic pavilions, athletic fields, and playgrounds – the Tinglewood Trail consists of a collection of delightfully unusual carvings etched into the bark of dead or fallen trees.  The majority of these pieces feature creatures like dragons and alligators, as well as a series of facial expressions that run the gamut from gap-toothed grin to shock and terror.  The trail runs along the Shoal Creek and began as a project by coal miner Tim Tingle in the early 1990s after several cedar trees had been toppled during a storm.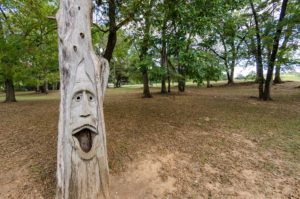 Rather than seeing this majestic lumber relegated to the woodpile, Tingle decided to salvage the logs by molding them into eye-catching works of art.  As of last count, there were more than 30 carvings located along the trail, an experience which helps promote the mission of the park by encouraging guests to reconnect with nature as they take in these unique creations.  In 2018, the first Tinglewood Festival was held at Orr Park, an event the community hopes to put on annually to attract visitors to the area and further promote Mr. Tingle's work, which he continues to produce to this day.