Rhode Island
You'll Love These Vineyards and Venues in Rhode Island
The Ocean State's highest rated wineries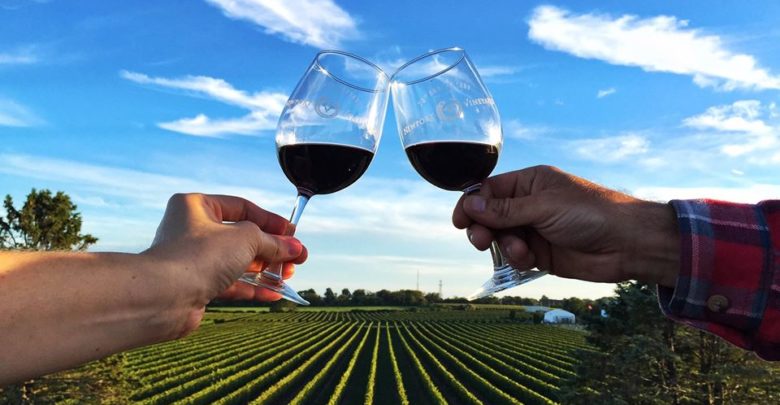 The smallest state in the United States is beautiful Rhode Island which is situated along the Atlantic Coast in New England. Despite its small size, Rhode Island is a very popular travel destination thanks to its coastal beaches and charming towns, maritime history, popular cities such as Providence, and culture. Many travelers who spend time exploring Rhode Island absolutely love to enjoy the local culture and history and a great way to unwind after time spent exploring is checking out the many local wineries that serve up delicious sips. Many of the popular wineries in Rhode Island create beverage options inspired by the flavors and ingredients of the region, leading to unique tastes that are sure to please travelers. Here are the highest rated wineries in Rhode Island to enjoy!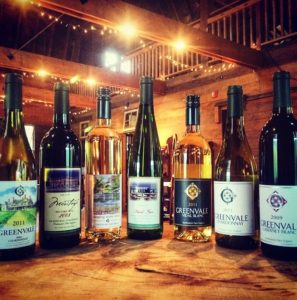 Greenvale Vineyards
Portsmouth, Rhode Island is home to a family-run winery that prides itself on creating delicious wines thanks to controlling the wine-making process from start to end. Greenvale Vineyards is located on a family farm that was first established in 1863 on the shores of the Sakonnet River. While the farm expanded over the years, the first high-quality fruit was produced in 1983 leading to the development of wines. Using only grapes grown at Greenvale Vineyards, the flavors are indicative of the region's unique soil and ingredients. Travelers who visit the vineyard can enjoy a tasting tour offered on the weekends or tastings accompanied by live jazz in the welcoming tasting room. Some of the wines offered at Greenvale Vineyards include 2017 Greenvale Chardonnay, 2014 Cabernet Franc, Greenvale Vermouth, Vidal Blanc, 2018 Pinot Gris Ramato, and Skipping Stone White.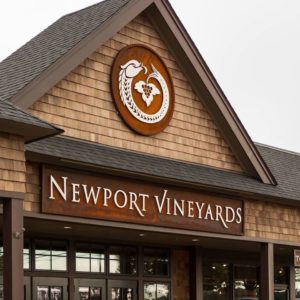 Newport Vineyards
One of the most popular areas of Rhode Island to explore is the town of Newport where beautiful ocean cliffs are adorned with massive mansions as well as a well-known winery Newport Vineyards has a long history in the Nunes family beginning when they first purchased a farm in 1917. Officially becoming Newport Vineyards in 1995, the location focused heavily on creating a wide array of delicious and award-winning wines which visitors can enjoy today. Spanning over one hundred acres of farmland, visitors to Newport Vineyards can enjoy tours offered from Sunday to Friday as well as tastings seven days a week where there are often special events including live music and farmer's markets. Some of the most popular wines created by Newport Vineyards include Cabernet Franc Dry Rose, Bellevue Blush, Chardonnay, Island White, Merlot, Pinot Noir Dry Rose, Rhody Coyote, Rising Tide, and Rochambeau.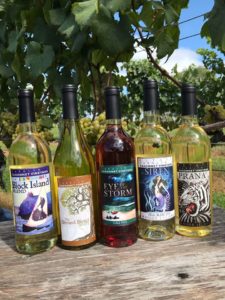 Carolyn's Sakonnet Vineyard
The Sakonnet River in Rhode Island naturally creates rich soil that can lead to delicious grapes and wines like those produced at Carolyn's Sakonnet Winery in the town of Compton. Founded in 1975, the vineyard handpicks local sourced grapes and barrel-ages them in French, Hungarian, Russian, and American oak creating rich flavors that highlight the unique soil created by the area's conditions. Led by winemaker Elaine Phipps, Carolyn's Sakonnet Vineyard welcomes visitors into an inviting tasting room that is open to the public each week from Thursday through Monday and those who do stop by can enjoy both indoor and outdoor seating depending on the season. Some of the popular and unique wines created at the vineyard include White Lotus, 2014 Unexpected Miracles, Expedite Happiness, NV Blessed Blend Red, 2014 Aiman, 2012 Sacred Rose, and 2012 Winterwine.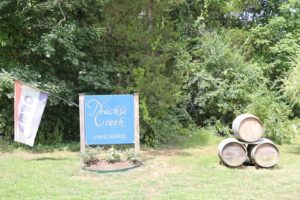 Nickle Creek Vineyard
Foster, Rhode Island is home to another popular winery where the focus is on creating small-batch options that are big on flavor and all locally-sourced. Nickle Creek Vineyard is owned and operated by Steven and Sheri who officially purchased the location in 2007 but began production in 2012 after a renovation and new construction. Producing only about fifteen hundred cases a year, Nickle Creek Vineyard focuses on creating high-quality wines with grapes grown locally in Rhode Island. The vineyard's tasting room is open seasonally and welcomes guests to stop by and sit on delicious options including Foster Red, Foster White, Cabernet Sauvignon, Pinot Grigio, Riesling, Pinot Noir, Autumn Cranberry, Summer Blueberry, and Wicked Peach.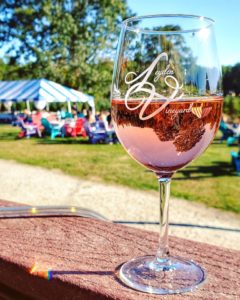 Leyden Farm Vineyard & Winery
West Greenwich, Rhode Island features a favorite vineyard and winery of many locals thanks to its rich history. Leyden Farm Vineyard & Winery operated for four generations as a Christmas tree farm and branched out to also include fruits and grapes in 2010. The Leyden family pride themselves on growing fresh fruits such as blueberries and strawberries as well as grapes amongst the Christmas trees and welcome visitors to come in and sample a wide array of options with bold flavors. Featuring a rustic and cozy tasting room, those who visit Leyden Farm Vineyard & Winery can sip on creations such as Cleo's Blanc, Leyden Vineyard's American White Zinfandel, Sunny Grigio, Leyden Vineyard's American Riesling, Romeo's Red, Jack's White Merlot, and Leyden Vineyard's American Pinot Noir.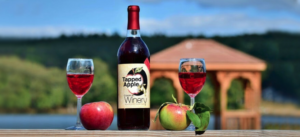 Tapped Apple Winery & Cidery
Wine lovers who also enjoy sipping on cider should be sure to stop by the town of Westerly, Rhode Island to enjoy the perfect location. Tapped Apple Winery & Cidery began with John Wiedenheft III in 2003 and expanded when his son joined the business in 2005. After discovering that it was not cost-effective to import grapes from California, the duo turned to cider and eventually expanded to also create apple wines. Tapped Apple Winery & Cidery invites visitors to relax in a tasting room where they can enjoy delicious beverages, special events, and nibble on their own food brought in. Visitors can sip on options such as Watch Hill White, Respect the Elder, Cerise Noir, Light My Fire, Graf, First Bite, and Ein Baum while checking out special events such as live music and salsa lessons.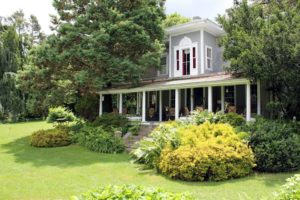 Diamond Hill Vineyards
Another winery in Rhode Island that focuses on creating bold flavors based on fresh fruits and grapes can be found in the town of Cumberland. Diamond Hill Vineyards was first established in 1976 and spans over thirty acres where fresh grapes and fruits are grown. Visitors who stop by can enjoy the location's tasting room which is featured inside of a two-hundred-year-old vineyard house and is very charming with both indoor and outdoor seating. Wines that are available for tasting or purchase at Diamond Hill Vineyards include Lush Cherry, Blackberry, River Valley White, Pinot Noir, Spiced Apple, Cranberry Apple, Scarlet Run Red, and Peach.