Michigan
Spend Some Quality Time with the Big and Beautiful Higgins Lake
One of our state's treasures offers year-round fun and/or serenity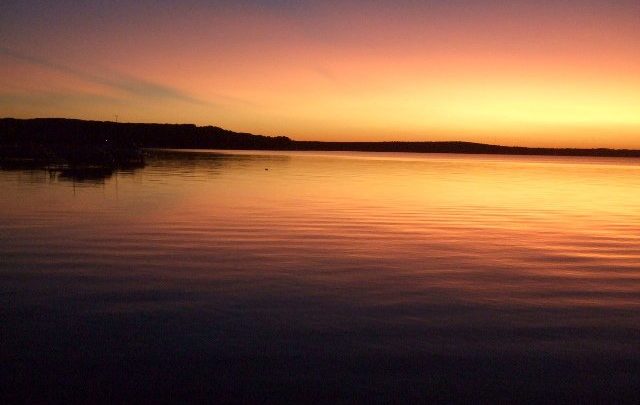 The beautiful state of Michigan is located in the midwestern United States and boasts more than 11,000 inland lakes between its upper peninsula and lower peninsula. Just short of 10 million people make their homes in the Mitten State, so-called because of the shape of Michigan's lower peninsula, which closely resembles a mitten or oven mitt. The midwestern state was the 26th state to join the union on January 26, 1837. Its largest city, Detroit, is known as the famed seat of the United States auto industry.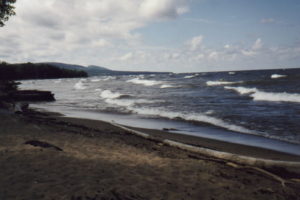 But Michigan is more than just the Great Lakes, dual peninsulas and Ford Motor Company. It's also home to no shortage of breathtakingly beautiful natural wonders—one of which rarely gets the recognition it deserves: North Higgins Lake, a giant and gorgeous body of water located in Beaver Creek Township northwest of the city of Roscommon, Michigan. It has been named one of the state of Michigan's most beautiful lakes, and you have got to visit this beautiful place at least once, perhaps the next time you're visiting up north? Here are a few reasons why this underrated natural wonder is one you won't want to miss, no matter when you visit.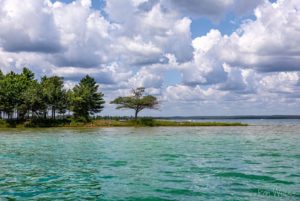 The lake is no small pond. In fact, it's a wonderfully massive body of water.
North Higgins Lake encompasses some 9,900 acres, making it the 10th largest lake in the entire state of Michigan, which is home to over 11,000 lakes. It's known for its pristine deep waters that make for excellent fishing. The lake is four miles wide at its widest point and seven miles long at its longest point. North Higgins Lake has a maximum depth of 135 feet, but its average depth is about 44 feet. It drains into Marl Lake by the Cut River that runs into Houghton Lake that eventually runs into Lake Michigan. More than 21 miles of sandy, beachy shoreline encircle the lake.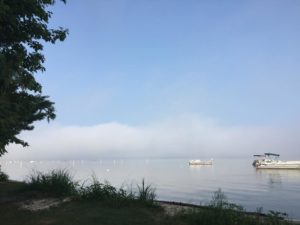 It's a prime spot for fishing, whether you're a prized fisherman or just a novice.
The waters of North Higgins Lake are crystal clear, allowing for fishermen and boaters to see deep into the water. The deepest parts of North Higgins Lake are a rich, deep, beautiful blue sapphire color, and the shallower parts of the lake catch the eyes of fishermen with their bright turquoise hues. Many different species of fish swim in the waters of North Lake Higgins, such as yellow perch, trout, smelt, pike and more.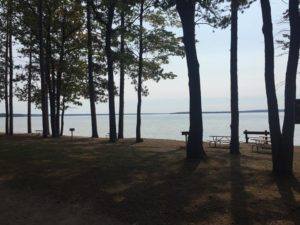 North Higgins Lake State Park offers activities and recreation for the whole family all year long.
North Higgins Lake State Park is located in the northern lower peninsula on the north shore of Higgins Lake and covers more than 450 acres. There are two separate campgrounds available at the state park, boasting 175 campsites and two mini cabins that are available for rent and use all year long, allowing for camping in a naturally wooded, forested area. Nightly camping fees range from $22 per campsite to $36 per campsite, with a maximum of six people per campsite per night, not to exceed 15 consecutive nights. Advanced reservations can be made up to six months in advance online at www.midnrreservations.com, by calling (800) 44-PARKS or by visiting www.michigan.gov/northhiggins.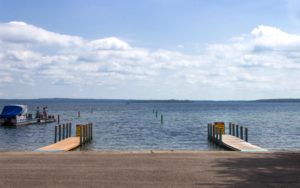 North Higgins Lake State Park offers a myriad of opportunities for lakeside recreation, such as swimming, fishing, boating, paddling, and boat rentals. Other activities available at North Higgins Lake State Park include hiking, mountain biking, picnicking and more. There are more than eight miles of challenging—but not too challenging—hiking trails available, part of which is a 1.5-mile looped fitness trail. The North Higgins—Beaver Creek Trail is 6.50 miles long. The North Higgins—Bosom Pines Trail stretches 3.60 miles, and the North Higgins—Upland Nature Trail is 1.50 miles long. Avid Cyclists can take advantage of the Iron Belle Trail biking route that winds for approximately two miles.
Winter doesn't slow down the fun and recreation at North Higgins Lake State Park. In fact, wintertime offers even more opportunities for outdoor recreation, such as winter camping and cross-country skiing. Again, camping is available year-round at any of the park's 175 campsites.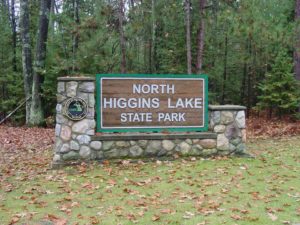 Bring Rover, Max, Lady and Spot, as pets are allowed at North Higgins Lake State Park, so long as they are leashed, and their leashes are not longer than six feet in length. Pets are permitted with the understanding that it is the owner's responsibility to clean up after his pet. Pets are not permitted, however, on the public beach or in the state park's mini cabins.
Facilities at North Higgins Lake State Park include a public boat launch, multiple picnic areas—some that are shaded—a picnic shelter perfect for family reunions and a children's playground.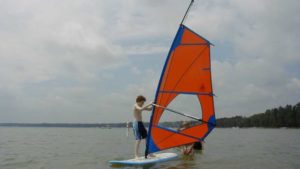 North Higgins Lake State Park is located on what was once one of the world's largest seedling nurseries. Today, a visitor's museum is located at the state park where guests of the state park can learn about the seedling nursery and about ecosystems in the park.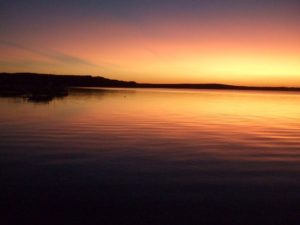 Annual recreation passes may be used for admission into North Higgins Lake State Park. When purchased at the time of their annual license plate/vehicle registration, residents of Michigan pay only $11 for the pass. Non-resident annual passes cost visitors $33 each, and non-resident daily passes can be purchased at a cost of just $9.