New York
Sleigh Rides! Grab a Blanket and Some Hot Cocoa
Here are some great places to get an idyllic winter experience.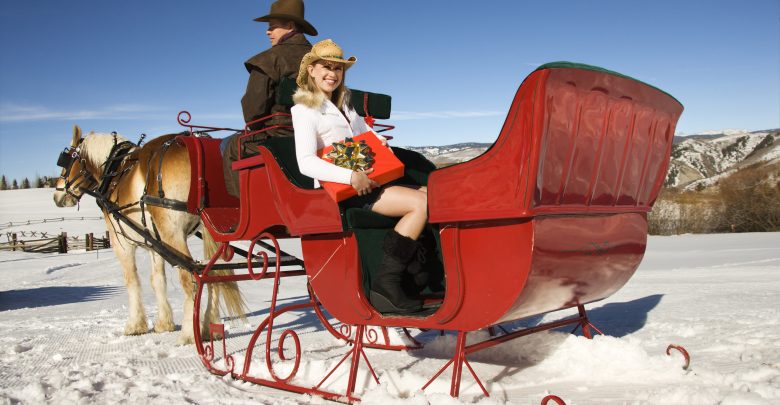 There's something irresistibly nostalgic about a winter sleigh ride.  Huddling under blankets with loved ones, breathing in the crisp, clean air, marveling at the beautiful horses pulling you through the snow, watching stunning scenery drift by, maybe enjoying a delicious cup of hot cocoa…  It's the stuff winter memories are made of!  And if you'll be in New York state this winter, there's a sleigh ride near you, just waiting for you to recapture the magic of the season.  Here are just a few perfect sleigh ride options you can enjoy.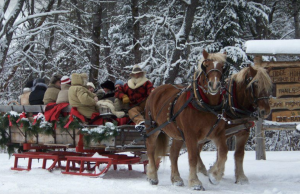 Lake Clear Lodge and Retreat
Kick your sleigh ride up a notch at Lake Clear Lodge and Retreat this December.  This is one of the only places in the Adirondacks where you can experience a lantern-lit sleigh ride.  Kerosene lanterns will light your way as you glide over nature trails to the shores of Lake Clear for an unforgettable evening!  Group rides last 30 minutes, or book a 45-minute private sleigh ride for an utterly romantic evening out with that special someone.  You can even turn your sleigh ride into an event by following it up with a 1920s 3-course dinner at a themed "speakeasy" in one of the last original Adirondack lodges (expect to provide your password at the door, and to be raided by "copper" during your stay!).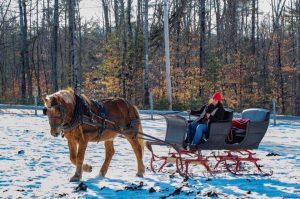 Adirondack Carriage
Another option for wintry fun in the Adirondacks is found at Adirondack Carriage in Adirondack Park, in Chestertown.  See the beautiful mountain landscape of the Adirondacks in a completely new light on this traditional horse-drawn sleigh ride.  Even better?  You and your party will be able to warm up and celebrate the season with hot cider and doughnuts at the house after your ride.  Cider and doughnuts not your style?  You can bring along your own food items or beverages.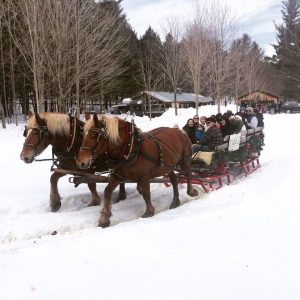 Country Dreams Farm
Authenticity is the name of the game at Country Dreams Farm at Lake Placid.  The John Brown Farm State Historic Site provides the perfect rustic backdrop for your sleigh ride, where you'll be able to view Whiteface Mountain and the Olympic ski jumps as part of the scenery.  Ride along wooded paths and watch fields of snowdrift by – and if you're riding at night, don't forget to look up.  The winter night sky in the Adirondacks is unbelievable!  Stargaze to your heart's content in the quiet peace of the countryside, with only the sounds of the beautiful Belgian workhorses – and maybe a few sleigh bells – to break the silence.  Afterward, enjoy some hot cocoa in an Adirondack cabin to warm up.  You can choose between a group sleigh ride and a one-horse open sleigh ride for a more private ride.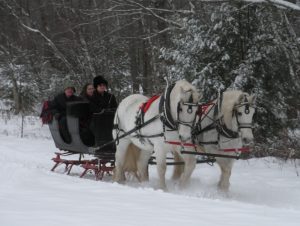 Loon Meadow Farm
If you're headed to Saratoga Springs this winter, don't leave without experiencing a horse-drawn sleigh ride.  Just outside of downtown Saratoga, you'll find Loon Meadow Farm in Greenfield Center.  With 153 acres to explore, this is a great place to spend a wintry afternoon.  Book a sleigh ride for you and your family (the largest of their sleighs can accommodate a party of 10), and head out on the snowy trails.  History buffs take note: a historical, abandoned pathway from the 18th century forms part of the trail.  When you've finished dashing through the snow, relax with a hot cup of cider.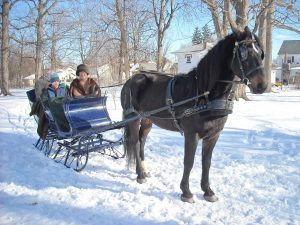 Granger Homestead and Carriage Museum
If you're looking for a side of history with your sleigh ride, check out the Granger Homestead and Carriage Museum in Canandaigua, which served as the home for the same family for over 100 years, from 1816 – 1930.  You can venture out on a woodland sleigh ride in the winter, and there's a horse-drawn carriage ride option for Valentine's Day that's a great way to say "I love you" to that special person in your life (it includes a rose and a box of chocolates).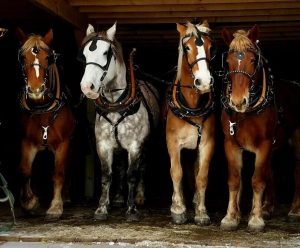 Lamplit Farms
Take a relaxing ride of a large flat-bed sleigh around the beautiful farmlands of Lamplit Farms in Chittenango.  View expansive snow-covered fields and snow-topped forests as you glide along trails that have a great view of the Oneida Lake.  On a clear day, you'll literally be able to see for miles – approximately 50 of them, in fact!  The Chittenango Creek Valley is the perfect location for a charming sleigh ride on a winter's day.  Just make sure to call ahead if you want to ride with a group, as group rides are by reservation only.

Circle B Ranch
Visit the oldest year-round Adirondack stables at Circle B Ranch for some old-fashioned wintry fun this year.  Along with trail rides, horse-back riding lessons and hayrides, Circle B Ranch also offers seasonal sleigh rides pulled by magnificent workhorses.  Only 15 minutes from Lake George in Chesterton, the ranch is family owned and operated, and comprises a whopping 500 acres.  Whether you're in the market for a romantic private ride or a group outing, there's an exhilarating ride awaiting you!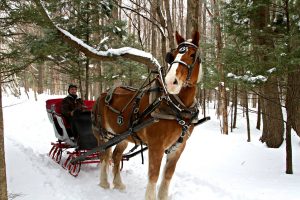 Gordon Family Farm
A cozy campfire is waiting for you on your sleigh ride at Gordon Family Farm, in Bushton.  Sleigh rides take place throughout the winter and transport you along wooded trails and through open fields to a roaring fire, where you can roast marshmallows and warm up with some hot chocolate.  There's nothing like a wintry bonfire and an old-fashioned, horse-drawn sleigh to make your spirits bright!  Alternatively, you can opt for a sleigh ride to a cozy cabin, where you can enjoy the warmth of a wood stove and go ice skating on the nearby pond.  Sleighs are available to suit small and large parties, but you'll need to make an appointment either way.