Rhode Island
Walk This Way: Some of the Very Best Scenery in New England
Talk a stroll along the beautiful and majestic Newport Cliff Walk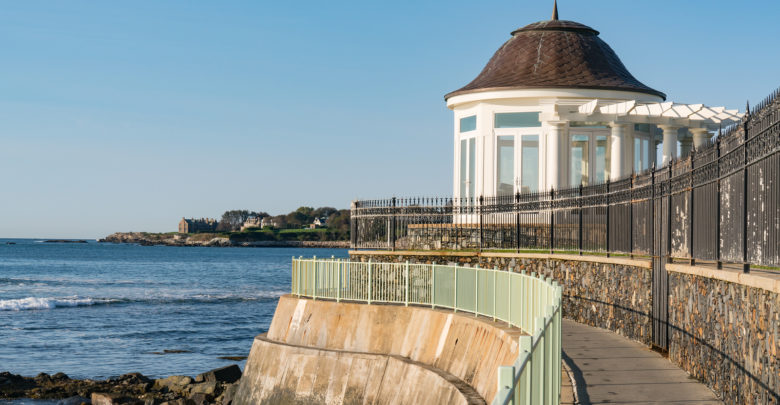 Newport, Rhode Island is a seaside community that is a little over 30 miles south of the capital city of Providence. This small, historic city is home to the longest suspension bridge in New England, the Newport Bridge. Newport also boasts some of the finest coastline in the state. One of the best ways to see some of that coastline is Newport Cliff Walk. If you are looking to seeing plenty of natural and manmade wonders, you will want to include Newport Cliff Walk as a major part of your plans when you visit Newport.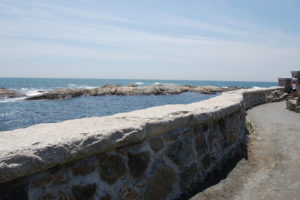 National Recreation Trail
Newport Cliff Walk has the designation of being a National Recreation Trail. That means that it is a trail that is known for contributing to both conservation and health. Newport Cliff Walk was the first trail to be recognized as a National Recreation Trail in New England. Some of the National Recreation Trails are hundreds of miles long, but you will not have to worry about that in Newport, because Newport Cliff Walk is a much more reasonable three and a half miles long. Give yourself at least three hours if you plan to walk the entire trail. Do not hurry through it, because there is so much to see along the way.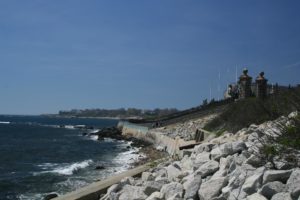 Fitness Level
It is recommended that people who attempt the entire Newport Cliff Walk be in relatively good shape, because it is not all easy walking. If you are not in the best of shape you can still enjoy parts of it. You can enter or exit the trail at several different points. People in wheelchairs can enjoy the northern portion. Keep in mind that there are portions of Newport Cliff Walk that are not wheelchair accessible.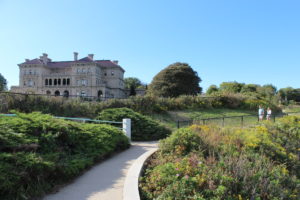 Mansions
Not only will you see some breathtaking coastline and beaches along Newport Cliff Walk, you will also pass by some of the mansions that Newport is known for. Remember that you will only be able to admire from a distance, these are private property. Some mansions do offer tours, but those tours are not part of Newport Cliff Walk.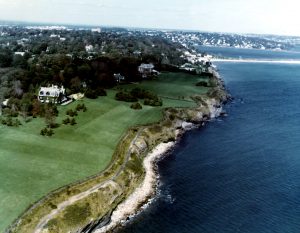 Five Segments
There are five main segments to Newport Cliff Walk. Many people will start at Memorial Bridge. This is considered the easiest part of Newport Cliff Walk. The pathway is paved. You will have a great view of Easton's Beach on this walk. The second segment starts at Forty Steps. You'll pass by Breakers Mansion, Salve Regina University, and more coastline. The third segment starts at Ruggles Avenue. The buildings that you will see include Rosecliff, Beechwood, and Marble House. The terrain starts to be a bit tougher on this segment, and it can be a difficult walk on a windy or rainy day. Belmont Beach is where the fourth segment begins. During the summer you might see surfers at Belmont Beach. This stretch is not for those who are afraid of heights! If you plan to try this segment, you should be in good shape. This is probably the hardest part of Newport Cliff Walk. The final segment starts at Ledge Road. This leg is much easier than the last one was. Your journey will end at Bellevue Avenue and Bailey Beach.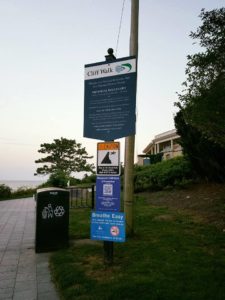 Warnings
There are several warnings posted for those who want to try Newport Cliff Walk. Not only are walkers warned that parts of the trail are difficult, there are many things that are prohibited. Bikes are not allowed, and neither are skateboards. You are not allowed to start a fire along the way, and picnicking on the trail is not permissible. Even though you are walking over rocks and cliffs, rock climbing is prohibited. Proper shoes are recommended. Dogs are allowed on Newport Cliff Walk, but they must be leashed at all times, and you are required to clean up after your dog. You are also advised that you will pass other hikers at your own risk.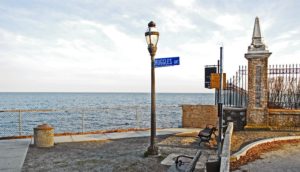 Sunrise and Sunset
Newport Cliff Walk is open daily from sunrise to sunset. Those are also considered by many to be the best times of the day to visit. Things are calm at sunrise, and during the summer the temperatures are comfortable. The sunset over the Atlantic is something that you will not soon forget. If you plan to be on Newport Cliff Walk at sunset, make sure that you are not in an area that you will have a hard time leaving.
Children
Parts of Newport Cliff Walk are not too difficult for children, but there are other areas where the terrain could be too rough for them. There are some drops along the way, some of which are about 70 feet. If you do decide that your children are old enough to attempt Newport Cliff Walk with you, make sure that you keep and eye on them at all times.
Once You've Finished
Newport Cliff Walk is a two-ended trail, it is not a complete loop. Once you're finished, you can turn around and walk along the road. If you walk north along Bellevue Avenue it is about four and a half miles back to where you parked. There is another option, though. Newport has a trolley system that can take you back to the beginning for an affordable fee.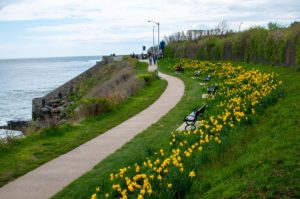 Nature
You will see more natural wonders than just the Atlantic Ocean along Newport Cliff Walk. You will see several types of rock, including sandstone and black shale. Some of the rock dates back over 300 million years! You will also see birds and plants along the way. One plant to watch out for is poison ivy. It grows naturally along parts of the path.
Other Information
Newport Cliff Walk is free to experience. It is open year round, although you might want to check the weather before you head out. A public restroom is located at Narragansett Avenue, it is also open sunrise to sunset. There is no official parking lot for Newport Cliff Walk. You can park in the paid lot for Easton's Beach, or you can look for metered street parking.