South Dakota
Amazing Bed & Breakfast Options in South Dakota
Great locations and accommodations for these BnB's in SD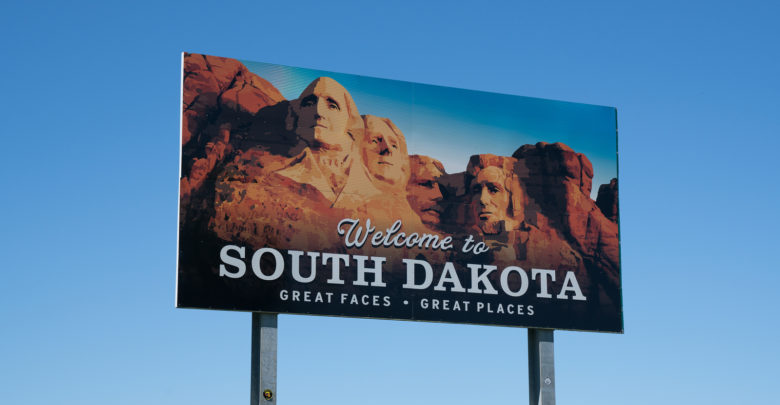 South Dakota has managed to retain much of its natural beauty, making it the perfect state to visit if you're in need of a getaway from city life. Known mostly for Mount Rushmore, this state will surprise you with all of its other attractions. Perhaps just as surprising, there are countless bed and breakfast places to choose from for your visit. These are the top bed and breakfast places in South Dakota.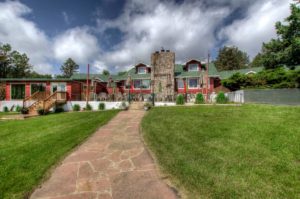 Black Forest Inn
Nestled in the Black Hills of South Dakota, this bed and breakfast is the perfect spot for a mix of resting and exploring. Stay in one of seven rooms – all outfitted with private baths, independent HVAC, and breakfast included. A few of the rooms even have outdoor hot tubs. While you're there, you can enjoy drinks and dinner at Musekamp's Grill & Pub attached to the inn. You can go boating, fishing, hiking, and hunting while at the inn, or go visit the iconic Mount Rushmore.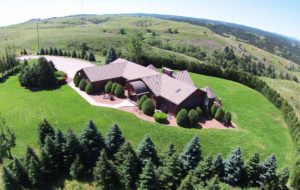 Emerald Hills
This intimate two-suite bed and breakfast is run by a married couple. For eleven years, she managed an eight-room inn while he managed a restaurant. They decided to retire, bought a house on a hill, and a year later, they turned it into the inn it is today. Located twenty-two miles from Mount Rushmore, this bed and breakfast offers beautiful views and high-quality accommodations. Activities nearby include the Fort Hays Chuckwagon and Supper Show, the Reptile Gardens, Bear Country, Crazy Horse Memorial, Jewel Cave National Park, and Mammoth Site as well as casinos, museums, golfing, hiking, biking, horseback riding, and ATV-ing.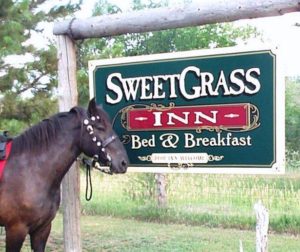 Sweetgrass Inn
Monte and Amy run the Sweetgrass Inn, bringing with them over thirty years of hotel experience in the Black Hills. They provide a place to stay as well as knowledge of the best places to go and see during your stay. You can grab dinner and drinks at the adjoining Shipwreck Bar & Grill. Suite types include "Deluxe Suites," "Loft Suites," and "Family Suites." All offer an incredible view of the surrounding hills. Nearby are all the Black Hills attractions such as Mount Rushmore, Crazy Horse Memorial, casinos, museums, and outdoor activities.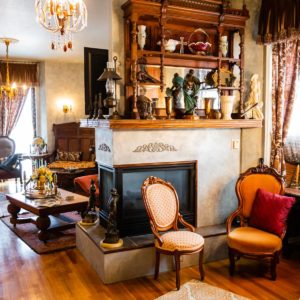 Amie St. Jean
Enjoy a taste of Black Hills history when you stay at the Amie St. Jean. Built by a prominent local businessman in 1917, the entire inn is decorated as it would have been then. In the early 1950s, this inn functioned as a monastery. In 2008, it was sold to its new owner. Located four blocks from downtown Rapid City, this is a perfect spot to stay if you'd like to walk into town for dining, shopping, or one of the events in the main square. For each meal, gourmet food is served with fine linens, china, and silver. You can visit all the nearby Black Hills tourist destinations from here.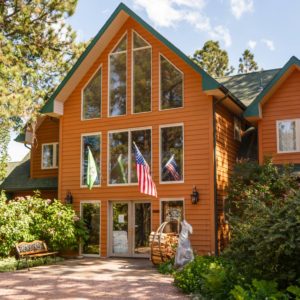 Coyote Blues
Set on a hill overlooking the valley, this bed and breakfast has thirty acres of nature waiting to be explored. All the best monuments and national parks are within a thirty-minute drive, and Pactola and Sheridan Lake are just minutes away. Go boating, fishing, or swimming there. On top of that, you can also go hiking or biking on the nearby Mickelson and Centennial trails. In the winter, you can go skiing, snowboarding, cross country skiing, and snowmobiling. There are wineries and breweries nearby including Firehouse Wine Cellars, Prairie Berry Winery, Lost Cabin Beer, and Firehouse Brewing. You can stay at the Coyote Blues Village for a getaway, family reunion, corporate retreat, hunting trip, fishing trip, or even your wedding! Choose from ten themed rooms and suites during your stay.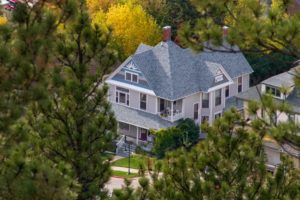 1899 Inn
Built by Henry Benjamin Wardman, the 1899 Inn has been around since – you guessed it – 1899. It operated as a boarding house during the Great Depression, then remained mostly vacant until 2010 when its current owners purchased it. The inn is just a five-minute walk from Deadwood's nightlife and historic sites but far enough away that it will provide a quiet and restful stay for visitors. Enjoy full breakfast service and artisan bread made daily in-house during your stay. Reader's Digest named this inn the "Most Charming B&B in South Dakota."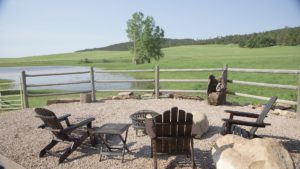 Ghost Canyon Guest Ranch
Owned and run by a family of five, this dude ranch offers you the chance to get away and explore nature – along with the opportunity to explore nearby downtown Rapid City. Each week, Ghost Canyon Ranch offers a different schedule, but if you join them for a full week, you can get the full experience. They suggest you arrive on Sunday so you can be properly oriented for the week. A week there includes trail rides on horses, winery tours, campfires, s'mores, picnics, movies and popcorn under the stars, swimming in the lake, hiking, kayaking, paddle boating, and "Wild Bill" storytelling.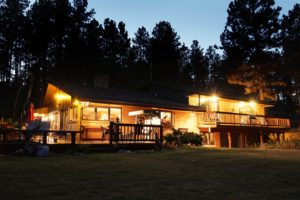 Elk Ridge
Just four miles from Mount Rushmore, Elk Ridge Bed and Breakfast is a western-style inn experience to help you get away from it all. During peak season, you'll be able to hear the 1880 steam train that travels between the two towns of Keystone and Hill City. Both towns include great restaurants, shops, and theaters. For activities near the inn, you can go to the Black Hills National Forest, visit wineries, go to Devils Tower National Monument, attend the Circle B Cowboy Dinner and Show, explore the Rushmore Cave, Wind Cave, or Jewel Cave, and take a swim at Sylvan Lake. TripAdvisor gave this inn a certificate of excellence in 2017.