Louisiana
You'll Find That Louisiana Has More Than its Share of Art and History
Here are 6 really interesting museums in The Pelican State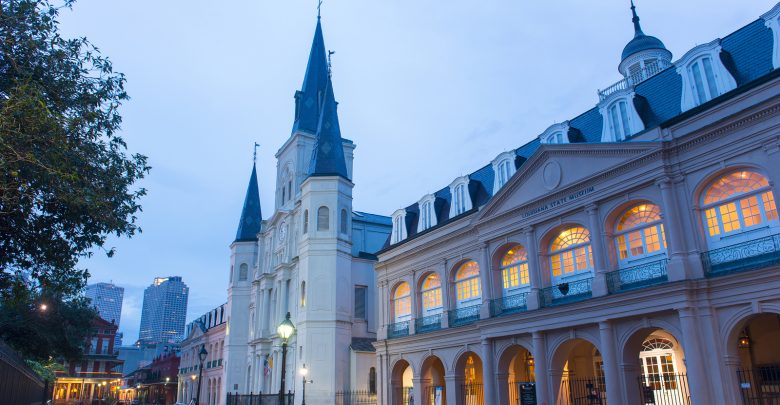 When you hear the name "Louisiana," certain thoughts instantly come to mind—New Orleans, the French Quarter, Mardi Gras, Cajun cooking, the bayou. You might not automatically assume an abundance of interesting and educational museums. But truth be told, Louisiana is a proverbial mecca of museums that appeal to kids and adults alike, as well as to a variety of interests, topics and times in history. The next time you're down south and find yourself in the Pelican State, be sure to make time in your itinerary for one or more of these six museums we found quite interesting. You won't be disappointed.
New Orleans Museum of Art – New Orleans
The New Orleans Museum of Art, or NOMA, is the city's oldest fine arts establishment. It opened more than a century ago on December 16, 1911. On opening day, the museum could only lay claim to nine pieces of art. Today, the museum's permanent collection boasts an impressive 40,000 pieces of artwork of differing media. The massive collection features objects made from glass, exquisite pieces of French and American art, photography and African and Japanese works of art. In addition to the permanent collection on display, the museum also hosts various special exhibits throughout the year.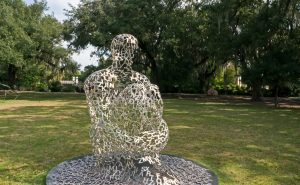 Perhaps one of the most beautiful and serene parts of the museum is the five-acre Sydney and Walda Besthoff Sculpture Garden. Within its breathtaking borders are more than 60 sculptures, as well as walking trails, reflections ponds and footbridges. The flowers that grow in the sculpture garden are an impressive sight in their own right, and the 200-year-old live oak trees in the garden are natural works of art themselves.
The New Orleans Museum of Art is open Tuesdays through Fridays from 10:00 a.m. to 6:00 p.m., on Saturdays from 10:00 a.m. to 5:00 p.m. and on Sundays from 11:00 a.m. to 5:00 p.m. Admission is $15 for adults, $10 for seniors and $6 for kids ages 7 to 12. Children 6 and under are admitted at no charge, and admission to the Besthoff Sculpture Garden is always free. For more information about this impressive museum, the sculpture garden, summer art camps or art classes for children and adults, visit www.noma.org or call (504) 658-4100.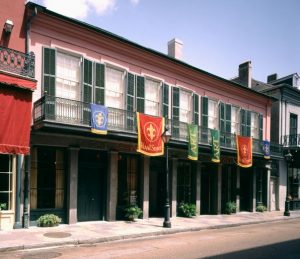 The Historic New Orleans Collection – New Orleans
The Historic New Orleans Collection is comprised of a museum, a research center, and a publishing house. It was founded in 1966 and is dedicated to the preservation of the history and culture of New Orleans and the Gulf South. The Collection has two locations in the French Quarter—the Royal Street Campus and the Chartres Street Campus. Ten historic buildings make up these campuses. Visitors to the Historic New Orleans Collection can enjoy exhibits and special events that celebrate New Orleans's rich history. There are also tours of the restored buildings that showcase a variety of architectural styles.

The Williams Research Center is home to approximately 1 million items—including photos, prints, drawings, and paintings—that document three centuries of the region's history—from everyday happenings to important historical events. There are 35,000 library items and shelves of documents teeming with information about New Orleans's past.
Admission is free to the four exhibition spaces which present stories and artifacts from the Gulf South from a multicultural perspective. The exhibits include fine art and other displays that take a look at the development of Louisiana. The publishing house of the Historic New Orleans Collection produces books about history, art, culture, and music from this lively spot in the south. The Historic New Orleans Collection Quarterly—the museum's quarterly magazine—is also published here. For more information about this unique museum, research center and publishing house, visit www.hnoc.org or call (504) 598-7146.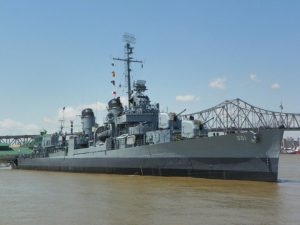 The USS Kidd Veterans Museum – Baton Rouge
This historical venue is an exciting two-for-one. Visitors can climb aboard the USS Kidd—a Fletcher-class destroyer that has been restored to her World War II configuration—which doubles as a museum. The destroyer was launched in February 1943 and commissioned into service two months later. After serving our country for almost 40 years, she eventually made her way to Baton Rouge, Louisiana. She arrived on May 23, 1982, and was open to the public on August 27, 1983. The destroyer is also the site of Louisiana's Naval Veterans Memorial, which showcases artifacts that tell the heroic stories of veterans and celebrate the history of naval aviation.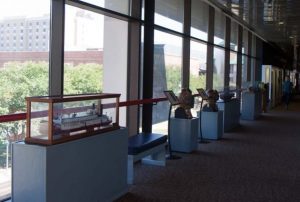 The USS Kidd was the 661st destroyer built by the United States Navy. She is named for Isaac C. Kidd, Sr., who lost his life aboard the USS Arizona during the Japanese attack on Pearl Harbor in December of 1941. Kidd received the Medal of Honor for his service. The USS Kidd is affectionately nicknamed "The Pirate of the Pacific" and is one of only four Fletcher-class destroyers that is still preserved as a museum today. She is also the only known naval destroyer that is presented in her World War II configuration. She is more than 376 feet long and nearly 40 feet wide.
Visitors to the museum are welcome on weekdays from 9:30 a.m. to 3:30 p.m. and on weekends from 10:00 a.m. to 4:00 p.m. Admission is $12.48 for adults, $10.40 for veterans and seniors and $8.32 for children. For more information, visit www.usskidd.com.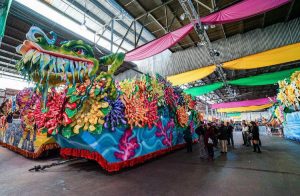 Blaine Kern's Mardi Gras World – New Orleans
At Mardi Gras World in New Orleans, visitors can tour the Blaine Kern Studios—a giant warehouse—where floats for the annual New Orleans Mardi Gras parades are designed and built. This huge operating workshop has been the birthplace of Mardi Gras parade floats—as well as floats for other parades all the world over—since 1947. During the tour of the studios, visitors can see what goes into the creation of these huge floats as artists and architects build them from the ground up. They can also learn about the history of the Mardi Gras celebration. There are props, Mardi Gras costumes and more. And every tour ends with a slice of King Cake!
Artisans at Blaine Kern's Mardi Gras World Studios create floats for more than 40 parades every year. In all, the studio builds more than 500 floats annually. The tour of the warehouse lasts about 60 minutes and is available seven days a week, beginning every 30 minutes. The first tour begins at 9:30 a.m. and the last tour of the day begins at 4:30 p.m. Tour prices are $22 for adults, $17 for seniors and $14 for kids ages 2 to 11. For more information about the studio or the tour, visit www.mardigrasworld.com or call (504) 361-7821.
Sci-Port Discovery Center – Shreveport
The Sci-Port Discovery Center includes Louisiana's Space and Science Center, the Power of Play (POP) Children's Museum, and the Sawyer Space Dome Planetarium. The center also has an IMAX Dome theater. On display are scores of math, science, space and technology exhibits—many of which offer opportunities for hands-on learning experiences—across 92,000 square feet. Admission to the Sci-Port Discovery Center is $12 for ages 12 months and older. Admission to the IMAX Dome Theater is an additional $8 per person, ages 3 and up.
The center offers special events on Friday evenings. "Family Fridays" are designed so that kids and adults can enjoy the experience together. The cost for this weekly event is $10 per person and includes admission to the Sci-Port Discovery Center, as well as to one 45-minute showing in the IMAX Dome theater. For more information about this unique museum, visit www.sci-port.org.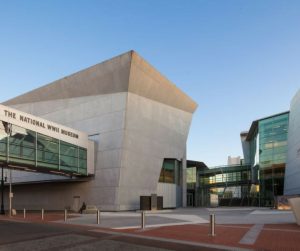 The National World War II Museum – New Orleans
The National World War II Museum—once called the National D-Day Museum—is located in the central business district of New Orleans. It is the nation's official World War II museum, as designated by the United States Congress. This impressive museum focuses specifically on the United States' contribution to the Allied Forces' victory in World War II. The museum spans six acres and is comprised of multiple buildings and pavilions in which exhibits showcase memorabilia, artifacts, photographs and other items that tell the story of the Second World War and how the Allied Forces marched to victory.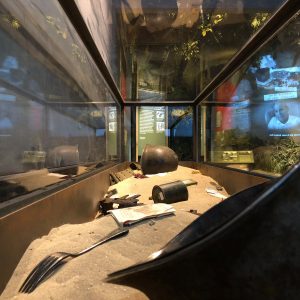 The buildings and pavilions that make up the National World War II Museum include the Solomon Victory Theater, which offers visitors an exciting 4D experience, the Campaign of Courage, which houses multiple 360-degree displays, and the U. S. Freedom Pavilion in which visitors can see tanks, trucks, and airplanes that were used during the war. Other buildings include Founders Plaza, the John E. Kushner Pavilion, the Louisiana Memorial Pavilion, and more.
The museum is expanding to include new exhibits and pavilions. The Hall of Democracy will be a 34,000-square-foot pavilion, and the new Liberation Pavilion will stand three stories high. The Liberation Pavilion will focus on the last part of the war, as well as the post-war years. It will also give visitors a perspective on how World War II—though it took place in the 1940s—affects our lives today.
Admission to the museum is $28 for adults, $24 for seniors and $18 for military personnel and kids in Kindergarten through 12th grade. Children ages 4 and under are free, as are World War II veterans. The museum is open daily from 9:00 a.m. to 5:00 p.m. Learn more about this amazing museum and all it has to offer when you visit www.nationalww2museum.org.