Florida
6 Super Fun & Interesting Things to Do in Tampa/St. Petersburg
From museums to manatees, they've got it all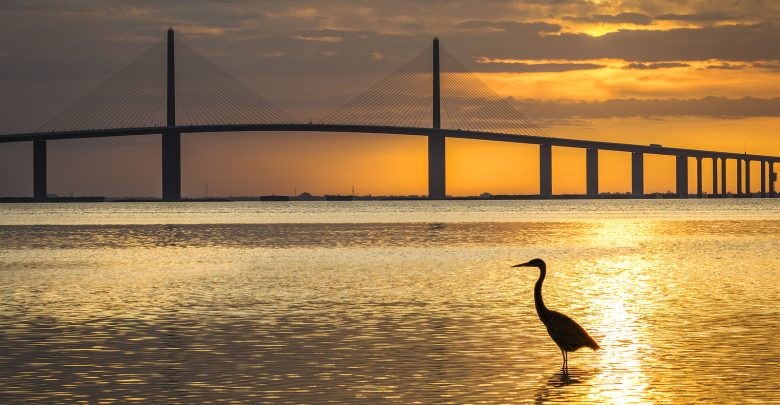 The Tampa/St. Petersburg area of Florida is known as the Tampa Bay area and is home to nearly 3 million people. It's also home to the Tampa Bay Buccaneers and the University of South Florida. St. Petersburg is known as "The Sunshine City" and holds the title for "Most Consecutive Days with Sunshine" with a string of bright happiness that lasted 768 days. There are also lots of fun family activities available in the Tampa Bay area—too many to list, but here are six things you'll want to do with your family on a vacation to this sunshiny part of the Sunshine State.

1. Visit the Dali Museum – St. Petersburg
This is the perfect art museum for art lovers as well as those who aren't usually into art. Salvador Dali was known for his odd surrealist artwork, and the Dali Museum in St. Petersburg houses the largest collection of the famed artist's work outside of Spain. The collection includes 96 oil paintings, jewelry, original drawings, book illustrations, prints, sculptures and more. The gift shop inside the museum sells Dali-inspired artwork, home décor, jewelry, books and more. The Museum is open every day of the week, from 10:00 a.m. to 5:30 p.m., and on Thursdays, the museum stays open until 8:00 p.m. Admission for adults is $24, teens are $17, and kids (6+) are $10. Seniors get a small discount—65 and better pay only $22, and kids 5 and under are free. Call (727) 823-3767 or visit www.thedali.org for more information.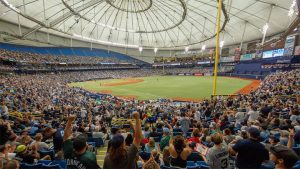 2. Catch a game at Tropicana Field – Downtown St. Petersburg
Major League Baseball fans can catch a Tampa Bay Rays game at Tropicana Field. This field is the only sports facility to have a tank full of stingrays inside. Thanks to a growing partnership with the Florida Aquarium, the 10,000-gallon Rays Touch Tank is open to the public during the Rays' games. Visitors can touch, feed and interact with stingrays in the tank throughout the game. Ticket prices vary depending on date, seats, and opponents. Visit www.mlb.com/rays/ballpark to see ticket pricing.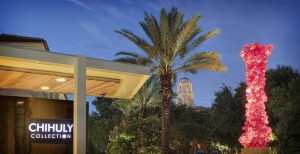 3. See the Chihuly Collection – St. Petersburg
On your visit to the Tampa/St. Petersburg area, make plans to stop in at the Morean Arts Center to see the beautiful permanent collection of artwork by world-renowned glass artist Dale Chihuly. His artwork has been on display in many different locations across the country, but this arts center houses a large permanent collection in a 10,000-square-foot facility. See glass sculptures and other unique creations in glass. There are also glass-blowing demonstrations, and visitors can book glass-blowing classes. The cost for the classes ranges from $75 to $150 per person, depending on the class level. Visit www.moreanartscenter.org/chihuly to get an amazing preview of all there is to see and do!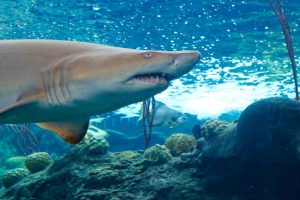 4. Visit the Florida Aquarium – Tampa
Florida and sea life, sea life and Florida—is there any more natural combo? Tampa's Florida Aquarium offers a great kid-friendly experience with up-close views and encounters with sea animals of all kinds. See sharks, rays, otters, sea turtles and more. The aquarium even offers a behind the scenes tour of the facility, as well as the Wild Dolphin Cruise, during which visitors board at 72-foot catamaran and take to the water for the opportunity to see wild dolphins feeding, playing, sleeping and more. The Florida Aquarium is open every day from 9:30 a.m. to 5:00 p.m., and ticket prices vary depending on the date of your visit. Prices usually range from $25 – $29 for adults, about $24 for kids and $26 for seniors. The Behind the Scenes Tour adds about $20 to the price of the admission ticket, and the Wild Dolphin Tour costs an additional $21. See your exact pricing based on the date of your visit at www.flaquarium.org.

5. Head to Busch Gardens – Tampa
Tampa's Busch Gardens lies just 10 miles northeast of downtown Tampa and is open 365 days a year. The amusement park covers nearly 300 acres and has over 12,000 animals, several shops, restaurants, rides, attractions, and live shows. There are five themed lands at Busch Gardens—Morocco, the Congo, Timbuktu, Egypt, and Nairobi. Single park admission prices start at $79.99 online and $104.99 at the gate. You'll save a lot by purchasing your tickets in advance online. Visit www.buschgardens.com for pricing, more information and to purchase your tickets.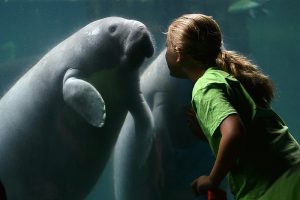 6. Visit ZooTampa at Lowry Park – Tampa
The Lowry Park Zoo encompasses 60 acres and offers something for every member of the family. The zoo is divided into five sections—Florida, Primates, Africa, Wallaroo Station (with rides and a petting zoo) and Asia. At Lowry Park, visitors can see a myriad of amazing animals including manatees, the Southern White Rhino, the Florida panther, the African penguin, the African elephant, pygmy hippos, the Aldabra Giant Tortoise and more. Near the brand-new Roaring Springs part of the zoo, visitors can also see black bears, alligators, panthers, and other animals. The zoo has several fun family attractions like Expedition Africa—a 15-minute tour aboard a safari vehicle that introduces visitors to animals on the savanna. Little ones can pick their favorite animal on the Jungle Carousel or ride the Overland Express Train. Roaring Springs is a brand-new wet ride at Lowry Park, and the Tasmanian Tiger Coaster is great for the thrill junkies in your family. Admission is $35 for adults (ages 12 and up) and $26 for kids (ages 3 to 11). Children 2 and under are free. Visit www.zootampa.org for more information.