Indiana
We All Scream for Indy's Ice Cream!
Indianapolis offers world-class purveyors of creamy gourmet goodness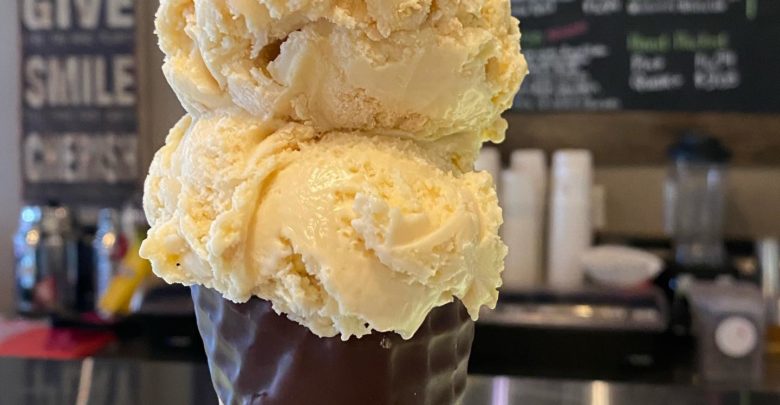 When it comes to desserts, ice cream is easily one of the best options out there. It's sweet, creamy, and rich—all things we look for in a good sweet treat. On top of that, the cold factor makes ice cream a fabulous treat to cool down on a hot day.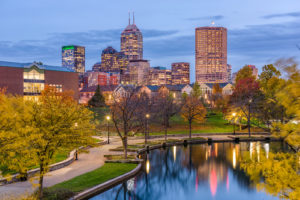 Because we appreciate ice cream so much, we're always on the lookout for places to get a wonderful cup or cone of the stuff. Happily, we've found that most places have a pretty good collection of ice cream spots.
One of the best places for getting frozen sweets? Indianapolis, Indiana. This city has a number of awesome ice cream shops, and below are some of our favorites.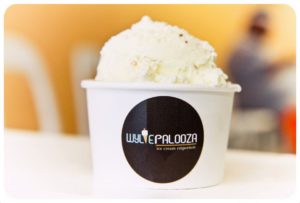 #1: Wyliepalooza Ice Cream Emporium
With flavors as zany as its name, Wyliepalooza is a great place to go if you're looking for interesting treats you can't get anywhere else. Flavors include such fun options as Chocolate Cherry Bomb, Toffee Chocolate Chip, and Brownie Cascade.
This shop now has two locations in Indianapolis, making it even easier to get your fix!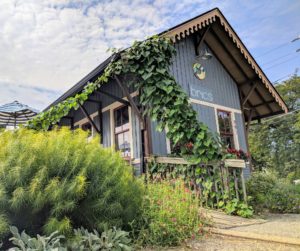 #2: BRICS
BRICS is a super charming little shop that has taken up residence in a restored train depot. It's located on a walking path, making it a great stop during a family walk. They are also pet-friendly, offering canine guests "pup cups" of water. We love the chocolate-dipped sprinkle cones served here, and every single flavor is delicious.
Like Wyliepalooza, BRICS now has two Indianapolis locations, so you can get their delicious treats even more often.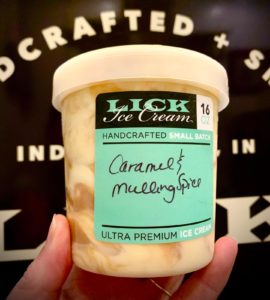 #3: Lick Ice Cream
Lick might be a teeny tiny place, but it is absolutely packed with flavor. This hole-in-the-wall shop is another one of those places that offers lots of unique flavors, making it a super fun place to visit if you're into trying new things. People love the Sweet Corn flavor, and the Gorgonzola Candied Pecan flavor is also popular.
We recommend visiting this one more than once so you can try several different kinds of ice cream.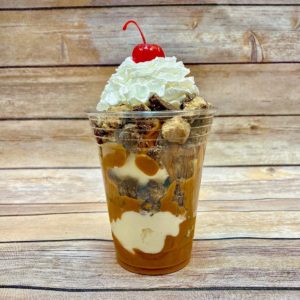 #4: Sundae's Homemade Ice Cream
There's nothing quite like simple homemade ice cream, and Sundae's offers just that. It has been declared the "Best Ice Cream in Indiana" by some, and once you try it, you'll understand why. All of their flavors are made in-house, and the result is a rich creamy treat you'll want to indulge in over and over again.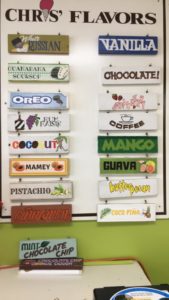 #5: Chris' Ice Cream
What's better than ice cream? Ice cream with tacos, of course! Chris' Ice Cream serves up both ice cream and delicious, scratch-made Mexican food, and we love it. Our suggestion? Get something spicy and follow it up with their Oreo ice cream to cool your mouth off. You won't regret it!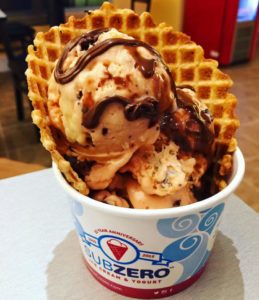 #6: Sub Zero Nitrogen Ice Cream
If you haven't tried nitrogen ice cream yet, it's high time you did. This ice cream is made using an interesting technique that uses liquid nitrogen to flash freeze the cream, sugar, and other ingredients. This makes it possible for ice cream to be made to order and served up within minutes.
Sub Zero Nitrogen Ice Cream uses this technique, and we absolutely love the fact that we can create our own flavors and watch as the treats are made right before our eyes.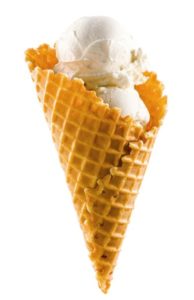 #7: Ritter's Frozen Custard
Sure, Ritter's is a chain, but this place creates some seriously awesome frozen custard. In fact, we'd even go so far as to say this is the best place in the city for custard-based frozen treats.
As is the case with most frozen custard places, Ritter's offers burgers and fries alongside their desserts, and it's all delicious. Custard flavors include chocolate and vanilla, with a huge number of mix-in options. All frozen treats can be served in cups or in housemade waffle bowls or cones.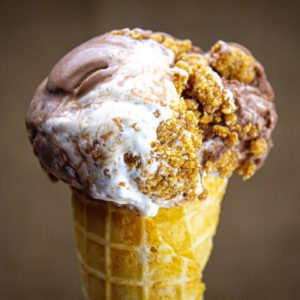 #8: Circles Ice Cream
Considering that so many people claim Circles Ice Cream is "the best they've ever had," we think you'll probably love it as well. Here's the thing though: Circles doesn't have a shop of their own. Instead, this company serves at pop-ups across the city. You can also hire the company for your event or even order their treats to be delivered to your door.
Circles offers a variety of seasonal flavors. That said, if you don't see what you want, you can make a request on their website.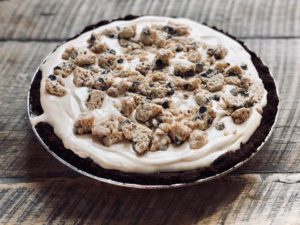 #9: Nicey Treat
Technically, Nicey Treat is a paleta (ice pop) shop rather than an ice cream shop. However, these paletas are as delicious as any ice cream we've had. A variety of flavors are available, and the shop will chocolate-dip any of their pops. Best of all, Nicey Treats uses only all-natural ingredients, making these treats better for you and better for the planet.
Looking for something "Nicey" to share with others? Consider getting one of their new Nicey Pies.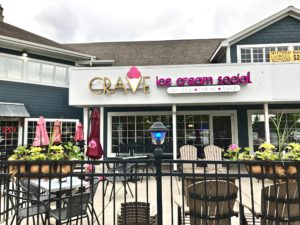 #10: CRAVE Ice Cream Social
Another adorable Indianapolis ice cream shop is CRAVE Ice Cream Social. This place serves 24 flavors of homemade ice cream. Additionally, guests will be pleased to find that Nicey Treats, handmade chocolates, fresh-brewed Noble Coffee, and flavored popcorn from Good's Candy are all served in this shop as well.
If you are looking for a place with a variety of different treats to please everyone in the family, this is definitely your place. Not only will everyone leave happy, you'll be supporting small businesses, something that you can feel good about.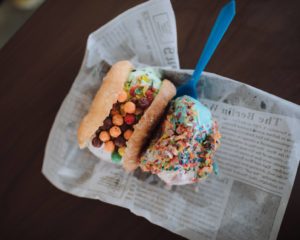 #11: TeeJay's Sweet Tooth
Looking for treats that are over the top? TeeJay's Sweet Tooth might be for you. This fun-loving treat shop serves up some of the biggest ice cream cones we've ever seen. They also offer such concoctions as the Ice Cream Donut Sandwich and some seriously pretty and elaborate milkshakes.
Everyone who visits TeeJay's leaves with their sweet tooth satisfied and a big smile on their face.