Arkansas
Some of Arkansas' Best Resort Destinations
These lakeside resorts are great getaways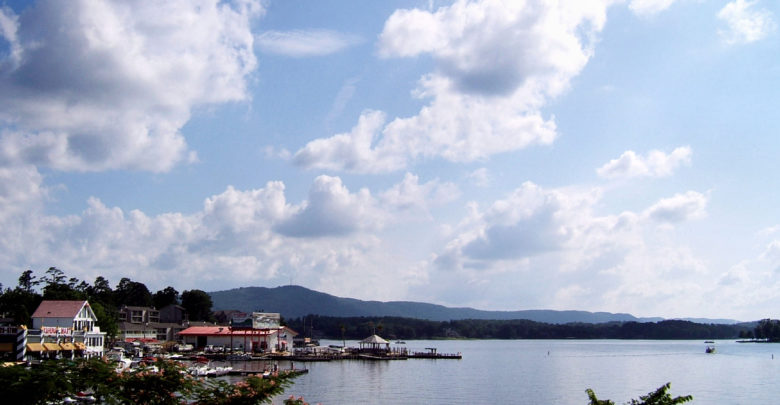 Arkansas, a state filled with rolling hills and plenty of lakes and rivers, is the perfect spot for a getaway vacation. If you're looking for a trip that offers a retreat away from the chaos of life, look no further than staying lakeside in Arkansas. These are the best resorts to stay at during your trip to Arkansas.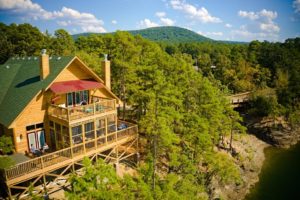 Mountain Harbor Resort and Spa
Mountain Harbor is a family-owned resort that's been family-owned and operated for over five decades. Because of its longevity and the love the family has for it, it offers one of the highest quality experiences you can find at a resort. The current owner Bill Barnes's father discovered the lake it is settled on about fifty-five years ago. Mountain Harbor offers several different packages including the honeymoon package, fishing adventure packages, family vacation packages, girls-only spa packages, trail adventure packages, and special discount packages. During your stay you can enjoy boating, fishing, hiking, swimming, spa-ing, and fine dining.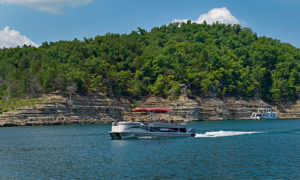 Rocky Hollow Lodge
On the shores of Bull Shoals Lake, Arkansas, you'll find Rocky Hollow Lodge's seven private and secluded cabins. Rocky Hollow Lodge is a family vacation resort that's been around since 1961. The town is a convenient spot as it offers the seclusion of nature with nearby conveniences such as a grocery store, restaurants, and banks. On top of enjoying the lake, you can also rent a boat, go on a cave tour, and enjoy nearby attractions in the town.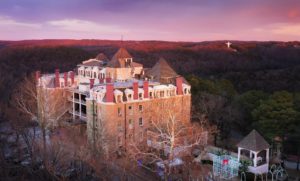 The 1886 Crescent Hotel and Spa
Located in the beautiful "green grand canyon" of Arkansas, the Crescent Hotel has become a nationally recognized hotel for its history, beauty, and supposed haunts. It is recognized by the National Trust for Historic Preservation as one of America's Dozen Distinctive Destinations. During your stay, enjoy the natural surroundings by going hiking, biking, or swimming. You can also indulge yourself in the spa or "crystal dining room." There are, of course, ghost tours as well – because no haunted hotel would be complete without them.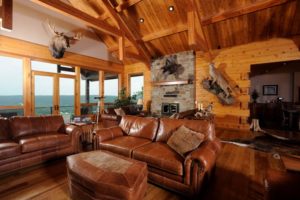 The White River Inn
Endorsed by the luxury outdoor brand Orvis, the White River Inn is a beautiful and welcoming lodge to enjoy the views of Cotter, Arkansas. This spot is an all-inclusive, full-service fishing lodge that caters to outdoor lovers and travelers who enjoy high-quality service. Perfect for fly fishing enthusiasts, couples on a romantic getaway, and vacationers looking for a quiet holiday. All fishing packages include breakfast, all-day fishing, custom packed lunch, and all the trout you can catch. The lodge is custom built with Western Red Cedar Square logs, and is the only five-star lodge on the White River. It is the only Orvis-endorsed lodge in the state of Arkansas.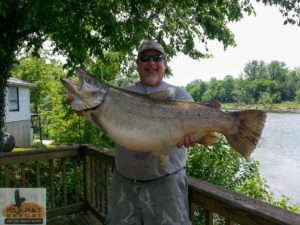 His Place Resort
Enjoy trout fishing, boating, canoeing, and kayaking on the White River at His Place White River Resort. They offer cabin and other lodging so you can enjoy world-class trout fishing in the heart of the Arkansas Ozark Mountains. While fishing, you'll find rainbow trout, brown trout, cutthroat trout, and brook trout. They have a fully stocked fly and tackle shop, boat rentals, canoe and kayak rentals, and a private dock. During your stay, you can also go on hikes, go on a bike ride, go golfing, go caving, or venture over to the town nearby for shopping and food.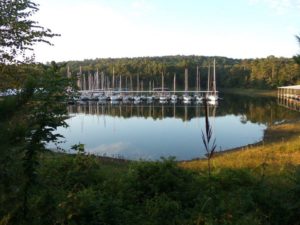 Iron Mountain Lodge and Marina
A family-owned lakeside resort that's been around for 37 years, Iron Mountain Lodge and Marina is on 130 acres of beautiful hardwoods and pines between Arkadelphia and Hot Springs. During your stay, you'll sleep in a newly renovated lake cottage and have access to a full-service marina. This spot is also great for corporate retreats, meetings, banquets, family reunions, and weddings. Activities at and near the lodge include horseback riding, golfing, hot tubbing, fishing, boating, hiking, swimming, and relaxing.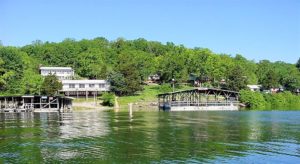 Edgewater Resort and Lodge
On Bull Shoals Lake, you can find relaxation and outdoor fun at the Edgewater Resort and Lodge. You'll stay in a cottage furnished with all the kitchen supplies you'll need, and cozy beds to jump into after a long day out on the water. Fishing here is some of the finest as they have largemouth bass, smallmouth bass, Kentucky spotted bass, crappie, walleye, white and striped bass, rainbow trout, lake trout, bluegill, and catfish. You can even go scuba diving during your stay. There's also a pool for those prefer to lounge on land.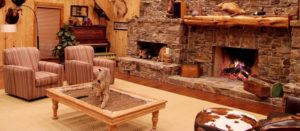 Lone Oak Duck Lodge
Just twenty minutes from downtown Little Rock, this lodge has all the comforts of getting away from the city while still allowing you to be close to all the amenities that cities have to offer. The lodge sleeps up to twenty people, and is a perfect retreat center for a large group. Lone Oak is 7,000 square feet of five private bedrooms, two bunk rooms, five bathrooms, a television, pool table, shuffleboard, and two living areas. There are several covered porches, and the back porch is perfect for watching ducks drop in or just enjoying the view. While there, you can hike, go to the shooting range, hunt, and enjoy the views.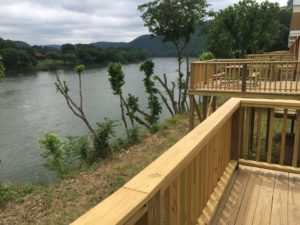 Anglers White River Resort
Nestled in Mountain View, Arkansas, the Anglers White River Resort is another great Arkansas lakeside resort for getting away from it all. Just a few minutes away, you'll find the best trout and bass fishing, bird watching, canoeing, and scenic views. You can also go hiking, biking, hunting, and caving. During your stay, you can also float the river in an inflatable float – fun for the whole family. The nearby Ozark Folk Center offers arts and crafts classes, and there's almost always live bluegrass music paying. There's also plenty of good food to enjoy at the resort.