Connecticut
The Most Fun, Splashy Waterparks in Connecticut
These spots are perfect summertime fun for the whole family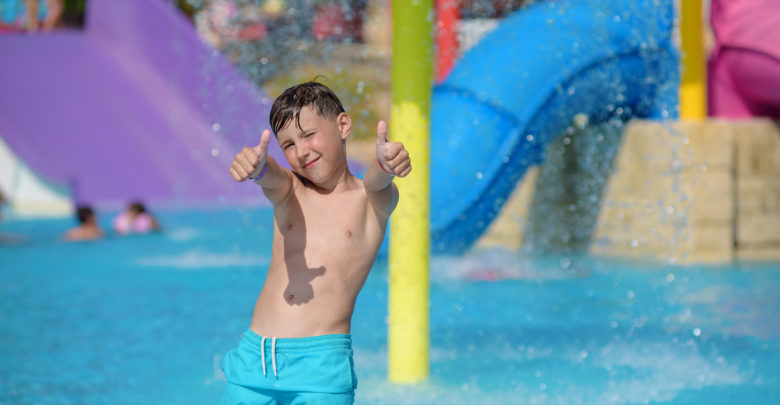 Even though Connecticut is one of the smallest states in the Union, there is plenty to do. The winters in The Constitution State may be cold, but it can get hot during the summer months! That is why it is a good thing to know where the nearest water park is. There are several in the state, and they all have something different to offer. One thing that is similar, though, is that water parks are a fun way to beat the heat for the whole family. Here is some information on the best water parks that Connecticut has to offer.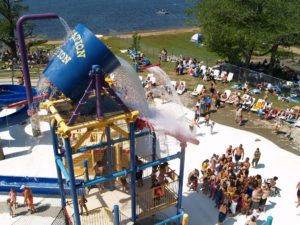 Quassy Amusement & Waterpark
Quassy Amusement Park in Middlebury has quite the history. It dates back to 1908! It started as a trolley park, and became a full amusement park after World War II. The waterpark was added much later. That part is known as Splash Away Bay, and it includes fun for all ages. Fish Pond is an area for the littlest members of your party. It is for the 48 inch and under crowd. There are plenty of interactive elements to the area, so kids can be involved without being overwhelmed. Slide City features water slides for kids the same height. More fun for all ages is Saturation Station. This was the first water element added to Quassy, it's been around since 2003. With Saturation Station, guests will be soaked when the giant bucket empties its load.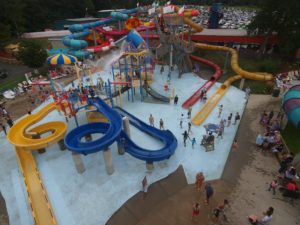 There are also attractions that have height requirements. You need to be at least 42 inches tall in order to ride Category 5 Rapid Raft Rides. Tunnel Twisters contains a series of tubes that you can ride, including one in the dark. Bullet Bowl is for two people, and there are several different elements to the ride. Thrill-seekers will want to hit FreeFALL Extreme Bodyslides. These two slides will allow you to drop straight down. One thing that is nice about Quassy Amusement & Waterpark is the price. It is definitely one of the most affordable parks that you will find. If you aren't interested in visiting the entire park, you can purchase a pass that is good for only Splash Away Bay. Quassy Amusement & Waterpark is located on Lake Quassapaug, and there are fantastic views from many of the rides and slides.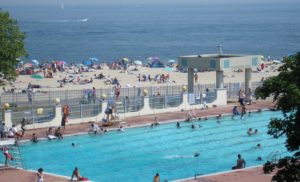 Ocean Beach Park
Ocean Beach Park is of course located on the Atlantic Ocean, in New London. There is plenty to do. You can walk the boardwalk, play a round of miniature golf, and ride some amusement park-style rides. There is also a waterpark. It may be small, but you will discover that it is easy to spend the entire day there. The fun starts with an Olympic sized swimming pool. It is 50 meters in size! There are also three waterslides that you can enjoy. For kids who are eight or younger, there is a Kiddie Spraypark. The tickets here work a little bit differently than at most water parks. You can buy a wristband to use the pool, it is good for the entire day. If you want to hit the slides you can pay for a single ride, a half-day wristband, or a full-day wristband. The Kiddie Spraypark is free to use. There are lockers on property, making it easy to come and go as you please. Seasons Passes are also available.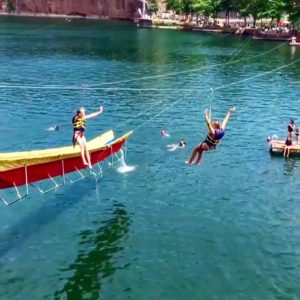 Brownstone Exploration & Discovery Park
In Portland, you will find a water park that is a bit different. Instead of being on pavement in an environment that was created by man, you will be in the middle of nature. Brownstone Exploration & Discovery Park is full of things to do and explore, the water is just part of it. Located on Brazos Quarry, the water fun isn't your typical water park type of atmosphere. You will instead find a series of docks, inflatables, and water obstacles. They are fun for all ages! You can also zipline over the water, or into the water. There are plenty of other water-related activities that aren't off of the main course. You can go cliff diving, scuba diving, snorkeling, or head out in a kayak. Wakeboarding is also popular. These are just a few of the activities that will make you want to return! There are three different types of day passes that you can buy; General Swimming, Adventure Sports, and Wakeboard Adventure. Life jackets are included for no extra charge. Seasons Passes are also available.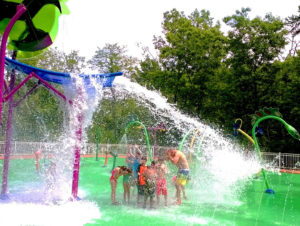 The Dinosaur Place at Nature's Art Village
You might not think that dinosaurs and water parks are a combination that makes sense, but The Dinosaur Place wants to prove you wrong. It's located in Oakdale. The Dinosaur Place is an "outdoor adventure park" that features 50 life-sized dinosaurs. There are also mazes, trails, and a playground. On a hot summer's day, though, it is the Splashpad that you will want to check out! It is the largest splash pad in New England, and has been voted one of the best in the country. It is a zero-depth area, which means that you do not need to be a swimmer in order to play. Even though there are no slides, there are plenty of ways to get wet.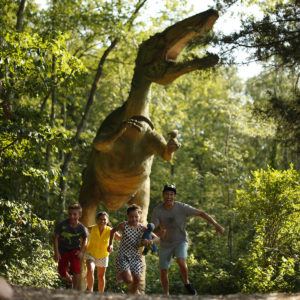 There are 30 dinosaur-themed activities, such as a ribcage waterfall and "dueling Tyrannosaurus Rex– and Velociraptor" water cannons. There are sensors in the ground that will cause some of the elements to react, you might even be able to make a Pteranodon ride up on its perch. While the Splashpad is for all ages, there is a separate area for the youngest members of your party. That way, you can keep them away from the rougher play. Water shoes or slip resistance shoes are required to participate, and children must be supervised at all times. The best part of all is that admission to the Splashpad is included with your admission to The Dinosaur Place at Nature's Art Village. The Splashpad is open during the peak times of year, and, like any water park, will operate weather permitting.