Ohio
Off the Beaten Path, You'll Be Surprised by Ohio
These locations are the best-kept secrets in the state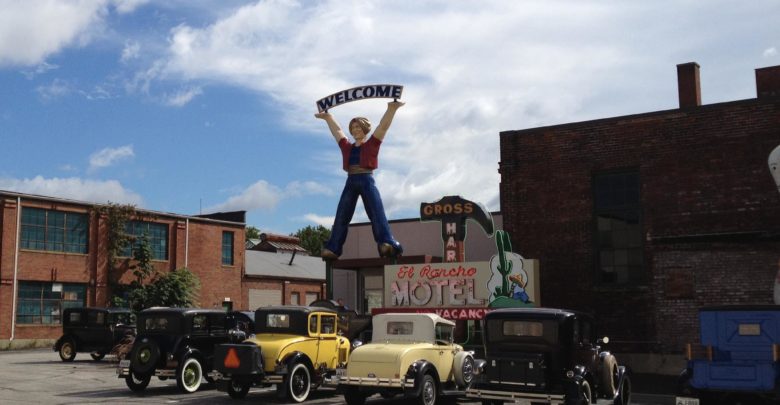 Serving as a link from America's Northeast to the Midwest, Ohio sees a lot of traffic – and it's within a day's drive for half of the people living in North America.  But trust us when we say you're missing out if the only acquaintance you have with Ohio is with its highways!  From the shores of Lake Erie to its mountain peaks, Ohio is bursting with natural beauty, but that's just part of the appeal of this oft-overlooked state.  It is also rich in historical and cultural sites, vibrant urban centres, and quirky attractions you won't find anywhere else.  Here are just a few of Ohio's hidden gems – but there are plenty more where these came from, so don't stop here!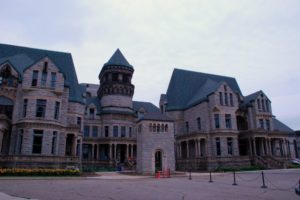 Ohio State Reformatory
Abandoned buildings might not top your list of must-see places in any state, but if you're in the area, you'd be remiss if you didn't check out the Ohio State Reformatory.  Located in Mansfield, this unique site was used as the set of the film The Shawshank Redemption, and you can take a tour to get your fill of behind-the-scenes stories that happened during filming.  The site was also once used as an actual prison, and history buffs will love exploring this 1886 building either on their own or with a guided tour.  Equal parts fascinating, creepy and beautiful, this is a hidden gem you won't soon forget.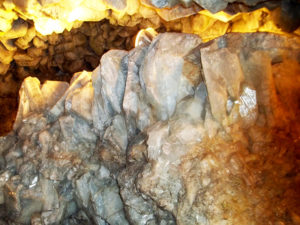 Crystal Cave
Did you know the world's largest geode is located in Ohio?  It's true, and yes, you can actually walk in it!  Crystal Cave is located in Put-In-Bay on South Bass Island, and its walls are covered with beautiful, blueish celestite crystals reaching up to 18 inches long (and up to 15,000 years old!).  The cave itself is more than 30 feet deep, and was discovered back in the late 1800s when workers were digging a well for the winery that still stands above the cave.  Step inside the geode to be transported to a beautiful underground fairyland before indulging in a glass of wine topside at Heineman Winery.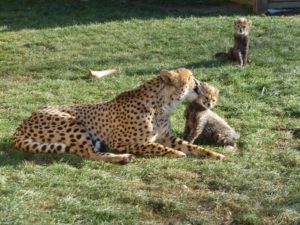 The Wilds
You don't have to make the trip to Africa to go on safari.  Amazingly, there's a safari experience waiting for you here in Ohio!  The Wilds is one of the only places in the country where you can go on safari, and you'll find it in Cumberland.  Over 9,000 acres of wilderness and scenic views await you here.  The Wilds occupies land that was formerly a strip mine and has been repurposed as a conservation center and safari park, housing over two dozen species of animals, many of which are endangered and/or exotic.  You can explore the site and the animals by taking an open-air safari, or book an overnight luxury Yurt for a true safari experience.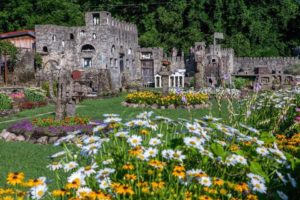 Hartman Rock Garden
When you picture a rock garden, chances are you don't imagine a sprawling oasis consisting of 20,000 stones replicating the White House, Mount Vernon, and a castle with a drawbridge, among others.  But that's what you'll find at Hartman Rock Garden in Springfield.  It all began in 1932, when Ben Hartman created a stone fish pond to occupy himself when he was out of work during the Great Depression.  From there, he continued building up his rock garden in the shape of houses, parapets, churches and even a collection of animals leading into Noah's Ark, using stones he found at construction sites and then broke down to size himself.  The effect of the elements over so many years has added an ethereal look to the entire garden, and it's well worth a stroll if you're nearby.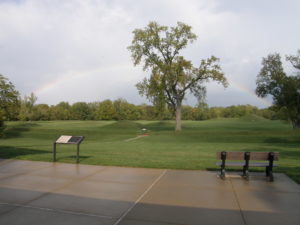 Hopewell Culture National Historical Park
There aren't many places in the USA where you can visit ancient history.  Luckily, in Ohio, you can visit the haunting, nearly 2000-year-old remains of the Native American Hopewell culture.  Head to Hopewell Culture National Historical Park to check out the earthworks left behind by these fascinating people; the park contains six different earthwork complexes, some with 12-foot-high earthen walls, including massive geometric shapes and figures.  Stop by the museum and visitor center for a bit of context, and explore various artifacts that were discovered on site.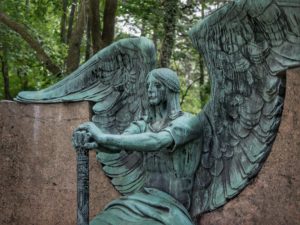 The Weeping Angel
For decades before the term became synonymous with seriously creepy science fiction villains, the Weeping Angel at Lakeview Cemetery in Cleveland has stood guard, entrancing visitors looking for a surreal off-the-beaten-path experience.  Also referred to as The Angel of Death Victorious and Haserot's Angel (after the grave it stands over, belonging to Francis Haserot), it's a life-size angel made of bronze holding an extinguished torch.  While beautiful and eerily captivating, it's the black "tears" the Weeping Angel appears to shed, thanks to a discoloration from the aged bronze, that are the main draw for most visitors.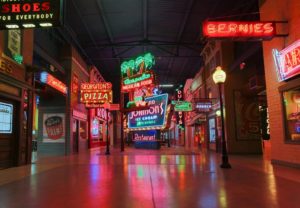 American Sign Museum
That's right, there really is a museum featuring signs, and you'll find it in Cincinnati.  But we're not talking boring, dusty old street signs here – the American Sign Museum is a wacky, neon wonderland that spans more than a century of design and technology in 20,000 square feet of space!  From the famous golden arches of McDonald's to the instantly recognizable Big Boy statue, you can explore the museum to your heart's content with a guided or audio tour.  Photo opps abound at the museum's recreation of a typical "Main Street" in USA, complete with store-front signs and curiosities.  Don't miss Neonworks of Cincinnati, a neon workshop inside the museum.