Ohio
Enjoy Some of the Most Lovely Scenery in the Midwest
Cuyahoga Valley National Park is an incredible natural playground you need to see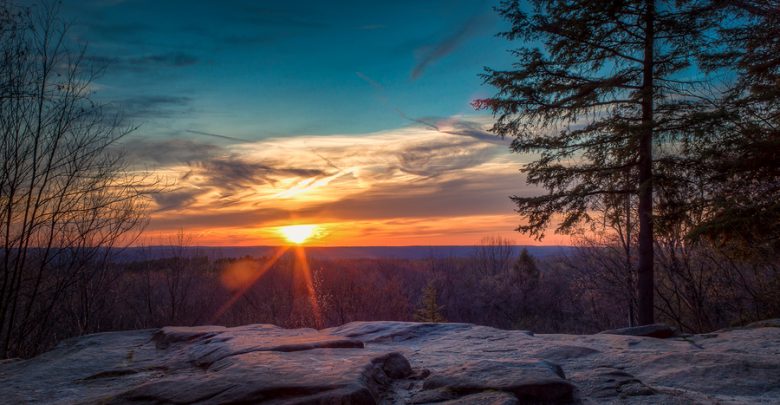 Cuyahoga Valley National Park is located in the northeastern part of Ohio. It is unique for a national park because it is located between two urban areas; Akron and Cleveland. It is also the only national park located in the state of Ohio. Size-wise, it is just under 51 square miles. It is officially run by the National Park Service, although parts are managed separately. Cuyahoga Valley National Park became a national park in 2000, before that it was considered a national recreation area. Here are some of the reasons why you need to visit Cuyahoga Valley National Park at least once.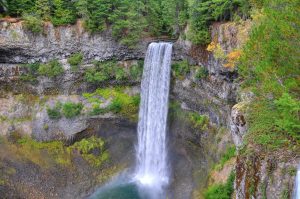 Brandywine Falls
Arguably the most famous part of Cuyahoga Valley National Park is Brandywine Falls. The 65-foot falls have an added beauty because of the layers of rocks that the water cascades over. There is a map nearby that explains each layer of rock that you will see. Brandywine Falls is part of the Cuyahoga River. Getting to Brandywine Falls is easy. There is a parking lot off of Stanford Road in Sagamore Hills, Ohio. From the parking lot, it is an easy walk that will take only a couple of minutes. You will hear the falls before you see them. Brandywine Falls is also accessible by other hiking trails within Cuyahoga Valley National Park. One word of warning. Visitors are not allowed to climb Brandywine Falls, and everyone needs to stay within the areas that are designated for viewing. It is dangerous to try to climb under the fences to get a closer look at Brandywine Falls.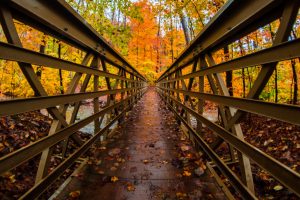 Hiking
If you love to hike, you will be thrilled with Cuyahoga Valley National Park. There are over 125 miles worth of trails! If it's Brandywine Falls that you want to see, you might want to consider taking the Brandywine Gorge Trail. It's 1.5 miles long and takes you along the gorge and then down to the level of the creek. If you hike along the Stanford Trail you will also be able to see Brandywine Falls. Both trails are a bit hilly. There are also trails that are flat for easier walking. Some of the trails within Cuyahoga Valley National Park are also open for biking and riding.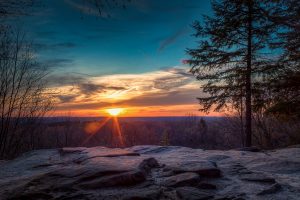 The Ledges Overlook
The Ledges Overlook can't really be called a natural wonder because at one point the area was a popular destination for rich tourists, and they wrecked the land. Eventually, the land was bought by conservationists and it began to heal. What is now known as The Ledges Overlook is an interesting glimpse at how nature restores itself. There are several hiking trails that lead to The Ledges Overlook. There is a shelter there that can be reserved by visitors. The Ledges Overlook offers an incredible view, and the sunsets are unforgettable.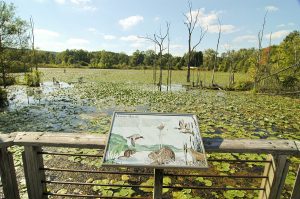 The Beaver Marsh
The Ohio and Erie Towpath Trail will lead you to another must visit part of Cuyahoga Valley National Park. The Beaver Marsh is, of course, a great place to be able to see a beaver or two living in their natural habitat. Beavers are not the only animals that you might see at The Beaver Marsh! Frogs, turtles, and plenty of fish might be found, depending on the time of year. The Beaver Marsh is also an ideal spot for bird watching. One of the fun things about The Beaver Marsh is that the species of animals that you might see will change, depending on the time of year. One rule of thumb to keep in mind is that the animals tend to be the most active first thing in the morning and also later in the evening. If you're hoping to see plenty of wildlife, plan to make The Beaver Marsh either your first or last stop of the day.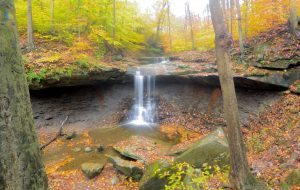 Blue Hen Falls
While Brandywine Falls may be the largest of the many waterfalls within Cuyahoga Valley National Park, there are more that you will want to see! Another spectacular waterfall that you will not want to miss is Blue Hen Falls. This waterfall is 15 feet. The simplicity of Blue Hen Falls is part of its beauty. There is a small parking lot that is across the street from the Blue Hen Falls Trail trailhead, from there it's a steep half mile hike. Blue Hen Falls is also accessible by parking at the Boston Store Visitor Center and hiking 1.5 miles from there.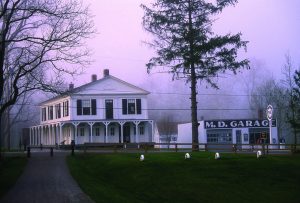 Visitors Centers
There are three different Visitors Centers at Cuyahoga Valley National Park. Boston Store Visitor Center is considered the best place to start your journey. There is a park video that you can watch, plus you can pick up maps and brochures. There will be staff members on hand to answer your questions. Hunt House is located on the Towpath Trail. Not only is it a great place to take a break if needed, it also offers nature exhibits that the kids will love. The newest Visitor Center is Canal Exploration Center. While it may have recently been turned into a center for information, the building that it is housed in is historic. The exhibits allow visitors to see what life was like back in the 1800's.
Other Information
The physical address for Cuyahoga Valley National Park is 1500 Boston Mills Road, Peninsula, Ohio, 44264. The park is open 24 hours a day, 365 days a year, but there are exceptions. Virginia Kendall Ledges, Octagon, and Lake close at dusk and reopen in the morning. Boston Store Visitor Center is open daily each fall, winter and spring from 9:30 until 5:00, the summer hours are 8:00 to 6:00. Hunt House is open daily during the summer, and on select days during the spring and fall. It is closed during the winter. Canal Exploration Center is open on weekends during May and November, daily during the summer, and Wednesdays through Sundays in September and October. It's closed December through April. There is no fee to visit Cuyahoga Valley National Park. Camping is available from Memorial Day through October 31. Reservations are required to camp.