New Hampshire
New Hampshire's Coolest Summer Chills
Slide and splash in the sun at these great waterparks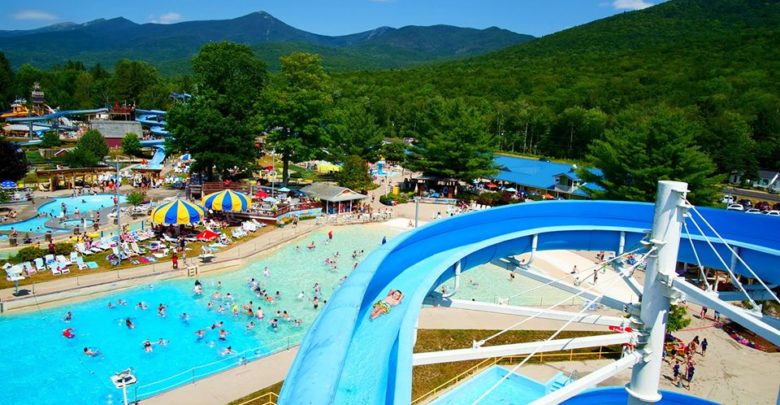 Water parks may not be the first thing that pops in your mind when you think of New Hampshire. After all, one of the state nicknames is the White Mountain State, mountains and water parks don't seem like an obvious match. The fact that all of New England is known for long, cold winters also makes New Hampshire seem like a state that would not have a lot of water parks. It is also a state that does not have a large population. The largest city is Manchester, which only has a population of about 110,000. It turns out that New Hampshire is a great state for water parks, in fact there are several to choose from. Here is what you will want to know.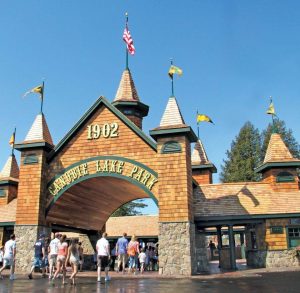 Canobie Lake Park
In Salem, you will find an amusement park that your whole family will love. Canobie Lake Park has 85 rides and attractions! If you want to cool off on a hot summer's day (it does get hot in the summer) you will want to spend some time at the park's Castaway Island. It is included with your Canobie Lake Park admission. At Castaway Island there is a play pad for the little ones, and slides for thrill-seekers. If you just want to get soaked head to Castaway Island's Rain Fortress. It has 180 ways to get wet! If you can't decide between a lazy river or a wave pool, Castaway Island has you covered. Tidal River is a lazy river with waves. Castaway Island also has special treats for sale, and cabana rentals are available as well.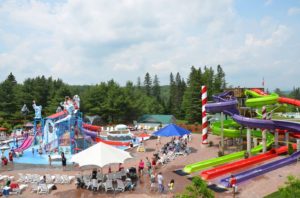 Santa's Village
The motto of Santa's Village in Jefferson is, "Pure joy. Family style". It was designed with the younger members of the family in mind, with attractions such as Elf University, Reindeer Rendezvous, and Santa's Home. The water park continues with the theme. Ho Ho H2O is a play area with slides, interactive play, and a giant bucket. Polar Paradise is another play area that is a bit calmer, and it has small slides. There are more small thrills with JOY Ride Slides. Poogee's Splash Pad was designed with preschoolers in mind. One word of warning, the water at Santa's Village is not heated, so you might want to check the forecast before you leave home.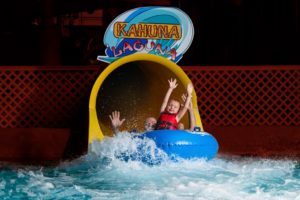 Kahuna Laguna
If you think that you'll have to wait until the summer to visit a water park in New Hampshire, think again. Kahuna Laguna is open year-round! It is an indoor water park, so you don't have to worry about hypothermia. Kahuna Laguna is part of Red Jacket Mountain View Resort. If you are staying at the resort your water park admission is included. Day passes are also sold for those who are not staying there. The water year-round is heated to 82 degrees, unless you use the 25-person hot tub. That is kept at 102 degrees. At Kahuna Laguna, you will find a three-story water slide tower. At the top, you will have your pick of one of four slides. There is also a wave pool with three different wave patterns. Little Kahuna Play Area is for kids 42 inches and under, and it has slides that are just their size. There are also splash pads and geysers, and the Bamboo Bay Adventure Center. Another unique attraction at Kahuna Laguna is the Kahuna Basketball Court. You'll have a chance to show off your skills from the water! After you dry off there is an arcade, and there is a dry play area for the kids.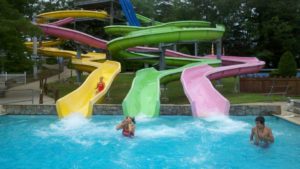 Water Country
The largest water park in New England is found in Portsmouth. Water Country is 26 acres of fun! Small children will love Pirate's Pool & Lagoon. It features small slides and plenty of ways to get wet. The best part of all is that there is a pirates ship in the center. There is plenty for the taller crowd as well. Thunder Falls & Wild Canyon is a family raft ride. Dr. Von Dark's Tunnel of Terror is a two-person ride that is in the dark. It has a 40-foot drop! The ultimate thrill is The Patriot. You'll slide 58 feet almost straight down. If you would like a little bit of relaxation, Water Country has you covered. Adventure River is a quarter-mile long lazy river. You might want to also try Whirlpool, where the current is stronger. The name of the wave pool says it all, it's Giant Wave Pool. It holds 700,000 gallons of water! These are just a few of the features and attractions found at Water Country. There is so much to do that you very well might decide to purchase a season's pass. There are several affordable options available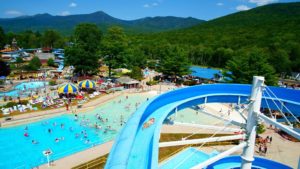 Whale's Tale
Although not quite as large as Water Country, Whale's Tale is not a small park. It is located in Lincoln, and it is about 17 acres in size. Whale's Tale has been in operation for over 25 years, and it features fun for all ages. It is located in a beautiful area, you'll be surrounded by the White Mountains. Shipwreck Island is a great place to start your day. It has a little bit of everything; slides, interactive play, and a water drop bucket. If you want to learn to surf, head to Akua Beach. Jonah's Escape is the name of the lazy river, it's a quarter of a mile long. After relaxing on the river head over to Willie's Wild Waves. The shallow end of this large wave pool is perfect for those who aren't swimmers, while others might want to go deeper into the water. One of the highlights of Whale's Tale is Eye of the Storm. You'll go through a gigantic bowl before dropping into the pool below. The ultimate thrill at Whale's Tale is Poseidon's Voyage. You'll get in place in the Sky Box, then the door is closed. There is a countdown, and then you'll drop 38 feet a second straight down. That isn't the end of your voyage, you'll continue down through the 360-degree SuperLOOP. Poseidon's Voyage is an attraction that is not for the faint of heart.