New Jersey
Sitting on the Dock of the Bay
The Most Amazing Dockside Dining in New Jersey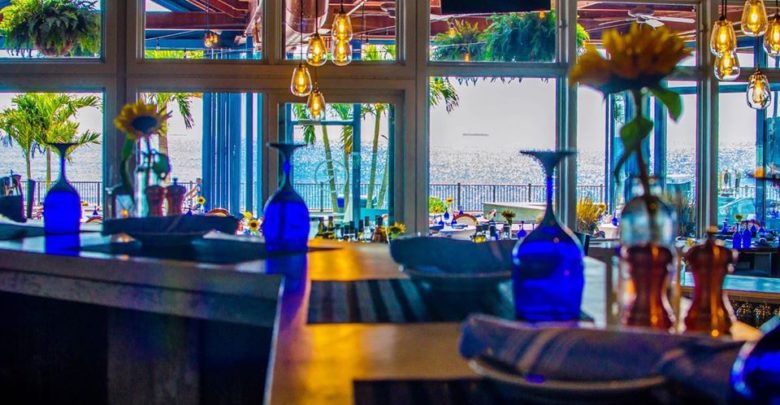 One of the perks of visiting a coastal area is the abundance of fresh seafood and waterfront dining options, both of which are plentiful along the shores of New Jersey.  The following are but a few of the Garden State's amazing dockside dining spots.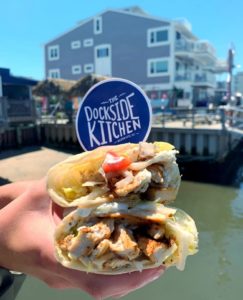 1. Dockside Kitchen
This quaint seaside eatery in Ocean City is one of the few places in town where guests can enjoy a meal along the waterfront.  Serving breakfast, lunch, and dinner (more on that later), the Kitchen is famed for its brunch – which includes such unique ocean-themed offerings as lobster toast and crab cake benedict.  Their website allows the option to add your name to the waitlist prior to arrival, as the wait at the bayside retreat can often climb along with the temperature during its busier seasons.  The exclusive Dockside Dinner Club allows for beautiful sunset views, though it does require a yearly membership and advance reservations in order to partake.  The onsite Aqua Park also allows children to frolic and play on a floating obstacle course that will be sure to test their balance and ability to gain a toe hold with slippery, salted feet.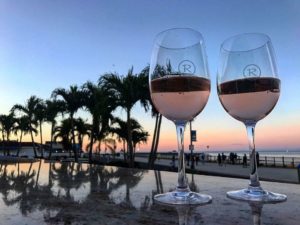 2. Rooney's Oceanfront Restaurant
With an emphasis on seasonal dishes, Rooney's rejuvenates palettes by offering innovative and exciting dishes against the backdrop of the Atlantic shoreline.  Whether enjoying a meal in its elegant dining room with floor to ceiling windows or out on its expansive deck, visitors will revel in the stunning views while partaking in a wide selection of seafood sandwiches and burgers.  More daring diners may attempt to tame the angry lobster, a pan-roasted crustacean slathered in olive oil and garlic sauce, and offered in two- and three-pound helpings, each served with a side of sautéed broccoli rabe and kalamata olive bread.  An elegant drink menu pairs lunch and dinner options with a selection of martinis, while the wine flights allow for a sampling of a trio of the restaurant's fine reds or whites.  For group events, Rooney's offers three different rooms, which can accommodate anywhere from 20 to 100 people.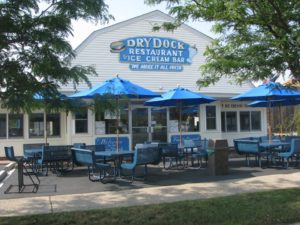 3. The Dry Dock Restaurant & Ice Cream Bar
Located in historic Cape May, this family-owned restaurant prides itself on its freshly made food and an extensive collection of high-quality ice cream.  From seafood platters made fresh to 6- ounce ground beef burgers pressed daily, you can be sure whatever you order from the Dry Dock is crafted with care and quality in mind.  Just off the shores of Schellinger Creek on Cape May Harbor, guests will find ample outdoor seating at which to enjoy their food while basking in the stimulating sea breeze.  Sample the fried chicken or delve into the Cape May seafood combo – which includes flounder, crab cakes, and a trio of shrimp – before digging into the mouth-watering ice cream, with flavors ranging from old favorites (vanilla, chocolate, and strawberry) to more overly indulgent options (Pillsbury cake and ice cream, cotton candy confetti, and chocolate chip cookie dough).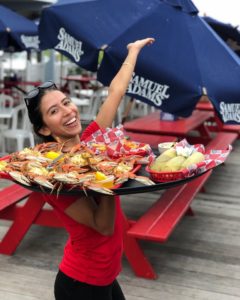 4. The Crab House at Two Mile Landing
Boasting live entertainment, unobstructed views, and fresh blue craw crabs, this seasonal Cape May crab shack knows how to keep its diners from pinching a fit.   The casual, laid back atmosphere and live music (featuring a new act almost every night) create an inviting environment where guests can sit back and enjoy a drink while cracking open locally-sourced seafood and soft-shell crabs, which are shed in-house.  The Crab House is located on the shores of Jarvis Sound and offers panoramic waterfront views.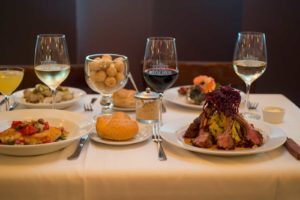 5. Dock's Oyster House
For well over 100 years now, this Atlantic City oyster bar has been serving up some of the freshest mollusks on the mainland.  In recent years, an expansion to the restaurant tacked on an additional three stories of seating to help accommodate its ever-expanding customer base, many of whom flock to this institution for its upscale dining options and proximity to the famed boardwalk.  The signature draw is the raw oyster bar, which offers eight to twelve different varieties each night, all of which have been harvested from nearby areas along the Atlantic coast.  In addition to its fresh seafood, the restaurant also serves up a fine selection of steaks and offers an extensive wine list to ensure an appropriate varietal for each entrée.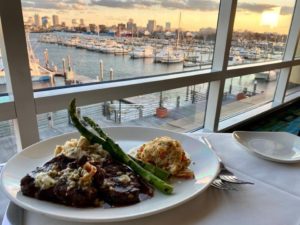 6. Chart House
At Atlantic City's Chart House, guests set sail on meals that are equally as enjoyable as this longtime seaside staple's oceanfront views.  Originating as a modest diner in 1961, this iteration of the eatery resides in the Golden Nugget Casino, Hotel & Marina and each seat offers views of the city skyline as well as the bay below.  Named the Best Casino Seafood Restaurant by the Boardwalk Journal, Chart House serves up everything from shared appetizers – such as the kimchee calamari and a crispy twist on escargot – to surf and turf favorites like twin lobster tails and herb-crusted + slow-roasted prime rib.  Though the restaurant has expanded to several markets throughout the country, not every location offers a dining experience quite as unique as the one located amidst New Jersey's favorite playground.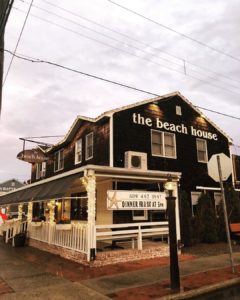 7. The Beach House Restaurant
Seasonally operated, this elegant eatery on Long Beach Boulevard has been servicing Beach Haven Terrace for more than 20 years.  Located steps from the oceanfront, the Beach House pairs a down-home feel – from its covered, wraparound porch to its spacious yet welcoming dining room – with dining options crafted from locally-sourced seafood.   For starters, the clams casino, scallops n' bacon, and tuna bites bring a taste of the seas to your table, while house favorites such as the stuffed lobster tails and organic salmon allow for a delectable surf and surf pairing.  Each entrée includes a family-style salad, as well as choice of potato, pilaf, or vegetable of the day.  Family packs to go provide clans with the option to bag some of their favorites to enjoy at home, and include such varied offerings as pierogis, New England clam chowder, and "fra diablo" – sautéed shrimp and scallops in a spicy marinara sauce.