New Jersey
Can You Handle New Jersey?
7 must-see attractions in our state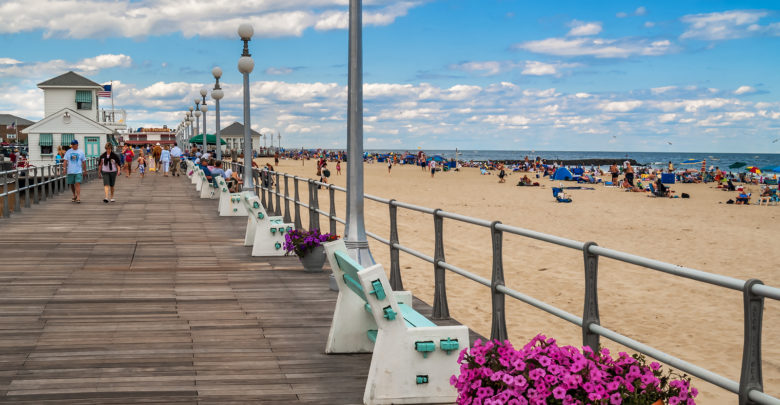 The northeastern corner of the United States is one of the most popular places to travel thanks to its deeply rooted history, wide variety of geographical environments and natural wonders, and plethora of cities and towns to explore. New Jersey, in particular, is popular with travelers thanks to its many attractions including busy cities, the pristine Jersey Shore, and much more. Those who travel throughout New Jersey have many different experiences to choose from that allow them to enjoy all that the state has to offer in the way of entertainment, museums, natural wonders, and more. Here are seven absolute must-see attractions to check out while traveling through the great state of New Jersey!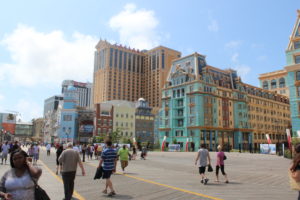 Atlantic City Boardwalk
One of the most well-known attractions in all of New Jersey is the Atlantic City Boardwalk which is home to attractions, entertainment, hotels, and much more. Officially incorporated in 1854, Atlantic City began as a great beach location for locals and travelers to enjoy. Over the years, the city has seen much growth, especially after casino gambling was legalized in 1976. Soon, major hotels and casinos began to pop up and Atlantic City became even more popular. Those who visit the Atlantic City Boardwalk today can check out various casinos, live entertainment and special events in the many hotels, enjoy amusement rides on the boardwalk itself, and browse specialty stores that sell all sorts of items including the location's famous saltwater taffy.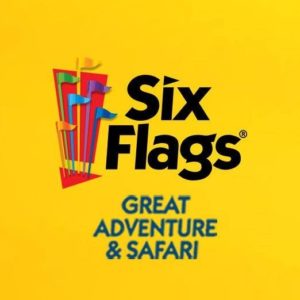 Six Flags Great Adventure & Safari
Six Flags is a popular company that owns and operates several popular theme parks across the United States including one in Southern New Jersey. Six Flags Great Adventure & Safari first opened in 1974 and has continued to expand and grow over the years resulting in it being the second-largest theme park in the world. The location features eleven themed areas each filled with attractions ranging from family-friendly to big thrills, ensuring that there is something for every visitor to enjoy. Some of the most popular attractions in Six Flags Great Adventure & Safari include Kingda Ka which accelerates from zero to one hundred and twenty-eight miles per hour in three and a half seconds, El Toro, Green Lantern, The Joker, and Wonder Woman Lasso of Truth. Visitors to the theme park can also check out Hurricane Harbor which is filled with water-based attractions and experiences.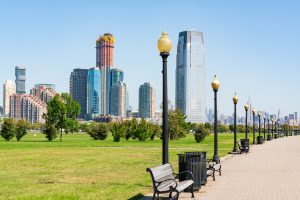 Liberty State Park
A great location to visit while exploring New Jersey actually offers unparalleled views of Manhattan and historic sites including the Statue of Liberty and Ellis Island. Liberty State Park is located less than two thousand feet from the Statue of Liberty and originally began as a hub for industrial enterprises such as freight and passenger railways. Many individuals who immigrated through Ellis Island then passed through Liberty State Park to board trains at what used to be the Central Railroad of New Jersey Terminal. Over time, the terminal was abandoned and became dilapidated, however, the land was transformed and opened as Liberty State Park in 1976. The location now offers beautiful pathways to stroll and take in the views as well as quiet areas to picnic or relax. With bike paths, barbecues, and much more, Liberty State Park is a wonderful location to explore.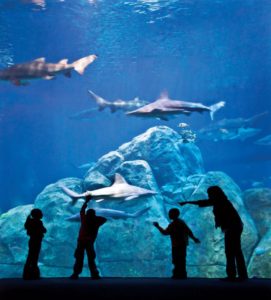 The Adventure Aquarium
The town of Camden, New Jersey is home to a wonderful aquarium that boasts the largest collection of sharks on the East Coast in addition to fifteen thousand different aquatic species. The Adventure Aquarium combines many different animal habitats with hands-on activities, making it a wonderful location for travelers of all ages to enjoy. Some of the most popular areas of the aquarium include Hippo Haven, Caribbean Currents, Little Blue Beach, Penguin Park, and Shark Realm. Brave visitors can also enjoy the Touch A Shark experience as well as Shark Bridge which allows them to walk above the shark tanks on a special suspension bridge! Featuring unique experiences and plenty of amazing animals, The Adventure Museum is a must-see attraction!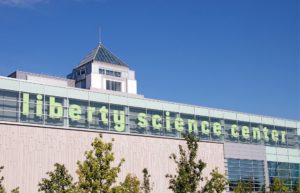 Liberty Science Center
Another wonderful location in New Jersey allows visitors of all ages to explore the many different facets of science through hands-on activities and exhibits. The Liberty Science Center is located in Jersey City and is home to twelve different museum exhibit halls, over one hundred species in an animal collection, and the largest planetarium in the Western Hemisphere. Visitors can enjoy unique experiences like the Touch Tunnel where they have to make their way through eighty feet of darkness using their sense of touch, the Infinity Climber, Block Party, Pixel Art, SURE House, Skyscraper!, Wonder Why, and Energy Quest. Those who visit the Liberty Science Center also have to check out the Jennifer Chalsty Planetarium which regularly showcases features including Wonders of the Night Sky and Black Holes.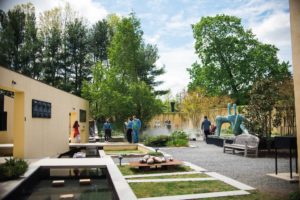 Grounds For Sculpture
Hamilton, New Jersey is home to a unique location that celebrates the art and expression of sculpture. Grounds For Sculpture was founded in 1992 by J. Seward Johnson who wished to create a public space where visitors could enjoy art in a familiar and informal way. After steadily growing throughout the years, Grounds For Sculpture is now home to nearly three hundred works including sculptures by artists including George Segal and Anthony Caro. In addition to the incredible sculptures and beautiful grounds, visitors to Grounds For Sculpture can also check out exhibits including Interference Fringe TALLUR L.N., Rebirth: Kang Muxiang, Michael Rees: Synthetic Cells, and James Carl: oof. This unique and beautiful location is a great way to spend a day in New Jersey!
The Palisades
One of the most spectacular ways to enjoy nature in New Jersey can be found along the beautiful Hudson River. Palisades Interstate Park in New Jersey spans twenty-five hundred acres and features over thirty miles of trails where visitors can hike, bike, ski, and more. In addition to the trails, there are playgrounds, boat launches, a nature sanctuary, and several overlooks, all of which offer absolutely stunning views of the Hudson River and New York. The Palisades are a wonderful location to enjoy in New Jersey year-round, particularly in the fall months when the foliage begins to change.