Wyoming
Where the Buffalo Roam
Great places for the kids to see wildlife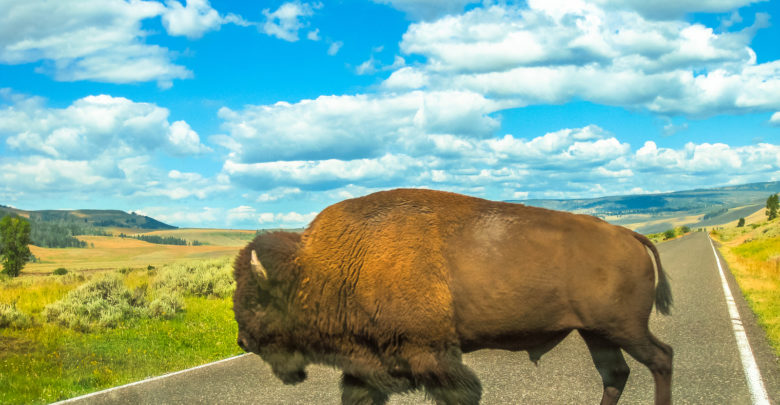 It is safe to say Wyoming is a wildlife lover's playground. That unassuming rectangle on the map is a big state with an exciting array of animals offering ample room for them to roam. We are talking 98,000-square-miles of relatively open space.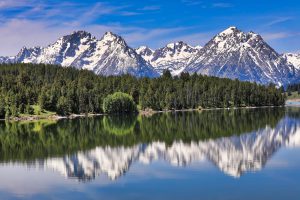 And what makes it so open? There aren't a lot of people that live in the state. With Wyoming's population topping nearly 580,000, this averages to six people per square mile. Plus, with the varied landscapes, from snow-covered mountains to arid desert and everything in between, Wyoming boasts having more than 100 mammal species – from wild horses to wolverines – calling it home.
Since the animals aren't corralled next to the highway for us to enjoy, where can you and your kids find some of the most unique animals in the United States? Let's take a look.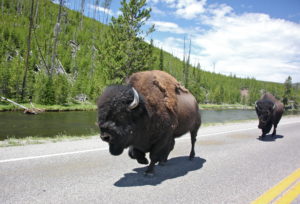 Yellowstone National Park
It is no surprise that Yellowstone National Park tops the list of great places to see wildlife. From the road you are bound to spot Bison in either the Hayden or Lamar Valleys. These bison are special since they are one of the few herds that have not been hybridized with cattle. You'll also spot them in campgrounds and around many of the thermal features. It is very important to remember that these animals may look bulky and slow, but they are quite agile and run up to 30 miles per hour. Heed the warnings in the park regarding safe distances and not approaching the animals, no matter how big or small.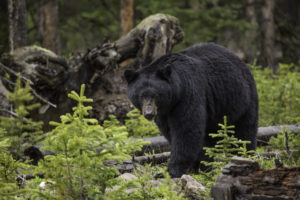 Elk is another large mammal that are often spotted within the park. During the late summer, elk tend to congregate around Mammoth Hot Springs. You are likely to find a bull elk with its harem on the grounds. Elk can also be aggressive during this time. Rangers will be out among the herds at Mammoth, directing people and asking that you keep your distance.
Other animals you'll want to try to spot are bighorn sheep, black bears, grizzly bears, coyotes, mule deer and pronghorn.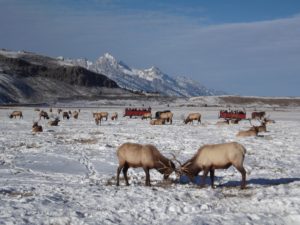 National Elk Refuge – Jackson
The National Elk Refuge wildlife varies greatly depending on the season. The best time to visit with your kids is in the winter. This is when thousands of elk migrate down from the mountains and use the valley as their wintering grounds. You'll also find moose, mule deer, bighorn sheep and bison using this wintering area. From mid-December through April, sleigh rides are offered through the refuge, which can make for a memorable experience. Pick up tickets at the Jackson Hole and Greater Yellowstone Visitor Center. The elk begin to migrate back up to their summer ranges around April.
In the spring and summer, there are a large number of migratory birds that call the refuge home, including a pair of trumpeter swans near the visitor center. It is also here that your kids can earn a Junior Blue Goose Ranger patch. The program is free of charge.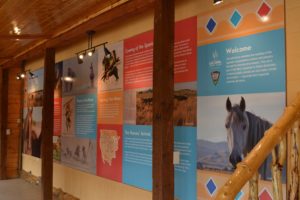 Wind River Horse Sanctuary – Lander
Located on the Wind River Indian Reservation, Wind River Horse Sanctuary is one of Wyoming's three eco-sanctuaries where wild mustangs freely roam on a working cattle ranch. The visitor center is free of charge, but make sure to schedule a personal tour so you can truly experience the grandeur of the wild horses. Wind River is truly unique because it highlights Native American culture and the traditional role of the horse.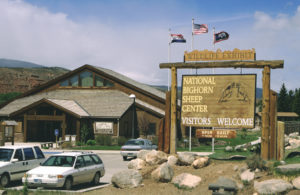 National Bighorn Sheep Center – Dubois
The Wind River Mountains have high peaks and lush valleys, which is perfect for varied wildlife sightings on one of its many trails, including moose, elk, black bears, grizzly bears, wolves and mountain lions. For a better chance of seeing another iconic animal of the west, the Rocky Mountain Bighorn Sheep, visit the National Bighorn Sheep Center. Here you will find an interpretive center to learn more about the animal and the area's conservation efforts.
Guided tours are available November through March as this is where the bighorn sheep winter. Bagged lunches can be arranged for the three to four-hour tours. If you would like to try to spot them on your own, the website offers a very good self-guided tour to help you and your kids find the herd's most popular grazing areas.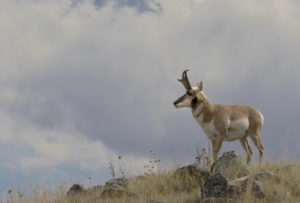 Pronghorns – Pinedale
With so much wildlife and all of Wyoming's open space, you are bound to see animals while driving down the road. One spot where you are practically guaranteed to spot the Western Hemisphere's fastest land animal (runs up to 60 mph), the pronghorn, is on Highway 191, north of Pinedale, which is a federally designated wildlife corridor.
During the spring and fall migrations, pronghorn make the 170-mile trip to and from their summer range at Grand Teton National Park. The migration is so significant that the road has two wildlife overpasses, six underpasses and 13 miles of fencing to protect these animals. With reddish-tan bodies, the pronghorn easily blend into the landscape, but have the kids look for their white bums, which is like a neon sign in the pastures.
No matter where you go in Wyoming, you will have the opportunity to see wildlife, so pack your binoculars on this trip. Keep your eyes open and always remember they are still wild animals. Happy wildlife spotting!