Connecticut
There Are Dinosaurs in Connecticut!
Dinosaur State Park: An underrated spot you need to visit at least once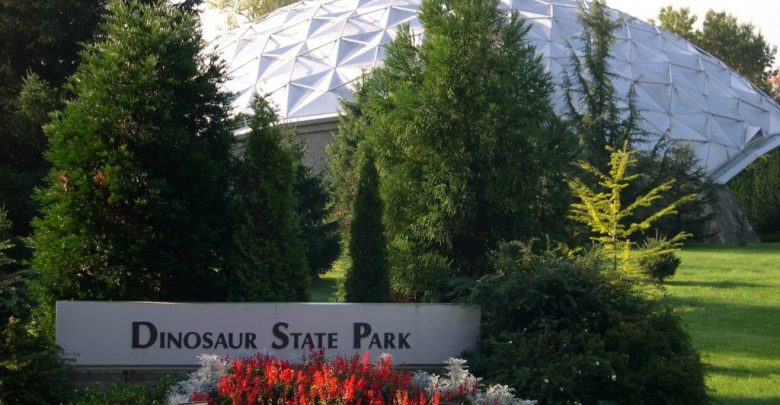 If you are looking for a truly unusual day trip in Connecticut, consider stopping by Dinosaur State Park. Located in the middle of the state in Rocky Hill, Dinosaur State Park is a little bit natural wonder, a little bit history lesson, a little bit museum, and a little bit hands-on attraction.
When you visit, you'll be experiencing a National Landmark. Seven acres were registered as such by the U.S. Department of the Interior. Here is what you will want to know before you go to Dinosaur State Park.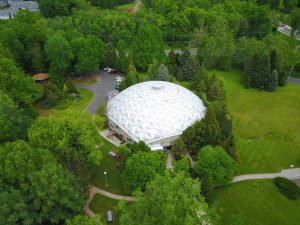 What Is Dinosaur State Park?
Dinosaur State Park is a dinosaur track site, and one of the largest in the country. There are over 2,000 dinosaur tracks, or footprint fossils, in the location. Approximately 500 of the tracks are enclosed in the geodesic dome that also houses the Exhibit Center. The other 1,500 tracks are still buried for preservation. Dinosaur State Park also contains walking trails and the Dinosaur State Park Arboretum.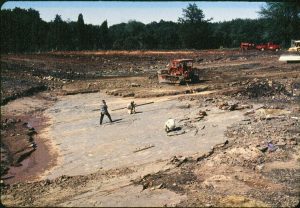 A Bit of History
In 1966 a state office building was supposed to go on the property. On August 23 of that year, while the land was being cleared, the dinosaur tracks were discovered. A few weeks later it was decided that the land should instead be preserved as a state park. Two years later, in 1968, Dinosaur State Park officially opened. Ironically, 40 years later, almost to the day, more tracks were found nearby.

Dinosaurs and Tracks
It is believed that the tracks that are in the Exhibit Center were formed by the Dilophosaurus dinosaur. This was a large carnivorous dinosaur from the early Jurassic period. The tracks are believed to be over 200 million years old. A Dilophosaurus could reach 23 feet in length. No fossilized bones were found, just tracks. (There have been Dilophosaurus skeletons found in Arizona.) The tracks are three-toed. They range in length from ten inches to 16 inches. It is thought that some tracks are from a smaller dinosaur that was similar to the Dilophosaurus. The tracks are named. The larger area of tracks is named Eubrontes and a smaller area of tracks is called Anchisauripus.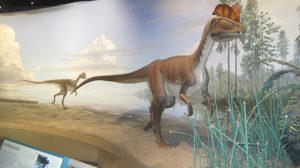 The Exhibit Center
As mentioned, Inside the Exhibit Center, you will find more than just 500 dinosaur tracks. The dome, which was put in place in 1977, is also part museum. You will find a model of a Dilophosaurus, as well as models of other dinosaurs. There are murals depicting the Late Triassic Period, which was over 200 million years ago. The Discovery Room has hands-on activities for both children and adults. There is also an area known as The Dig Pit, which encourages young children to dig for tracks and teaches them at the same time.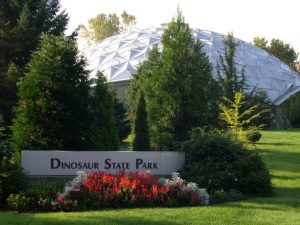 The Arboretum
Around the outside of the Exhibit Center is the Arboretum. This was created to mimic what the area was like back when the dinosaurs ruled the land. There are more than 200 varieties of plants represented in the Arboretum. There are some species that you might be familiar with such as beech, mulberry, and moonseed. There are some unusual species as well that you might not associate with Connecticut or even New England. These include giant sequoia, monkey puzzle tree, and Oriental sweetgum. A map of the Arboretum will help you to better have an idea of what species of plants are there, and where you might find them.
Dinosaur State Park Day
Each August, a special event known as Dinosaur State Park Day is held. Between two and three thousand visitors attend the free celebration. It is held to honor the anniversary of the discovery of the tracks. Dinosaur State Park Day includes live music, animal shows, arts and crafts, games, and much more. There are also vendors at the event. Those who attend can visit both the indoor and outdoor areas, and a great time is had by all.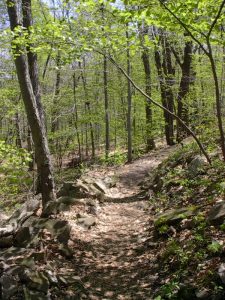 Trails
There are over two miles of trails at Dinosaur State Park. These can be explored on your own, or you can take a guided adventure. You will see many different types of trees, including hickory, oak, and birch. You will also be able to go through a red maple swamp as well as through meadows. One point of interest that you will find on the trails is Traprock Ridge. There you will see basaltic rock that was once hot lava. The trails are open weather permitting.
Track Casting
Those who visit between May 1 and October 31 will have a chance to try their hands at track casting. The process takes up to 45 minutes. The park will provide tracks, metal rings, and water. Visitors need to bring cooking oil, paper towels or rags, a five-gallon bucket, and ten pounds of Plaster-of-Paris. Track casting will not work well in wet weather.
Mining
During the spring and summer months, you can try your hand at mining for fossils and gems. A bag of "rough mining" can be bought in the Friendship Bookstore. There will be volunteers or staff members on hand to help you know exactly what it is that you found. Mining is held only on weekends during the spring months, but Tuesdays through Sundays during the summer.
Before You Go
Dinosaur State Park is located at 400 West Street, Rocky Hill, CT, 06067. The park grounds are open Tuesday through Sunday, 9:00 until 4:00. The Exhibit Center is also open Tuesday through Sunday, but the hours are 9:00 until 4:30. Dinosaur State Park is not open on Mondays, and may close due to inclement weather. It is also closed on Thanksgiving Day, Christmas Day, and New Year's Day. If you need to call, the park information line is 860-529-8423, and the office number is 860-529-5816. The cost for adults and teens is $6 for admission to the Exhibit Center. Children ages six through 12 cost $2, and it is free to visit for children five and under. Heritage Pass is an annual pass that is good for two adults and four children. There is a gift shop, but no restaurant. Picnic facilities are available. Volunteers are needed for a variety of roles. For more information on volunteering, call the park office.