Connecticut
We Bet You Didn't Know This About Connecticut
6 reasons no other state can match The Constitution State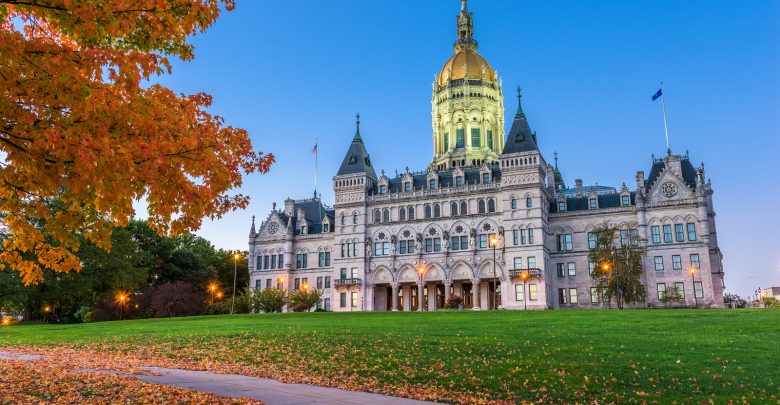 The state of Connecticut is home to more than 3.6 million people. It's the southern-most state in New England and is known for Yale University, Eli Whitney's cotton gin and revolutionary inventions like the portable typewriter, the sewing machine, the ice machine, and the Polaroid camera.
Here are 6 more things that make the Constitution State stand out from its 49 counterparts.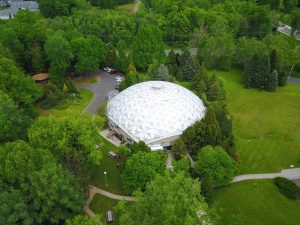 Dinosaurs roamed here.
Rocky Hill, Connecticut is home to one of the largest dinosaur track sites in North America. At Dinosaur State Park, you'll find an impressive display of fossil tracks under a big silver geodesic dome. The tracks date back to the Jurassic period and are very well preserved. The Exhibit Center at Dinosaur State Park is a 55,000-square-foot wonderland of history, fossils, and education about these massive creatures that once lived on earth.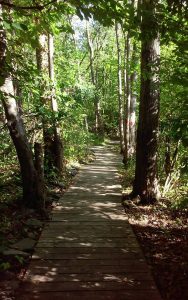 The Dinosaur State Park Arboretum is also here and is home to over 250 species of plant life that appeared in the age of dinosaurs including conifers, ginkgoes, magnolias, and katsuras.
The museum at the park grants visitors a bird's-eye view of the meticulously preserved Mesozoic floodplain that's chock full of tracks. There are also collections of fossils, interactive exhibits, and dioramas of the environments during the Triassic and Jurassic periods.
Admission to the Exhibit Center is $6 for adults and teens ages 13 and up, $2 for youth ages 6 to 12 and free for children ages 5 and under. For more information or to plan your trip, visit www.dinosaurstatepark.org.
You can thank Connecticut for the dictionary.
Well, at least you can thank the state for being the birthplace of the author of the dictionary. Born on October 16, 1758, in West Hartford, Connecticut, Noah Webster, Jr. was an editor, prolific author, textbook writer, and pioneer and political writer. He has been called the "Father of American Scholarship and Education." Webster wrote several textbooks, including a series of spelling books called "Blue-Backed Spellers," which taught five generations how to read, write and spell.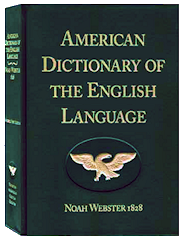 Webster graduated from Yale in 1778, and by 1785, when he founded a private school for the wealthy, he had already written his spellers, a grammar book, and an elementary-level reader. In 1806, he published his first dictionary—A Compendious Dictionary of the English Language, and the following year, he began to compile a comprehensive dictionary. It would take him 26 years to complete and publish The American Dictionary of the English Language.
In May of 1843, while working on the second volume of the dictionary, Webster died and the rights to the dictionary were purchased by George and Charles Merriam who would later form Merriam-Webster, Inc.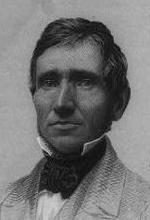 A Connecticut native was responsible for the science behind present-day tires and hockey pucks.
Charles Goodyear was born in New Haven, Connecticut in December of 1800. He was a self-taught chemist and manufacturing engineer. It was by accident that in 1839, while working at the Eagle Indian Rubber Company, Goodyear discovered that when rubber and sulfur are combined over high heat, the rubber vulcanizes or hardens. This revolutionary discovery would forever change the rubber industry. Until that time, rubber would melt completely in the summer heat and freeze into an unusable hard substance in wintertime, making it a less than optimum material for use in shoes and the like.

Goodyear received a patent for the rubber vulcanization process on June 15, 1844, but shortly after, the idea was stolen, and he would spend countless hours in court over the next few years defending his discovery. All in all, Goodyear received more than 60 patents for the application of the vulcanization process, and in 1898—38 years after his passing—the Goodyear Tire and Rubber Company was formed in honor of Charles Goodyear and his brilliant find. To this day, Goodyear's vulcanized rubber is still used in hockey pucks and in vehicle tires.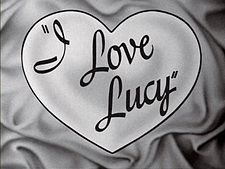 Lucy and Ricky (and Fred and Ethel) lived in Westport.
In 1957, Lucy and Ricky Ricardo moved from their New York brownstone apartment at 623 East 68th Street to a sprawling country house in Westport, Connecticut. Distraught about not living close-by anymore, the Ricardos' best friends and landlords Fred and Ethel Mertz soon packed up and headed to Connecticut too.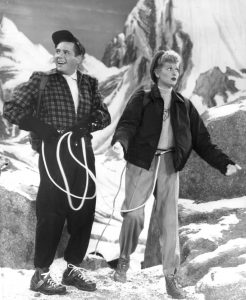 "I Love Lucy" writer Bob Weiskopf had lived in an old Victorian house on Canal Street in Westport and suggested his fair town for the Ricardos' newest home, especially since the writers had decided that the show needed "a whole new set of zany predicaments," and the Connecticut suburbs seemed like the perfect fit. The town of Westport could serve as the new backdrop for Lucy's crazy antics, and the change in sets gave the show a fresh new appeal.
Broadway set designer Ralph Alsway and his wife took it upon themselves to take the senior writer for "I Love Lucy" on a tour of Westport in December of 1956. They stopped at Compo Beach, took a tour of the train station, kicked around downtown and had dinner at a restaurant called Cobb's Mill. That day trip sealed the deal, and writers began dreaming up new shenanigans for the kooky red-head to find herself in—and all with a Westport home and community in the background.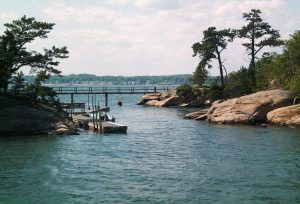 The Thimble Islands have some interesting names.
First discovered in 1614 by European Adrian Block, the Thimble Islands are a chain of 25 tiny wooded islands in Long Island Sound near the seaside town of Stony Creek in the southeast corner of Branford, Connecticut. Each of the 25 islands boasts beauty unrivaled by other islands, and some even have homes on them. These summer cottages were built during the Victorian era and even have the trademark gingerbread trimmings.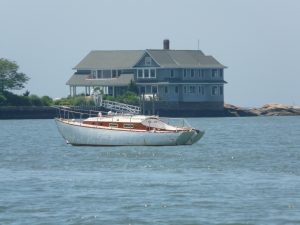 Some of the islands have several houses on them, and some only have one. The inhabited islands have a combined total of 81 houses, ranging from a 27-room Tudor-style mansion to small cottages built on stilts. Because of the homes' exclusivity, they are pretty pricey—the least expensive houses are on Money Island (ironic, we know) and appraise for a minimum of $600,000.
And perhaps one of the most interesting things about the islands is the buffet of peculiar and funny names they've been given. Horse Island stretches just 17 acres and is owned by Yale University. Money Island is only 12 acres in size, but more than 30 houses, a church, a post office, and a library have been built there, while Bear Island is home to a granite quarry. Even more peculiar names include Potato Island, Cut in Two Island, East Stooping Brush Island and Mother-in-Law Island.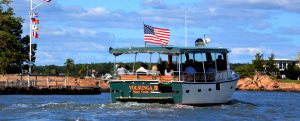 Visitors can cruise the Thimble Islands with any of a number of charter operators in the area. Most cruises and boat tours include a narrated tour of the area. Other activities in the area include kayaking, boating, fishing, and water skiing. The nearby seaside village of Stony Creek has two delis where visitors can grab a quick bite for lunch, as well as art galleries, a museum, a park with scenic walks and benches, antique shops and even some quaint bed-and-breakfast locations. Stony Creek sits just 15 minutes outside the city of New Haven, Connecticut and only 2 hours away from New York City. To plan your trip to the islands, visit www.thimbleislands.com.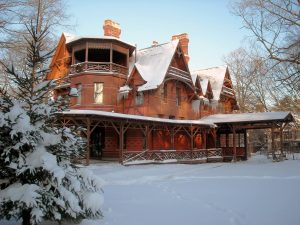 Mark Twain's house is open for tours!
Indeed, the home of famed author Samuel Clemens has been restored and is open to the public for tours. Samuel and Olivia Clemens married in 1870 and moved to Hartford, Connecticut the following year. It wasn't until 1873 that the couple enlisted the architectural genius of Edward Tuckerman Potter to design their dream house. Construction of the 3-story, 25-room mansion began in August of 1873, and the couple moved in on September 19, 1874. It was here that Twain wrote some of his most famous novels—The Adventures of Huckleberry Finn, The Adventures of Tom Sawyer and A Connecticut Yankee in King Arthur's Court.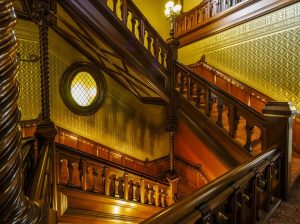 National Geographic named the mansion "One of the Ten Best Historic Homes in the World," and today, guests can step inside the home and back in time when they visit the beautiful "stick-style" abode and nearby Mark Twain Museum. Guided tours are offered daily from 9:30 a.m. to 5:30 p.m. Cost for admission to the house and museum is $18 for seniors 65 and better, $20 for adults ages 17 to 64, $12 for children ages 6 to 16 and free for children under the age of 6. Admission to the museum alone is $6 for visitors ages 17 and older and $4 for visitors ages 6 to 16. Advanced ticket purchase is recommended as tours of the home sell out quickly. To see pictures of the home and learn more about it, please visit www.marktwainhouse.org.