Virginia
The Most Amazing Natural Wonder in Virginia
Shenandoah National Park is big and beautiful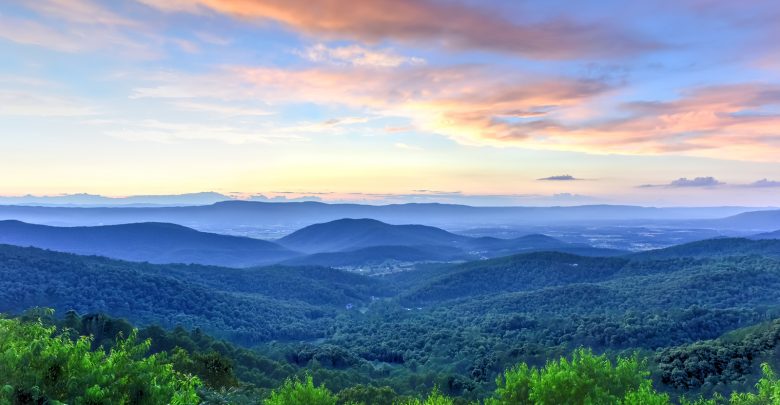 Perhaps the most beautiful thing in all of Virginia is Shenandoah National Park. This long, lean stretch of wilderness sits nestled between the Blue Ridge Mountains and the Shenandoah River and Valley, meaning there is something lovely to see no matter where you turn.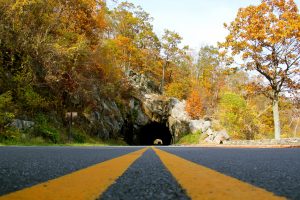 The most well-known feature of this park is the National Scenic Byway known as Skyline Drive, which curves lazily through the amazing scenery. However, driving this spectacular stretch of road is far from the only thing to do here. From casual day hikers to hardcore backcountry campers, there is something for everyone in this amazing Virginian wonderland.
Clearly, Shenandoah is something everyone should see at least once. That said, there are definitely some things you'll want to know going in. After all, proper preparation is what makes a trip run smoothly—and a smooth, problem-free trip is one filled with plenty of rest, relaxation, and smiles.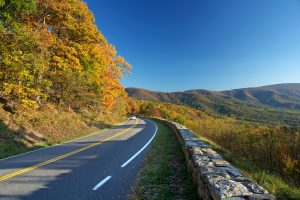 Take It Slow
The first thing you'll want to keep in mind is to slow down while in Shenandoah National Park. The speed limit hovers between 30 and 45 mph, and there's a good reason for this. The road is quite curvy, and wild animals are everywhere you turn. Therefore, speeding through the park is very dangerous and should definitely be avoided.
Pack Up
Altogether, there are 105 miles of scenic highway stretching through this park. That is a lot of ground to cover, especially when going 30–45 mph.
Obviously, you don't have to drive the entire stretch of highway, but if you plan to go very far into the park at all, you will want to pack a day bag with water, food, and a  paper map of the park, at the very least. Of course, you'll need to fill up the gas tank too!
Know When to Go
Shenandoah is open for guest enjoyment year-round. That said, there are days that are better to visit than others for sure.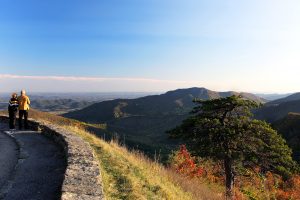 The main factor that comes into play when choosing when to visit is crowd levels. The park gets extremely busy during weekends, holidays, and the fall season. Therefore, unless you want to fight for parking and make campground reservations months in advance, it's best to try to visit in the middle of an ordinary week in the spring or summer.
Another thing to keep in mind about deciding when to pay a visit to Shenandoah National Park is the fact that while it is open year-round, hours for various parts of the park change seasonally. Knowing this before you head out can be extremely helpful, especially if you a) enjoy exploring visitor centers, b) prefer to leave later in the day, or c) have your mind set on doing a particular thing.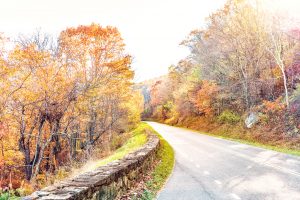 Ditch the Phone
Cell phones are fabulous, but here's the thing: Your phone isn't going to work in this park. As is the case with most national parks, the area is a complete dead zone when it comes to cell service. All your phone will be good for here is taking pictures (and you will want to take pictures, trust me).
Because you won't have service, be sure that you are equipped with a paper map going in, and let your family and friends know that they won't be able to reach you during your visit. Once those things are done, relax and enjoy some time unplugging in nature!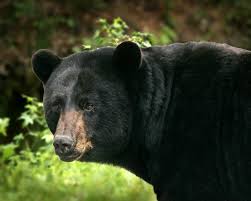 Prepare for Bears
As mentioned before, Shenandoah is home to tons of animals. Among these creatures—and the ones you'll need to watch out for most—are bears.
If you happen to see a bear, keep a distance of at least 50 yards and remain calm. Be sure to store all food in proper, bear-proof containers. If you'll be backcountry camping, those containers must be hung from trees. Finally, make sure you travel in groups for protection.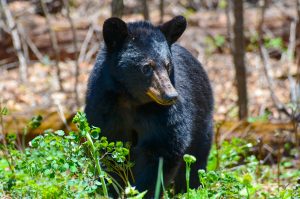 Protect Against Ticks
Ticks are much smaller yet still dangerous creatures you'll want to keep an eye out for. These little guys are everywhere in the park, especially during the summer months. Therefore, it's a good idea to wear repellent and long sleeves. You'll also want to be sure to check yourself and those who visit with you for ticks when the day is done.
Eat and Sleep
If you plan to stay in the park for more than a few hours—and you should—you'll need to eat, and if you stay for more than one day, you'll need a place to sleep. We mentioned backcountry camping and tree-hanging food storage before, but that definitely isn't for everyone and requires special preparations besides.
What about the rest of us? Luckily, there are other options:
Food
There are many food stops throughout the park serving everything from grab-and-go sandwiches to full table-service meals with family-friendly entertainment.
Below is a list of every option available in Shenandoah National Park:
Elkwallow Wayside (mile 24.1) — Carryout food; groceries; camping supplies; gifts
Skyland (miles 41.7 and 42.5) — Full-service dining room; grab-and-go food; dining entertainment; ATM; gift shop; lodging
Big Meadows Wayside (mile 51.2) — Full-service dining room with carryout service; ATM; gifts; gas
Big Meadows Lodge (follow signs from Skyline Drive at mile 51.2) — Full-service dining room; dining entertainment; box lunches; lodging; and more
Loft Mountain Wayside (mile 79.5) — Counter service dining area; outdoor seating; groceries; large gift shop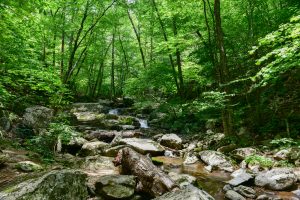 Lodging
Camping, cabins, and lodges are all available to those looking to stay at Shenandoah.
Below is a list of all in-park options:
Big Meadows Lodge — Lodge with 25 rooms and additional rooms in separate cabins.
Skyland — Modern lodge with suites and well-appointed guest rooms.
Lewis Mountain Cabins — Rustic cabins with private bathrooms.
PATC Cabins — Rustic campground with basic necessities near pit toilets and aspiring water.
Mathews Arm Campground — RV and tent sites. No hookups. Dump station and potable water available.
Big Meadows Campground — RV and tent sites. No hookups. Dump station, pay showers, and potable water available.
Lewis Mountain Campground — Tent only camping. Pay showers and potable water available.
Loft Mountain Campground — RV and tent sites. No hookups. Dump station, pay showers, and potable water available.
Group Campground — Group tent camping only.