Virginia
History and Beauty: Why Virginia is Unique
6 Things That Set Virginia Apart from Every Other State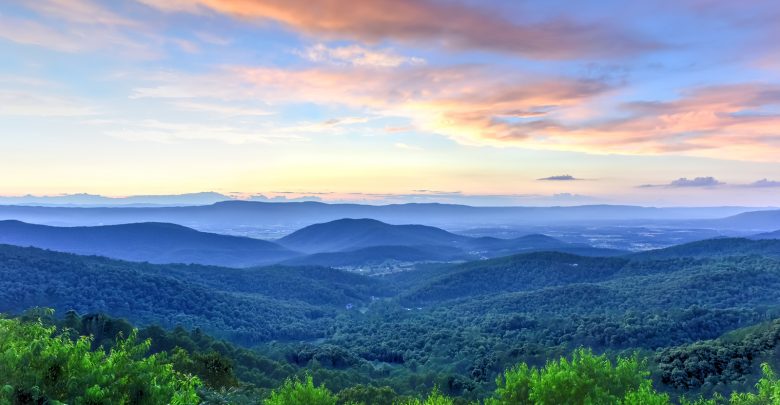 Virginia is known as "the birthplace of a nation" since Jamestown, Virginia, was the site of the first English settlement in the United States. The state was named Virginia after Queen Elizabeth I, the "Virgin Queen" of England. Today, "Old Dominion" is home to almost 8.5 million people and has more historic sites than any other state in the union. Here are six more things that set Virginia apart from its 49 counterparts.
1. Eight presidents were born here.
Eight of our great nation's leaders were born in Virginia. George Washington was born near present-day Colonial Beach, Virginia, and Thomas Jefferson was born in Shadwell, Virginia. President James Madison's birthplace was Port Conway, Virginia, and James Monroe was born near present-day Monroe Hall, Virginia. Charles City County, Virginia was the birthplace of both William Harrison and John Tyler. President Zachary Taylor was born in Barboursville, Virginia, and President Woodrow Wilson was born in the city of Staunton.
2. Six presidents' wives were born in the state of Virginia.
Not only were several of our presidents born in Virginia, but six of our presidents' wives were also born in the state. Martha Washington, wife of George Washington, was born in New Kent County, Virginia. Charles City, Virginia was the birthplace of Martha Jefferson—Thomas Jefferson's wife. President Andrew Jackson's wife, Rachel, was born in Pittsylvania County, Virginia, and Letitia Tyler, John Tyler's wife, was born in Cedar Grove, Virginia. Ellen Arthur, President Chester A. Arthur's wife, was born in Culpeper, Virginia, and Woodrow Wilson's wife Edith was born in the city of Wytheville.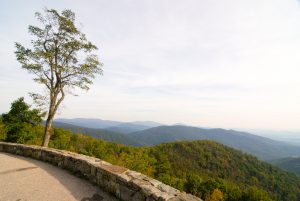 3. Virginia is home to a large section of the Blue Ridge Mountains.
The Blue Ridge Mountains in Virginia are a part of the larger Appalachian Mountains Range. When seen from a distance, the mountains look as though they have a bluish color to them, which is a result of the isoprene released into the atmosphere by the trees in the mountains. There are two major national parks within the Blue Ridge Mountains—Shenandoah National Park is in the northern section of the range and the Great Smoky Mountains National Park in the southern section of the range.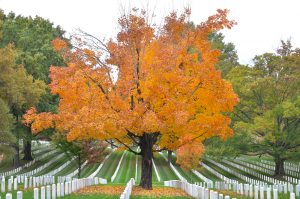 4. Virginia is also home to Arlington National Cemetery.
Arlington National Cemetery is the final resting place of over 400,000 active duty service members,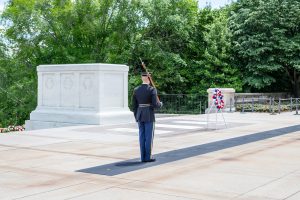 veterans and their respective family members. President John Fitzgerald Kennedy was also interred at the national cemetery and his resting place is one of the most visited locations in the cemetery. For over sixty years, a special "Flags In" ceremony has been an important ceremony at Arlington National Cemetery. During the ceremony, American flags are placed at the headstones on the graves of more than 228,000 service members—and all in under four hours. The cemetery is open 365 days per year. More than 25 funeral services are held each weekday, and 5 to 8 services are held on Saturdays. For more information about our nation's most hallowed ground, visit www.arlingtoncemetery.mil.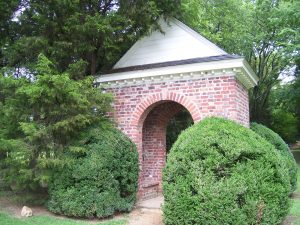 5. The first Thanksgiving took place in Virginia, not in Massachusetts.
As elementary school students, most of us were taught that the first Thanksgiving took place near Plymouth, Massachusetts and involved the Pilgrims, the Native Americans, Indian corn and turkey. But in actuality, just over a year before the Pilgrims arrived in New England, a group of English settlers led by Captain John Woodlief landed at present-day Berkeley Plantation—24 miles southwest of Richmond, Virginia. The settlers arrived on the shores of the James River and stopped to pray and give thanks for their safe journey and their arrival. There were no Native Americans present, and because the settlers' rations were almost gone, there was certainly no turkey. In fact, their first meal after arriving was mostly likely ham and oysters—not because of a celebration, but most likely because that was all that remained for them to eat.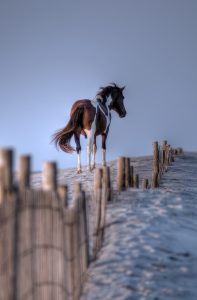 6. Virginia is home to the Assateague Island National Seashore.
Assateague Island lies partly in Maryland and partly in Virginia. Virginia's part of the national seashore is in the city of Chincoteague, Virginia. The national seashore encompasses over 64 square miles and is home to scores of wild ponies. Wild ponies have roamed freely on the island for centuries. Assateague Island is the largest natural barrier island ecosystem in the Middle Atlantic states region that remains largely unaffected by human influence. Assateague Island National Seashore offers visitors countless options in recreation—fishing, bird watching, kayaking, sightseeing cruises, pony watching tours, and multiple seaside activities. Visitors enjoy the 37 miles of beaches here and enjoy swimming, fishing, crabbing, and beachcombing. For more information or to plan a trip, visit www.assateagueisland.com.