New York
Why Big Daddy's Diner Is the Best Retro Diner in NYC
Are we kidding you? Is it that awesome? Yes, it is.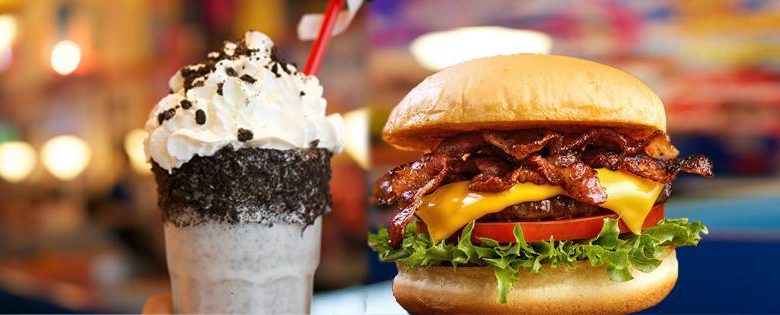 Sometimes a retro diner is just what you need. When those instances roll around, Big Daddy's Diner is here to help. This awesome NYC retro diner is everything you want a retro diner to be and then some. In fact, we'd even go far as to say it's the best one in the Big Apple!
We aren't the only ones who think so either. There are plenty of locals who make this a regular food stop, and many, many visitors have passed through the doors and enjoyed a meal at this entertaining and tasty food joint. Nearly all of them sing this eatery's praises, and we're sure you will too, once you give it a try.
Hesitant to try it? Read on to learn what makes this diner so great. We're pretty sure this will go directly onto your travel to-do list before you even get through the article.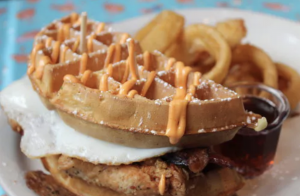 Interesting Breakfast Foods
Every diner worth its salt has great breakfast food, so the fact that Big Daddy's serves up pancakes and eggs should come as no surprise. What is surprising are the number of pancake options they offer. There are tons of super interesting—and well-named—choices on their breakfast menu, and we love it.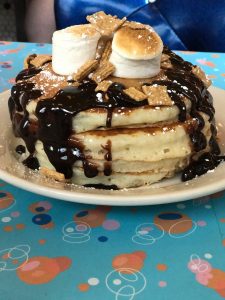 Whether you choose the "Hunka, Hunka Burnin' Love" (banana chocolate pancakes) or the "Give Me S'more Waffles…Please" (graham cracker waffles stuffed with chocolate and marshmallow), you're sure to be plenty pleased. To top it off, your sweet tooth should be pretty happy as well.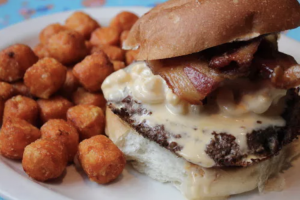 Fabulous Burgers
Not in the mood for crazy breakfast concoctions? No worries! The burgers here are pretty amazing and creative as well.
The "Granddaddy" is piled high with tots, cheese sauce, and bacon, while the "Wake and Bake" features bacon jam, hash browns, fried egg, and cheese sauce. Looking for something a bit less beefy? Try their turkey or veggie burger options.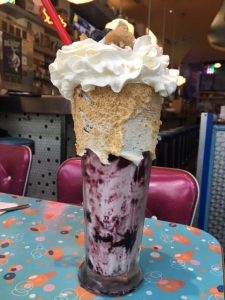 Delicious Shakes
If you're more of a dessert person, you'll love the fact that the shakes get in on the unique spins this restaurant seems to love so much. There's a cotton candy shake, a bananas foster shake, and even a birthday cake shake—and each one is just as delicious as the last.
In fact, many people praise these shakes as the best they've ever had. We think that's reason enough to save room for dessert during your next visit. After all, who can resist the best milkshake around?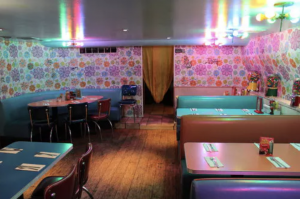 Wonderful Decor
One of the biggest points of praise for this adorable diner is the decor. People just love the 1970s memorabilia scattered throughout the eatery, and we tend to agree that it's all super fun to look at.
The nostalgia levels couldn't be any higher for those who grew up in the seventies, and they will definitely love looking around and reminiscing about the old days. Heck, even those who didn't live through that time period may feel a twinge of nostalgia as they glance over the place.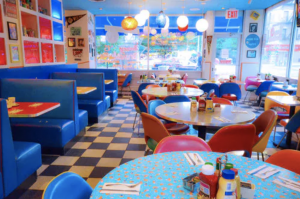 Fun Ambiance
Besides the super cool decor, Big Daddy's also has a super fun ambiance that'll be appreciated by anyone who likes having a good time. The staff is upbeat and genuinely fun to be around, and little touches such as trivia cards on the table make a visit to this diner a well-rounded experience that involves more than just eating a meal.
For this reason, we recommend making time for a slightly longer visit so you can truly enjoy yourself.
Open 24 Hours
Big Daddy's also gets some major bonus points for its hours. You see, this fine establishment is open 24/7, meaning you can curb your pancake cravings whenever they strike.
Obviously, this is great news for anyone who finds themselves famished when leaving a bar in the middle of the night, but it's also perfect for students who are up late studying, tourists who need a bite after seeing a show, or anyone else who keeps odd hours.
Perfect Location
If there's one thing that can entice people to try a new restaurant, it's location. After all, if you're hungry and you happen to be passing a place that smells good, it just makes sense to go in. Luckily for Big Daddy's, location is yet another thing they got right.
Located near many of NYC's hot spots, it's super easy to make your way to Big Daddy's after a day of sightseeing, and if it's easy to get to, why not squeeze in a visit?
Super Discounts
A few people had small complaints about the prices at this NYC diner. Honestly though, we think the prices reflect the area, and are spot on for the location. Still, if you're short on cash and can't afford the prices at Big Daddy's, you might consider taking advantage of one of the many discounts they offer.
This generous eatery offers a milkshake happy hour—as well as a regular happy hour—Monday through Friday. Additionally, the company will occasionally release specials on specific days, and joining their loyalty club will mean scoring some coupons. All in all, we think you could probably eat here for an exceptionally low price if you use these discounts to your advantage.
As you can see, Big Daddy's Diner really has a lot of things going for it. No matter what you look for in a restaurant, you're likely to find it here. On top of that, with both locals and visitors saying it's delicious, you know it's gotta be true.
Why not add it to your NYC bucket list? You can try it for yourself next time you visit and come back to let us know how it goes. We're betting your experience will be just as wonderful as ours.