Montana
Why We Love Medicine Rocks State Park
Another natural wonder in our state you need to spend some quality time with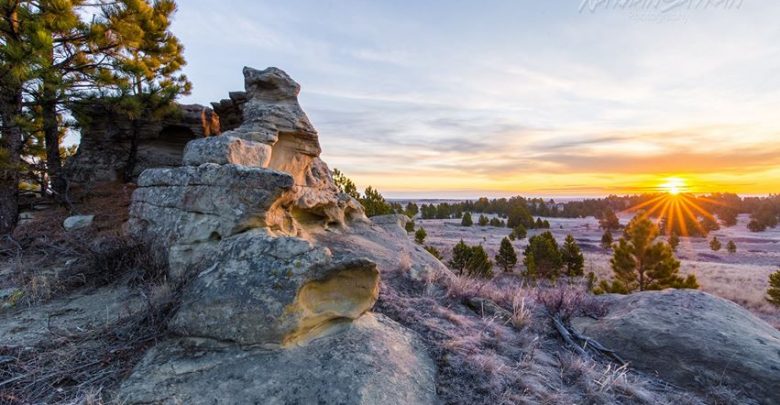 When you think of parks in Montana, chances are that you think of one of the most famous national parks, such as Yellowstone National Park or Glacier National Park. These parks are part of the reason why tourism is the fastest growing industry in the Treasure State. There is another park in Montana that should also be on your list of places to visit if you want to enjoy all the beauty that the state has to offer. Medicine Rocks State Park is located in the eastern part of the state, and it is well worth the trip.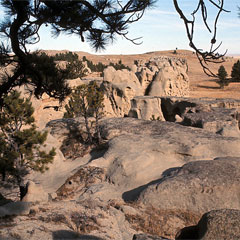 Basic Information
Medicine Rocks State Park is officially located at 1141 MT-7, Ekalaka, Montana, 59324. It is also about 25 miles from Baker. It is located in Carter County. Medicine Rocks State Park is only about 330 acres in size. It has been a state park since 1957. Medicine Rocks State Parks is part of the geological Fort Union Formation.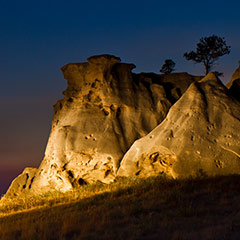 Sandstone Formations
The main reason why you will want to visit Medicine Rocks State Park is to see the sandstone formations. These are pillars that are filled with holes, and also have some cave shaped areas as well as tunnels. Some of the structures are 60 to 80 feet in height! Often people will say that the formations look like swiss cheese. It is believed that 61 million years ago a river flowed through the area, which was the basis for the pillars' formation. Fossils can be found in some of the rocks. They include snake fossils and fossils of the primitive mammal Baiotomeus.
Human Habitation
Evidence suggests that humans have lived in the area for over 11,000 years. Native Americans would visit the site to gather the medicinal plants that grow on the rocks; which is where the name Medicine Rocks comes from. Many of the Plains Tribes lived near what is now Medicine Rocks State Park, and they all considered the area holy. Some of the pillars contain Native American drawings on them. The Crow referred to the rocks as "Inyan-oka-lo-ka", which means "rock with a hole in it". Other tribes who visited the area included Cheyenne, Mandan, and Sioux. It wasn't until the 1880's that white settlers moved into the area.
Former Working Ranch
What is now Medicine Rocks State Park used to be a working ranch. The land was privately owned until the 1930s, when it was seized because of nonpayment of taxes. Carter County took over the land, and then in 1957 transferred ownership to the state of Montana. Medicine Rocks State Park was born.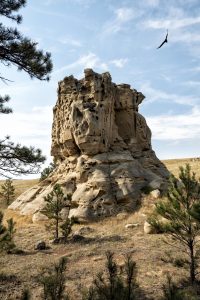 "Fantastically Beautiful"
Back in the late 1880s, well before Medicine Rocks was a state park, a young rancher visited the area. He was in awe, and is quoted as saying that it was "as fantastically beautiful a place as I have ever seen". That young rancher was Teddy Roosevelt, who of course went on to become the 26th president of the United States.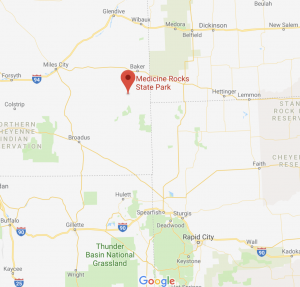 Getting There
The easiest way to get to Medicine Rocks State Park is to take Highway 7, north of Ekalaka. You will then need to take a dirt road the rest of the way. Keep in mind that the road might be a difficult and muddy drive if the weather has been bad or there has been a lot of rain.
Primitive Park
Medicine Rocks State Park is considered a primitive park by the state of Montana. That means that they will do minimal upkeep on it. Those who visit are expected to take out anything that they might bring in with them, and to leave the park the way that it was when they arrived. The state of Montana does not provide trash removal from Medicine Rocks State Park.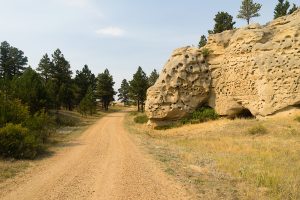 Activities
Many people visit Medicine Rocks State Park because of its beauty and serenity. It is a favorite place for many for hiking and also bicycling. There are two marked trails that you can follow if you would like. The first is a six-mile trail. The second trail is a steep trail that is about one mile long. You do not need a marked trail, you can just go the way that you want. Bring a picnic with you and plan to spend the day, because it will be easy to lose track of time.
Wildlife
You will want to have your camera ready, and not just because you will want to take pictures of the rock formations! There could be plenty of wildlife to see while you are there. Some of the wildlife species that call Medicine Rocks State Park home are coyotes, mule deer, and red foxes. If you like to birdwatch, you will want to keep your eyes open. You could see bluebirds, meadowlarks, Merriam's wild turkeys, vultures, and more. Remember that you should watch the wildlife at a distance, and never should you feed any of the wild animals, or leave food out where they could get it.
Camping
Both tent and RV camping are possible at Medicine Rocks State Park. There are only 12 campsites, and they are available on a first come, first served basis. There are no hookups for recreational vehicles. Grills and fire rings are available, as are tables, and there are vault toilets on the grounds. As far as water is concerned, there is spring water that is accessed by a hand pump. All guests are reminded that it is "pack in, pack out". Montana is known as Big Sky Country, and camping under that sky and seeing the stars is an experience that you will never forget.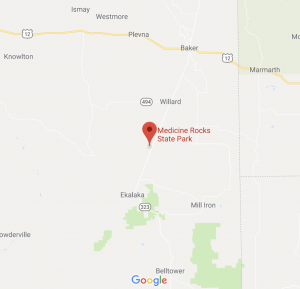 Know Before You Go
Medicine Rocks State Park is open 365 days a year. The hours (with the exception of the 12 campsites) are 7:00 am through 10:00 pm. There is no admission fee to visit Medicine Rocks State Park, and there is no cost to park either. In 1991 a $3 admission fee was charged, but a group of citizens protested and the fee was eventually eliminated. At the same time that the fee ended the park was declared primitive.