Alaska
The 4 Best Places to Whale Watch in Alaska
Get up close and personal with humpbacks, killer whales, and belugas in The Last Frontier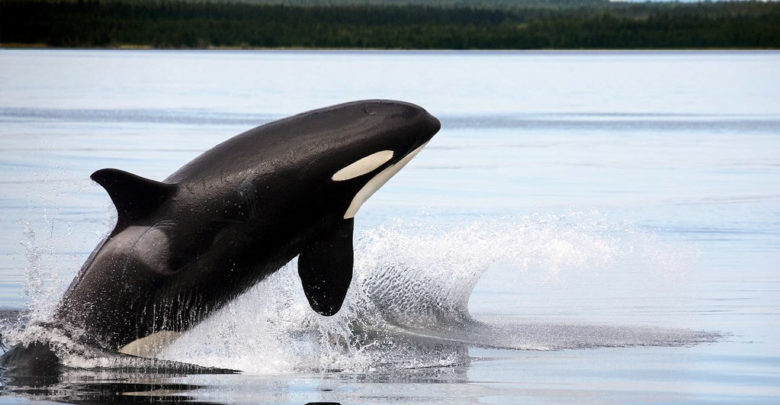 Is there an item on your bucket list that you haven't yet crossed off—one that involves seeing a massive humpback whale rise high above the surface of the water and dive back into the ocean with its flukes flipping up? Have you ever dreamed of seeing the classic black and white colors of a killer whale as it leaps up above the waters before crashing back down into the deep?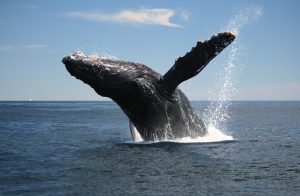 It goes without saying that these wonders can only be seen from certain places around the globe, and most of the population will need to travel to get to those places. Let's talk Alaska—where do you go in Alaska if you're looking for the very best opportunities to see these giant but graceful mammals—as well as some other species? We did a little research to find for you four of the very best places to enjoy this kind of wildlife viewing in America's Last Frontier. Here they are, in no particular order.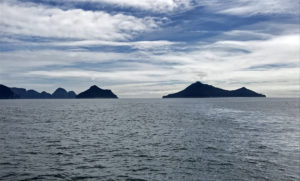 Resurrection Bay
The nearly 1,000-foot-deep fjord known as Resurrection Bay extends south from Seward, Alaska, toward the Gulf of Alaska and toward Kenai Fjords National Park. It's among one of the most reliable places to view different species of wildlife—like the humpback and killer whales—in Alaska, and one of the best in the world as well. Here, the waters are crystalline, pristine and stocked well with food sources for different types of wildlife. These waters are also only a few miles from the open ocean. Visitors to this area can often see whales off the beach at Lowell Point or from the waterfront park there. For the best chances of seeing the wildlife, take a tour boat deep into Resurrection Bay.
It's there that eager bucket listers can see humpback whales feeding on most days during the summer. (It's kind of like a binge for the humpbacks—they eat all summer long!) Chances are also very good for seeing pods of killer whales that feed on salmon once the fish begin preparing for spawning. In this area, wildlife enthusiasts can also see seals, sea lions and sea otters during calmer weather in the outer bay. This is where ocean swells often come in from the Gulf.
During April and May, chances are good for seeing gray whales that swim past the mouth of Resurrection Baby during their impressive spring migration to the Arctic. This migration is one of the longest among mammals—spanning some 11,000 miles from Baja California where the mammals breed to the Arctic where they move for feeding.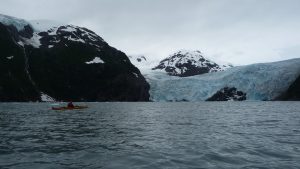 Prince William Sound
Prince William Sound is a favorite gathering place for giant humpback whales. These enormous, 60-feet-long wonders can weigh as much as 40 tons. They move among the fjords and bays along Prince William Sound, and many do so on their own—as lone travelers in this area. The Sound is rich with fish—a major draw for the whales. In this area, it's common to see a whale and her calf. Sometimes they are feeding, and other times they are resting.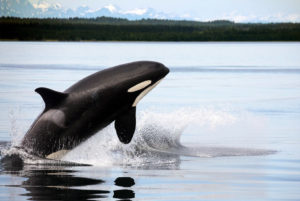 Killer whales are drawn to the Sound by the large concentrations of salmon schooling there in preparation for their journeys to spawn. The area is also a great place to view other mammals like Dall's porpoises. These animals enjoy playing in the wake of boats in the Sound. For the best chance at seeing wildlife in this area, experts recommend taking a cruise from either Whittier or Valdez, Alaska. There is no shortage of tour operators in both towns. The best locations for seeing wildlife outside of the town of Whittier start about 9 to 10 miles out in Wells Passage. Another prime location is about 14 miles out in Blackstone Bay.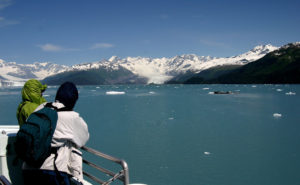 If you're taking a cruise from the town of Valdez to the Columbia and Meares glaciers, chances are very good that you'll cross paths with both whales and porpoises. If you're traversing the waters between Valdez and Whittier on a ferry, or if you're heading to Cordova on the ferry, stay alert and look for white puffs in the distance. When you see these—the puffs of whale breath—you'll know you're in the company of these magnificent creatures.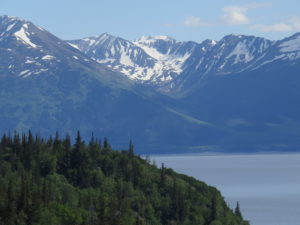 Turnagain Arm
Are you moved by the beauty and grace of the mighty beluga whale? Belugas are the smallest species of whales. Male belugas can grow to between 13 and 20 feet long and can weigh as much as 3,000 pounds. The endangered beluga whales found in Cook Inlet near Anchorage go where the salmon go. They follow the salmon. The best times to see the belugas are just before high tide and just after high tide in Turnagain Arm. Turnagain Arm is a waterway into the northwestern part of the Gulf of Alaska. It is located along the Seward Highway.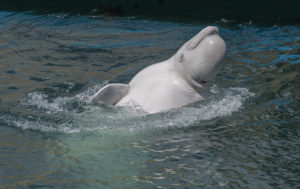 For the very best chance of seeing these huge white whales—the only marine mammals this color—make plans to visit this area between the middle of July and September. During big falling tides, wildlife enthusiasts can see belugas exiting the arm down a channel that runs parallel to the highway between Girdwood and Bird Point Wayside. It's important to look for the white of the whales' backs arching up from the water as the graceful mammals breathe. Look closely because it can be hard to differentiate between the beluga's white backs arching and white caps in the water. Belugas aren't fearful of being too close to land. Often, they will swim only a short distance from the rocks on the water. Belugas have been called "sea canaries." This is because their form of communication sounds a lot like chirping.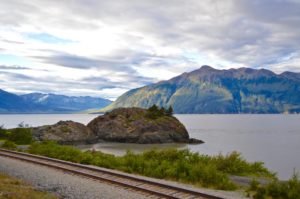 When visiting Kincaid Park or the Knowles Coastal Trail, be sure to keep an eye out for the belugas—especially during high tide. You may also see the white whales if you're traveling to Hope, Alaska, on the Kenai Peninsula. Along the 18-mile-long Hope Highway, there are several pullouts where you can stop. Do so after the tide has turned for your best bet at seeing the whales in this area.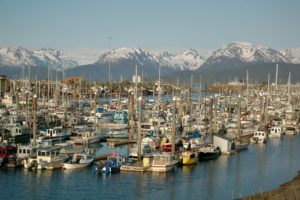 Homer, Alaska
Another place to see whales and other mammals in the water is at Kachemak Bay and the Lower Cook Inlet just off the town of Homer, Alaska—a small community 218 miles southwest of Anchorage. Homer is a city in the Kenai Peninsula Borough. The whales are not as numerous here as they are in other places like Resurrection Bay, but if you're looking for whales, you're still in luck. Humpbacks can be spotted in this location, and killer whales hot on the trail of salmon frequent this area too. Humpbacks and killers can both be found along the coastline here from Halibut Cove to the Herring Islands area.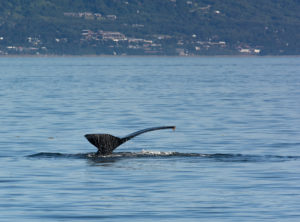 If you're in search of whales that are rarely seen, take a boat tour further out to where the bay opens into the huge Cook Inlet. In this area, it is possible—though very rare—to catch a glimpse of a baleen whale. There are 15 species of baleen whales in the world—the pygmy right whale that reaches about 20 feet in length and weighs over 6,500 pounds to the enormous blue whale—the largest mammal to ever exist on planet Earth—that can be as long as 102 feet and weigh as much as 210 tons! It's possible to see a fin whale, as they occasionally swim into Cook Inlet.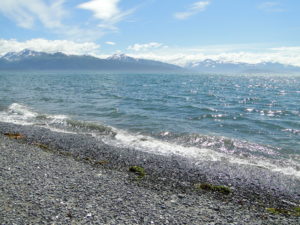 This part of Alaska is also brimming with the opportunities to see other wildlife—from birds and otters to dolphins and sea lions. People who charter deep-sea fishing excursions also see whales when they fish for halibut and lincod. (Homer, Alaska, is called "The Halibut Fishing Capital of the World.")