California
The Golden State Is Truly Like No Other
6 things that set California apart from every other state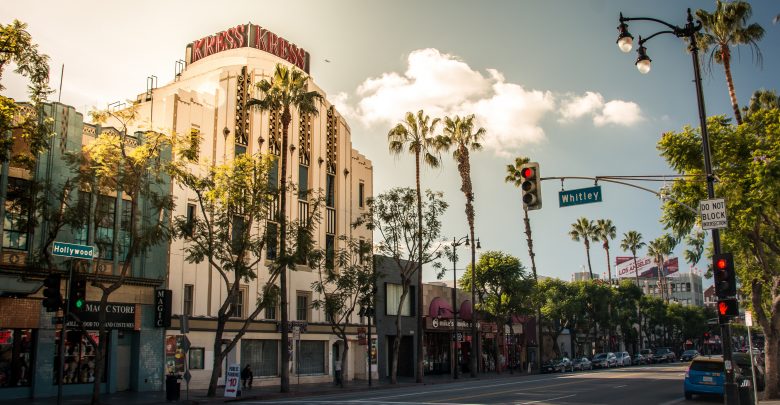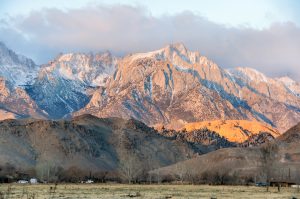 The state of California is known for many things. Its 840 miles of coastline beckon visitors to head westward. In 1850, California was the 31st state to join the union. It was named for a fictional land in a 16th-century romance novel. More than 40 million people live in California, which means that one out of every eight Americans calls California home. Many things were born in California, including the personal computer. Here are six more things that are unique to the Golden State.
It's home to the highest and lowest points in the lower 48 states.
The highest peak in the lower 48 states can be found in California. Mount Whitney is located not too far from the town of Lone Pine. Mount Whitney stands tall with an elevation of 14,505 feet. The most famous climb on the mountain is Mount Whitney Trail. To scale it, you'll need a wilderness permit. Only about 100 miles from Mount Whitney, you can find the lowest point in the lower 48. Bad Water in Death Valley lies 282 feet below sea level.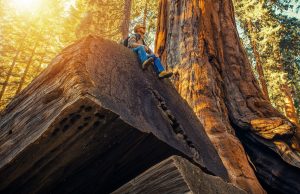 Sequoia and Kings' Canyon National Parks
Near the city of Visalia, California lies Sequoia National Park and adjacent Kings Canyon National Park. They are connected by the Giant Forest, which they share. Many record-setting trees call these parks home. In 1925, a giant sequoia tree in Kings Canyon National Park was named the country's Christmas tree. It stands over 30 stories high. Sequoia National Park is home to the largest living tree in the country; its trunk is 102 feet in circumference. The General Sherman tree is the largest tree on earth, measured by volume. It stands 275 feet tall and is over 36 feet in diameter at its base. Sequoia trunks remain wide high up. Sixty feet above its base, the Sherman Tree is 17.5 feet in diameter. The Giant Forest, which connects the two national parks, is home to five of the ten largest trees on earth. Humans are utterly dwarfed by the size of these majestic trees. For more information about these two national parks, visit www.nps.org/seki.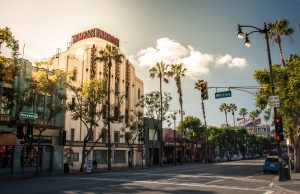 Celebrities and Hollywood
California is home to lots of Hollywood royalty. Stars like Johnny Depp, Mila Kunis, Kelly Osbourne, Melissa McCarthy, Reese Witherspoon, Halle Berry, and Denzel Washington live in California. Many of Hollywood's elite of yesteryear are interred in California as well. Those include Ronald Reagan, Walt Disney, Elizabeth Taylor, Don Knotts, Etta James, Michael Jackson, Marilyn Monroe, and Mary Pickford. These are only a few celebrities among hundreds who are interred in various cemeteries in California. No wonder we think of California when we think of film and movies—the very first motion picture theater opened in Los Angeles on April 2, 1902. Many films are made in California, and many of the stars of days gone by were discovered in a little pharmacy/soda shop in California.
Earthquakes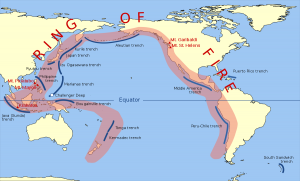 California is also known for the prevalence of earthquakes that happen there. Seismologists estimate that over 10,000 earthquakes occur in California each year, but most are too weak to be felt. The quakes that are felt are sometimes devastating. The worst earthquake in terms of magnitude occurred on January 9, 1857 in Fort Tejon and measured a 7.9. People still talk about the earthquake of 1906, which happened in San Francisco on April 18 of that year. It damaged almost 80% of the city and claimed the lives of nearly 3,000 people. Earthquakes are commonplace in California because of the state's position on the Pacific Ring of Fire, which encompasses 25,000 miles of volcanic and seismic activity. More than 80% of the world's earthquakes have occurred on the Ring of Fire. Structural engineers in California even have a specialized branch of engineering called "Earthquake Engineering." Students studying in California to be structural engineers must learn about building structures that can withstand seismic activity.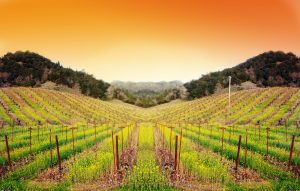 Grape Vineyards and Wine
You don't have to be a connoisseur of wine to know that California is a big part of wine production. In fact, California accounts for almost 90% of the production of American wine. If California were a country unto itself, it would be the fourth largest producer of wine in the world. California is also known for Napa Valley. Napa is about 45,000 acres of grape vineyards, and at least six different types of grapes are grown there. The most popular grapes grown in Napa Valley are Cabernet Sauvignon, followed by Chardonnay, Merlot, Sauvignon Blanc, Pinot Noir, and Zinfandel. But contrary to what you might have thought, only 4% of California's wine comes from Napa Valley.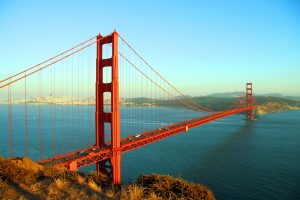 The Golden Gate Bridge
Everyone has seen pictures of the infamous Golden Gate Bridge. It is a symbol of the city of San Francisco. The Golden Gate Bridge is a suspension bridge over a one-mile wide strait that connects San Francisco to the San Francisco Peninsula. The American Society of Civil Engineers has named the huge bridge "one of the wonders of the modern world." It opened in 1937 and has a main span of 4,200 feet and a total height of 746 feet—nearly 75 stories high! And if you want to traverse the bridge, it'll cost you a toll of between $5 and $8.