California
One of America's Great Retro Diners: Ozzie's Diner in Commerce, CA
Great menu, good food, friendly service -- all in a classic atmosphere.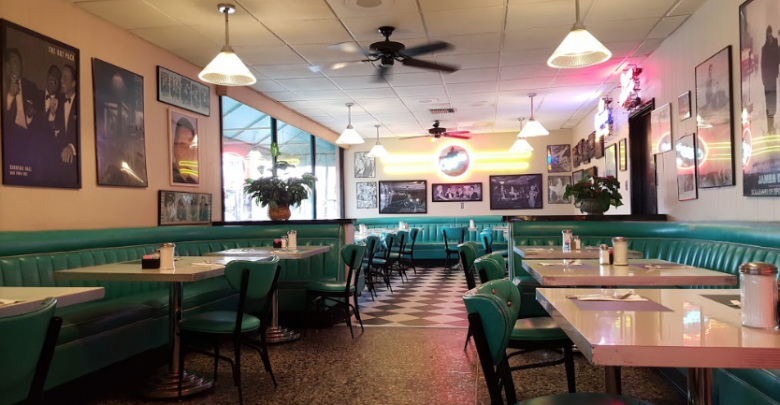 There are a couple of important things that you need to look for when searching for a classic retro diner. You will want to feel as if you have stepped back in time. You will also want fantastic food that is not overly fancy; although a few more elaborate creations are okay. If you are visiting Commerce, California, the place that you are looking for is Ozzie's Diner! You'll find delicious food in an atmosphere that will take you back to a time when life seemed so much simpler. Here are some of the reasons why you should check out Ozzie's Diner. You very well might return for a second or third meal.
Atmosphere
You will notice a difference at Ozzie's Diner before you even step through the door. You can't miss the giant sign; it almost dares you to give Ozzie's a try. Once inside, you'll find a space that is larger than you might have expected. You can grab a seat at the counter, or maybe you would prefer a booth. The seats and the booths are light green, and there are pictures of celebrities of yesteryear along the walls. Behind the counter in the kitchen area, there is a black and white checkerboard backsplash that adds to the retro feel. There is one other section of Ozzie's Diner that you might want to check out. Ozzie's Hideaway Bar & Grill serves both food and beverages. It's the type of place where you know the locals hang out.
Service
If you want to feel truly welcome, then Ozzie's Diner is the place for you. The staff is friendly and knows the menu inside and out. You can tell that "service with a smile" truly means something. It is not just the wait staff that will make you feel as if you are home. Do not be surprised if the owner comes over to say hello and find out how everything is.
Truckers
There is big rig parking at Ozzie's Diner, but the love of truckers does not stop there. This is a haven for many, some road warriors have been stopping by for decades whenever they are in the area. Since truckers are an important part of the clientele, there's a section on the breakfast menu that features the Truckers Omelette. It's a four egg feast, and there are several choices. These omelets have fun names such as "Highway 101" and "The Peterbilt", and they come with a couple of sides.
Breakfast
While anyone can order a Truckers Omelette for breakfast, there are plenty of other choices as well. Try eggs the way you want them, country fried steak, pancakes, Belgian waffles, a croissant sandwich, or another choice. Some breakfast entrees come with a side, and you can add breakfast meats for an additional cost. One thing that is sure about breakfast, you will not leave hungry! That is just the way that it should be at a classic American diner. Coffee, tea, and fountain beverages are served all day. Juice is available as well.
Burgers
Some people judge the quality of a diner by the burgers that are served. If that's the way that you are, Ozzie's Diner has plenty of mouthwatering choices. Order the 56 Chevy The American Cheeseburger for a classic with a fun name. You can also order bacon cheeseburgers, patty melt burgers, and even chicken burgers. For a meatless option, try the Gardenburger. All burgers come with your choice of sides, and you can add either seasoned fries or onion rings for an extra price.
Sandwiches
While some people judge a diner by its burgers, others want a filling and stuffed sandwich. If it's a cold sandwich that you crave, there are plenty of classics such as tuna salad or turkey to choose from. If you want something a little bit different, try Ozzie's Club. That features turkey, bacon, avocado, cream cheese, and cranberry sauce. There are hot sandwiches as well. You can order corned beef, Philly cheesesteak, hot pastrami, and even a sourdough melt. All sandwiches come with a choice of sides. If you want to stray a bit from the classic diner sandwiches, there are croissant sandwiches and pitas available as well.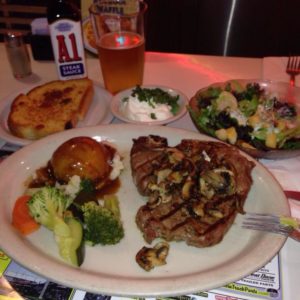 Comfort Foods
What is a diner without comfort foods? There are plenty to choose from at Ozzie's Diner. You'll find steak, turkey, pork chops, liver, ribs, seafood, pot roast, pasta, and more. Most of these come with a side or possibly two. Ask your waitress about the Blue Plate Special before you decide on your order. If you're watching your weight, don't worry. There are also some choices that are lower in fat and calories but are still full of flavor.
Mexican
What you might not expect to find in a diner is a good assortment of Mexican choices for all three meals. At breakfast, you can order items such as Huevos Rancheros, Mexican Omelette, and Lalo's Famous Menudo. For lunch and dinner, there are tacos, burritos, enchiladas, quesadillas, and more. Your Mexican entrees come with a side of rice and beans.
Dessert
Like many retro diners, Ozzie's serves plenty of ice cream creations. There are ice cream sundaes, malts, floats, shakes, and other classic dishes. For something a little less retro there are fruit smoothies on the menu as well. There are also fruit pies, cream pies, cheesecake, and some cake choices. Ozzie's meals are filling, but the desserts are so delectable that you will want to make sure that you have room.
Other Information
Ozzie's Diner is located at 7780 E Slauson Avenue, Commerce, California, 90040. If you need to call, the number is 323-726-0300. The diner is open 6:00 am until 9:30 pm Monday through Friday, and 7:00 am until 8:00 pm on Saturday and Sunday. If you head into Ozzie's Hideaway Bar & Grill, you'll find a full bar. If you forgot to buy your lottery ticket, don't worry. Those of age can purchase their tickets at Ozzie's Diner. The food and the atmosphere are so good that you might feel as if you have already won a jackpot.