Georgia
Forget the Tour Guide, Here Are Some 'Interesting' Stops in Georgia
4 peachy-fun experiences to add when visiting our state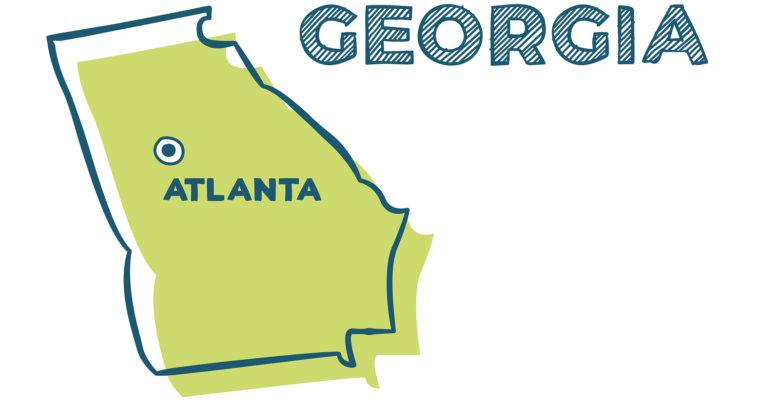 Georgia, Georgia the whole day through
Just an old sweet song keeps Georgia on my mind, Georgia on my mind
Georgia, Georgia a song of you comes as sweet and clear as moonlight to the pines
Other arms reach out to be other eyes smile tenderly
Still in peaceful dreams I see the road leads back to you
Georgia, Georgia no peace I find
Just an old sweet song keeps Georgia on my mind
-Ray Charles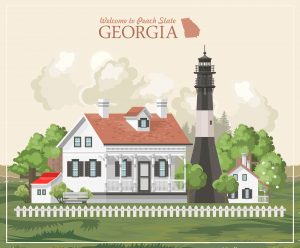 Unlike the incomparable Mr. Ray Charles, it isn't just an old sweet song that keeps Georgia on this Texan's mind. That's because I have original roots in the Peach Tree State that remind me of kinder, sweeter, simpler times—probably because I was very young when I lived there. But Georgia can be considered a horse of a different color for many reasons—one of which lies in the copious offerings the state has that the other 49 states just don't. And we aren't just talking peach trees and peanuts.
No, the Empire State of the South is known for its many historical landmarks from the Civil War, the 400,000-acre Okefenokee Swamp and more. But what you might be surprised about are the many interesting, odd and even just plain peculiar things that Georgia has to offer anyone with curiosity enough to check them out. Here are just a few.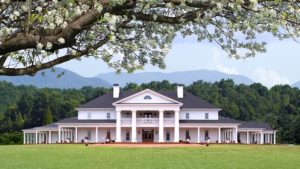 Babyland General Hospital – Cleveland, Georgia
Maybe you're wondering why a children's hospital made the list of unique things in the state of Georgia. It has a lot to do with the kind of "children" at the hospital. Babyland General Hospital is the "birthplace" of the legendary Cabbage Patch Kids, created by Xavier Roberts. The adoptable dolls with plastic faces and cloth, hand-sewn bodies were all the rage in the 1980s and for a portion of the 90s. Today, though their popularity is not what it used to be, the dolls and their Babyland General Hospital still attract lots of visitors—some diehard fans of the brand and some fans of curiosity.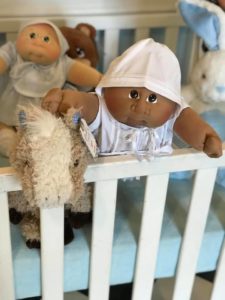 Babyland is hailed as the birthplace of the Cabbage Patch Kids. Yes, there's a Cabbage Patch there, and yes, Mother Cabbage watches over the patch. There are "doctors and nurses" that tend to the Cabbage Patch Kids—thousands of kids—available for adoption after visitors take an oath of adoption and pay the "fee." Admission is free, and tours of the 70,000 square-foot facility are self-guided. Hours of operation are Monday through Saturday from 9:00 a.m. to 5:00 p.m. and on Sundays from 10:00 a.m. to 5:00 p.m. For more information, visit www.cabbagepatchkids.com.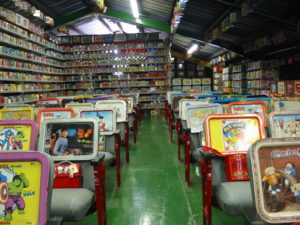 The Lunch Box Museum – Columbus, Georgia
Ok, I know what you're thinking: "Really? A museum for lunch boxes? Why would I waste my time?" But this particular museum doesn't just limit itself to little metal and plastic boxes decorated with Marvel and DC Comics characters that held people's lunches once upon a time—not by a long shot. In fact, this spot's actual name is River Market Antiques and Lunch Box Museum.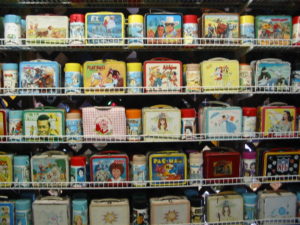 The museum is teeming with collectibles and toys from days gone by—those that seem to tell a story of a different time, a different people, a different slice of Americana we rarely get to experience in the 21st century (sadly). But a bit of this attraction's claim to fame is its display of lunch boxes—a huge display of lunch boxes. (Some are rumored to be worth as much as $10,000!) Visitors can see the 1951 Hop-along Cassidy box, the 1970s-era Charlie's Angels lunch box, the 1980s-era E.T. (phone home) lunch box and more. The museum is open to buying and selling collector's lunch boxes if you're in the wheeling-and-dealing mood, but be sure you've got a rare one, a popular one or a much-coveted one to sell.
The rest of River Market Antiques is a collection of various items of an earlier time. Word has it that everything at River Market is negotiable. Stop by Monday through Saturday anytime between 10:00 a.m. and 6:00 p.m. River Market is closed on Sundays. Visit them online at www.therivermarketantiques.com.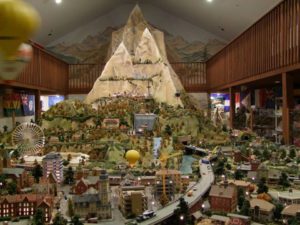 Charlemagne's Kingdom – Helen, Georgia
Charlemagne's Kingdom is an Alpine Model Railroad Museum in the Georgia Mountains. It features an HO scale German model railroad that winds through a 50-foot multi-level exhibit. Imagination and craftsmanship meet at this museum, which depicts a modern Germany "from the North Sea to the Alps." It's the largest museum of its kind and the model of modern Germany features 400 feet of railroad track with computerized trains, an Alpine village with moving cable cars, lighted cities, towns, and villages, Oktoberfest with motorized carnival rides, a seaport, lakes rivers, moving hot air balloons, a three-ring circus with tents, and street and traffic lights.
There are also 22-foot tall mountains, an autobahn with moving vehicles and thousands of hand-painted figurines. Perhaps one of the most interesting things about the museum is that the owner and creator, Willi Lindhorst, can trace his lineage all the way back to the Emperor Charlemagne! Pets are welcome, and the exhibit is accessible for all. For more information or to schedule a tour for yourself or a church or school, visit https://www.georgiamodelrailroad.com.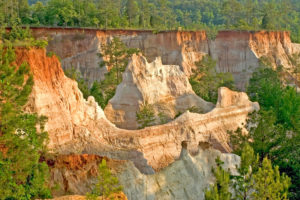 Little Grand Canyon – Lumpkin, Georgia 
If you're a native of Arizona or a frequent visitor to the Copper State, the little grand canyon in Georgia might not be a big deal to you. But Georgians are pretty proud of their little canyons. Providence Canyon State Park is one of Georgia's Seven Natural Wonders. It consists of 15 "canyons" altogether—some that reach depths of as much as 150 feet. By comparison, the Grand Canyon in Arizona reaches depths of 6,000 feet.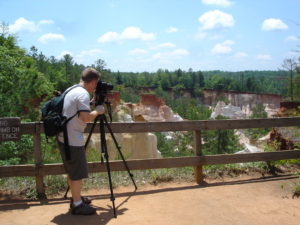 Providence Canyon State Park encompasses some 1,003 acres—a far cry from the area of Grand Canyon National Park—a staggering 1,902 square miles or 1,217,280 acres. The area in Georgia isn't completely created by nature. That's because the gullies in the state park—some as deep as 150 feet—are the results of poor farming practices used in the late 1800s.
Parking fees are $5 per vehicle. Providence Canyon State Park is open from September 15 to April 14 from 7:00 a.m. to 6:00 p.m. and from April 15 to September 14 from 7:00 a.m. to 9:00 p.m. The visitor center is open Monday through Thursday from 9:00 a.m. to 5:00 p.m. and Friday through Sunday from 8:00 a.m. to 5:00 p.m. Visit https://gastateparks.org/ProvidenceCanyon for more information or to plan your trip.