New Jersey
The Safest Bets on the Boardwalk
Feeling Lucky? The Best Casinos in Atlantic City
While gambling was legalized in Las Vegas in 1931 during the height of the Great Depression, games of chance would not be allowed in Atlantic City until some 45 years later.  However, this coastal upstart wasn't always known to play by the rules, earning the nickname "The World's Playground" for its rollicking atmosphere during Prohibition.  Sin City ain't got nothin' on this boardwalk.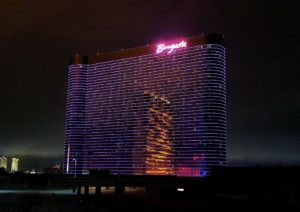 1. Borgata Hotel Casino & Spa
Operating under the MGM Resorts International banner, Borgata is not only the most popular Atlantic City casino but also its most profitable.  Since opening its doors in 2003, the resort has set the gold standard on the boardwalk, what with its countless dining options, luxury spas, and nearly 3,000 guest rooms, all housed within a sprawling gaming and entertainment complex.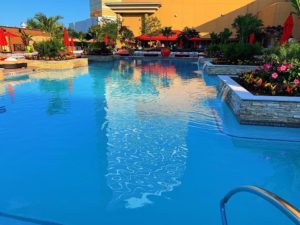 When guests aren't cashing in on the 161,000-square foot casino floor's slot machines or table games, they can sit down at one of the upscale eateries, which include offerings from world-renowned chefs such as Bobby Flay, Wolfgang Puck, and Michael Symon.  Izayaka by Michael Schulson provides a taste of the orient through traditional Japanese-style dishes, while Old Homestead Steak House imports a New York City staple in the 20-ounce Prime Steakhouse Burger.  Immersion Spa, which occupies two full floors of The Water Club – Borgata's connecting boutique hotel – features 16 separate relaxation rooms offering standard treatments set amongst the backdrop of panoramic views of the coastline 32 stories below.  A collection of hip bars and stylish nightclubs keep the party going into the wee hours, while the live events venues feature a cavalcade of entertainment options, from comedy acts to concerts.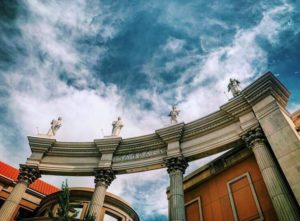 2. Caesars Atlantic City Hotel & Casino
Much like its famed sister resort in Las Vegas, this Caesars is also decorated in an ancient Greek and Roman motif.   Statues of imposing emperors stand sentry atop columns that mark the entrance to one of the largest casinos in Atlantic City, towering over a golden-accented chariot being led by a quartet of galloping stone steeds.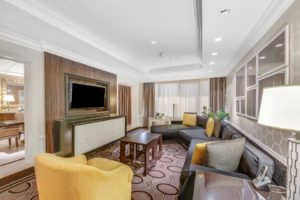 The opulent interior is home to more than 3,000 slot machines, well over 100 gaming tables, and a 1,000+ seat showroom in the Circus Maximus Theater, which showcases everything from concerts to stage productions.  Additional amenities include an upscale salon and Qua Baths and Spa, the highlight of the latter being its trio of Roman Baths – a "Social Spa-ing" experience included with any standard treatment.  Guests looking to breathe in some of the ocean air can do so from the rooftop pool and observation deck or while sampling one of the surf-inspired cocktails from the Beachside Bar.  Dining options include Nero's Italian Steakhouse – a nod to the resort's Roman inspiration – as well as Buddakan at The Playground, a Stephen Starr restaurant that serves modern interpretations of traditional Asian offerings in the shadow of a giant, gilded Buddha.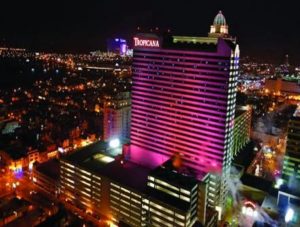 3. Tropicana Atlantic City
Originating as the famed Ambassador Hotel – which welcomed guests such as Harry Houdini and Sir Arthur Conan Doyle – this site also served as the backdrop of the Atlantic City Conference, one of the most infamous sit-downs of organized crime bosses ever known.  Today, long after the era of legendary wiseguys Al Capone and Lucky Luciano, the Tropicana has become firmly entrenched as one of the powerhouse resorts on the boardwalk.  Since its debut in 1982, the property has undergone several expansions and renovations, transforming it into a massive shopping and entertainment center, in addition to being one of the area's premier gambling destinations.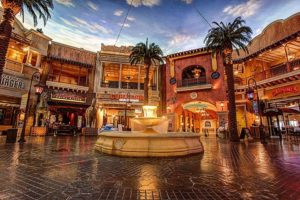 Guests can parlay some of their winnings into goods and wares at The Quarter, a 200,000-square foot shopping mall, which features old Havana-style architecture and more than two dozen shops.  The Tropicana is one of the more family-friendly casinos in the region, boasting not only a Family Fun Center featuring arcade offerings and ticket redemption games but also a 280-seat IMAX Theatre.  For adults, recently-added amenities include a 12,000-square-foot fitness center, additional restaurants, and an on-site escape room – which challenge visitors to piece together clues to free themselves from themed experiences, such as the Poker Room or the Casino Cage.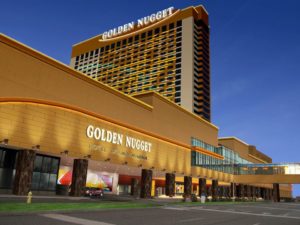 4. Golden Nugget Atlantic City
At one time known as Trump's Castle, the rechristened Golden Nugget casino is perhaps best known for its marina outside and its spectacles of entertainment within.  Senator Frank S. Farley State Marina sits just off Absecon Bay and has the capacity to accommodate more than 600 boats of seafaring travelers visiting from all along the Atlantic coast.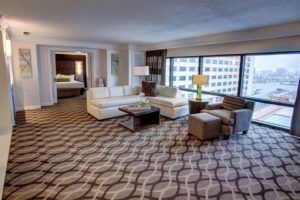 Meanwhile, the 460-seat theater and 2,000-seat ballroom have been known to host headliners from Billy Crystal and Steve Martin to late greats such as Aretha Franklin and Prince.   The site has also become a destination for pugilistic contests, including boxing matches and mixed martial arts competitions.  In addition to its on-site poker rooms and endless banks of slot machines, Golden Nugget also offers an online gaming experience that includes more than 400 games that can be played virtually with genuine cold hard cash at stake.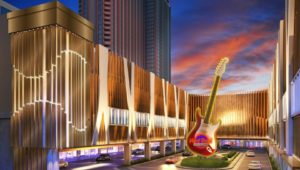 5. Hard Rock Hotel & Casino Atlantic City
Another former Trump property, this iteration of the Hard Rock Hotel & Casino debuted in the summer of 2018 and has become an instant hotspot on the boardwalk.  One of twelve Hard Rock casinos located in North America, the Atlantic City property proudly displays the brand's signature rock 'n roll memorabilia throughout the gaming floor, hotel, and namesake café, as well as in its Rock Shop, where guests can purchase replicas and related memorabilia.  The Asian Gaming Room adds a unique feature to this casino experience by inviting visitors to try their hand at a variety of games originating in the Far East, including Baccarat and Pai Gow, while a revolving series of Broadway shows bring a slice of the Big Apple to the Jersey shoreline.  Upcoming featured engagements include Chicago, Bat Out of Hell, and Jersey Boys.  And it wouldn't be the Hard Rock without its 5,000-seat Etess Arena, which in the past has featured acts ranging from Aerosmith and Alice in Chains to Santana and Stevie Nicks.