Michigan
A Truly Unique and Special Place
6 tips for a magical visit to Mackinac Island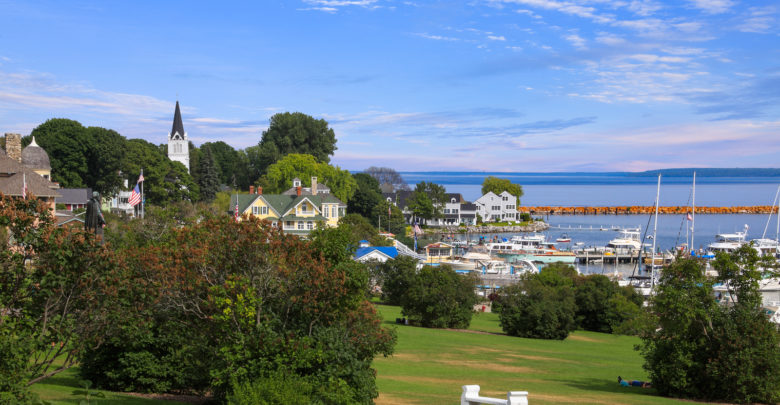 A popular Midwest tourist destination, Mackinac Island is located on the far western edge of Lake Huron, where Michigan's upper and lower peninsulas connect via a nearly five-mile-long bridge (Mackinac Bridge) that stretches across the Straits of Mackinac.  It is home to fewer than 500 residents during the winter months, with a population that balloons to some 7,000 people at the height of tourist season.  The following six suggestions will help visitors navigate the crowds and maximize their trip to this secluded summertime retreat also known as "Someplace Special".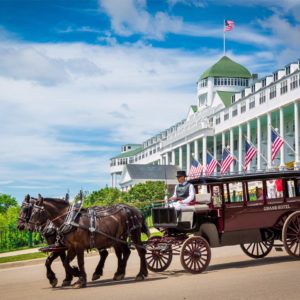 1. Book a Room at the Grand Hotel
This appropriately-named hotel dates all the way back to 1887 and stands as one of the most iconic lodging destinations on the island.  The awe-inspiring estate overlooks the lake from its hilltop perch and boasts the longest porch in the world at more than 650 feet in length, punctuated by a series of columns that proudly display a patriotic collection of American flags.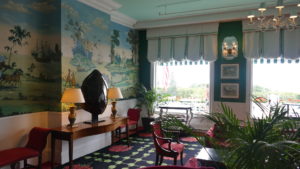 The site features nearly 400 guest rooms, with each space designed to include at least one unique characteristic that differentiates each room from the next.  A septet of rooms was even designed by former First Ladies, from the Jacqueline Kennedy Suite to a Texas prairie-inspired room decorated by Laura Bush.  Over the years, the property has been the recipient of several honors, including being designated a State Historic Building, a National Historic Landmark, and an addition to the National Register of Historic Places.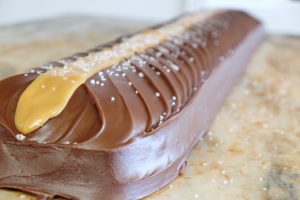 2. Sample Some Fudge
While the Jersey boardwalk may be known for its saltwater taffy, Mackinac Island has become synonymous with an entirely different sweet treat.  Its 14 fudge shops provide for ample opportunity to sample the island's signature confection.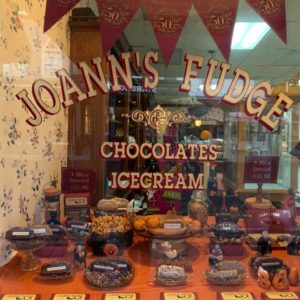 Joann's Fudge is home to 25 different flavors, including raspberry truffle, chocolate cherry, and pumpkin pie, while Murdick's Fudge (founded by sailmakers who crafted the awnings for the original Grand Hotel) tacks on seasonal, holiday-themed exclusives such as chocolate coffee caramel and white chocolate candy cane using the same handcrafted technique developed by family matriarch Sara Murdick more than 100 years ago.  Many of the shops even offer wedding packages that include individually-wrapped favors or fudge bars that allow guests to create their own outrageous concoctions.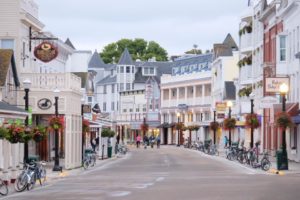 3. Stroll Down Main Street
The island's quaint main strip is home to many of the aforementioned fudgeries, though it is also host to countless additional activities, from restaurants and bars to markets and boutiques.  Stepping onto Main Street will leave you feeling like you've just come out of a time warp, as this bustling center of the city could very well pass for Anytown, USA.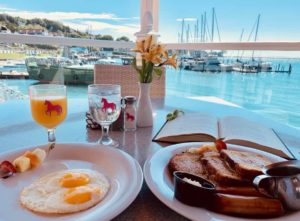 Begin your day with a sumptuous breakfast on the patio of the Pink Pony – dubbed by the Daily Mail as "One of America's 10 Best Restaurants for Outdoor Dining" – before moving on to browse the latest styles at Nadia's Fashion Shop.  At Little Luxuries, you'll find a little bit of everything, from home goods and handbags to all manner of Michigan-made products, including beer, wine, and crafts.  Moomers Homemade Ice Cream provides for the ideal midday respite, offering a sampling of a quartet of flavors with its "Flight of Ice Cream", while Doud's Market invites visitors to stock up on groceries from the corner store.  As day turns to night, duck into one of the many taverns for an evening cocktail before boarding a carriage that will whisk you back to your accommodations as you stare up at the stars and bask in the fresh Midwestern air.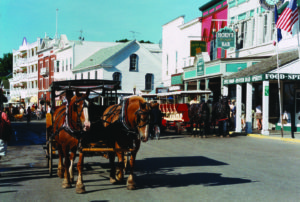 4. Explore Alternative Forms of Transportation
Since no cars are allowed on the island, you'll have to find another way to get around.  On your stroll through town, you'll notice several bike shops, where you can rent the self-propelled conveyances and take a leisurely ride down the shoreline.  Another popular mode of transportation on Mackinac is horse-drawn carriage.  Whether touring the area or treating your significant other to a romantic jaunt, these buggies allow for a more deliberate exploration of the island.  For those looking for a more hands-on riding experience, Jack's Livery Stable and Cindy's Riding Stable offer a menagerie of saddle horses and ponies to plod about the scenic expanse.  During the winter months, the nearly 500 horses who call this island home are ferried back to the mainland before returning the following spring.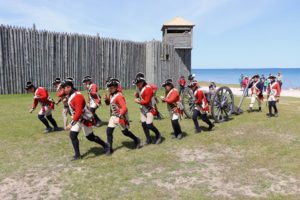 5. Learn About the History of the Area
Originally home to a Native American settlement, the approximately 2,200- acre island would become a major player in the fur trade as well as a base for British troops during the Revolutionary War.  Much of this history has been preserved and documented in the form of military forts and museums.  Established during the late 18th Century, Fort Mackinac is home to the oldest building in Michigan and boasts several exhibits and activities, including an opportunity for visitors to fire its iconic cannon.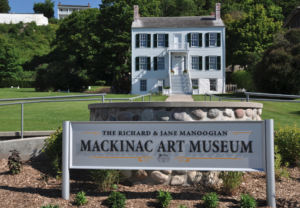 Meanwhile, a collection of museums celebrate indigenous art (The Richard and Jane Manoogian Mackinac Art Museum), showcase the island's infatuation with horse and carriage (Horse in History Museum and Surry Hills Carriage Museum), and pay homage to the fur traders who helped to establish this outpost (Stuart House Museum).  Many of the area's places of worship are also steeped in history and tradition, most notably Sainte Anne Church.  For nearly 150 years, Sainte Anne's has stood as a testament to the Jesuits who introduced Catholicism to the island.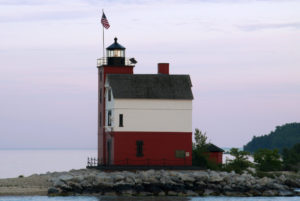 6. Visit Round Island
Located in the Straits of Mackinac, this nearly 400-acre island is home to the Round Island Wilderness Area (part of the greater Hiawatha National Forest, aka the "Great Lakes National Forest"), which includes the historic Round Island Lighthouse.  While camping is allowed within the park, the area is not easily accessible.  In fact, the only way to reach the island is by kayak, a journey which is only recommended for the most experienced of kayakers, as it requires crossing an oftentimes choppy shipping channel.  No other watercraft offer trips to the area, though tour boats and aircrafts afford visitors the opportunity to get a closer look at a beacon that dates all the way back to 1895 and has been the subject of continued preservation and restoration efforts.