New Mexico
New Mexico Will Show You How Stunning America Really Is
7 views in our state that will blow you away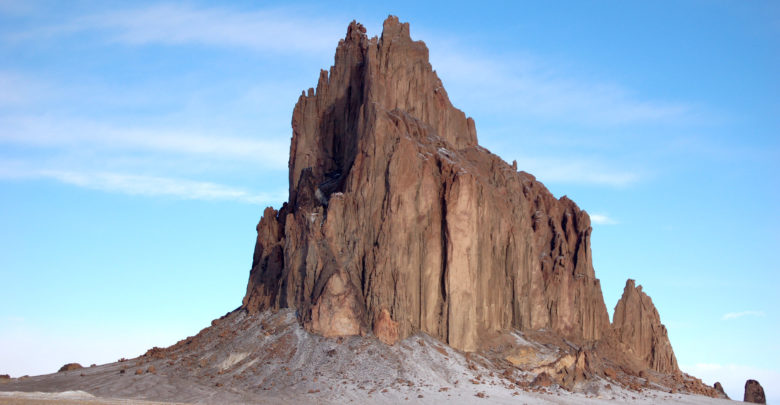 America is brimming with fantastic and diverse views throughout its 50 states, as anyone who lives here or has visited knows.  No matter where you wander, you're bound to discover wondrous new sights.  Today, we're exploring the American Southwest as we travel across New Mexico.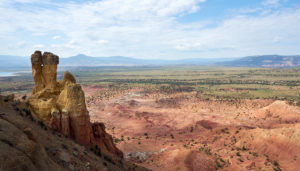 With a history dating back thousands of years and some of the most eerily beautiful landscapes on the planet, your options are certainly plentiful, and could never be contained in a single article!  Think of this as a starting point.  Whether your idea of a great view is a soaring mountain peak, otherworldly badlands peppered with ethereal hoodoos, sprawling underground cave systems, or vistas starring thousands of bats, birds or balloons, New Mexico has plenty of captivating views waiting to be discovered.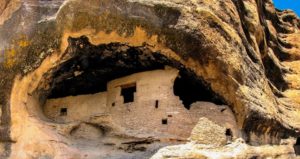 Gila Cliff Dwellings National Monument
It's hard to think of classic New Mexico views without cliff dwellings coming to mind!  There's nothing like exploring 700-year-old homes left behind by Pueblo people called the Mogollon, who lived in the area for only a couple of decades before abandoning them.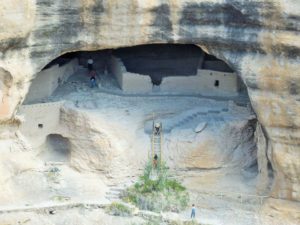 Today, you can visit Gila Cliff Dwellings National Monument, north of Silver City, to see the fascinating dwelling rooms the Mogollon people built in caves and out in the open.  Unlike most other similar parks in New Mexico, here you can enter the caves and rooms to explore to your heart's content!  Note that you'll need plenty of time to explore the site, and it's pretty remote (cell phones don't work anywhere on-site).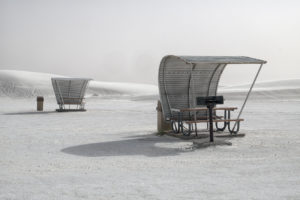 White Sands National Monument
You'd be forgiven for thinking you're looking at miles and miles of snow-covered hills, but the 275 square miles comprising White Sands National Monument are actually sand dunes.  Not just any sand dunes, though – this is the biggest deposit of gypsum on earth, and it has to be seen to be believed.  Point your camera in any direction, and you're guaranteed stunning views at this iconic New Mexico treasure.  Because the sands here reflect the sun, they're even cool to the touch.  You've never seen or felt a desert like this before!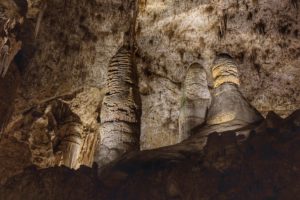 Carlsbad Caverns
While enviable views abound at surface level in New Mexico, you won't want to limit yourself.  Venture underground, and you'll be well rewarded!  Start with Carlsbad Caverns National Park, close to the border with Texas.  Beneath your feet lie a whopping 119 caves, including one of the biggest on the continent.  A variety of walking trails are available, all featuring spectacular limestone formations.  The views continue above ground with rocky canyons, desert flora and fauna, and ancient sea ledges.  If you're here from May to October, treat yourself to once-in-a-lifetime views of hundreds of bats silhouetted against the sunset as they leave the caves in search of dinner!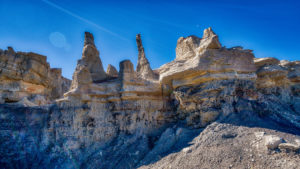 Bisti Badlands/De-Na-Zin Wilderness
The problem with many deservingly popular tourist attractions is that they're, well, popular.  Everyone loves a view, but cropping other people out of your photos – not so much.  You won't have that problem at Bisti Badlands, also known as De-Na-Zin Wilderness, northwest of Santa Fe.  Completely free to enter, and relatively unknown, these badlands consist of 4000 acres of bizarre and magical sandstone formations that have eroded into a variety of fascinating colors and shapes.  You'll feel like you've stepped onto another planet, without leaving the state!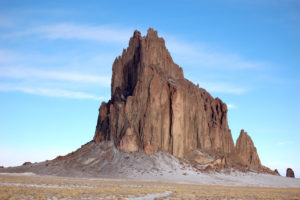 Shiprock
Looking more like a movie set than an actual view, Shiprock is exactly what it sounds like – a massive column of volcanic rock rising into the sky that looks like a masted ship.  It's known by a different name (Tse Bit' a'i) to the Navajo people to whom it is sacred.  The peak of Shiprock is 7,178 feet above sea level, and it's located southwest of the town of Shiprock.  Climbing this special rock isn't allowed, as it's located within the Navajo Nation; neither is driving on the dirt road that leads to it.  Luckily, this impressive monolith dominates the landscape for miles around, so you'll easily be able to enjoy the views from Indian Service Route 13 or from US Highway 491.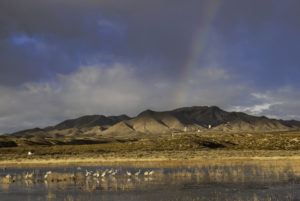 Bosque Del Apache National Wildlife Refuge
In New Mexico, the views aren't limited to landforms, as gorgeous as those are.  If you're on the hunt for a view of a livelier kind, head to the Bosque del Apache National Wildlife Refuge, near San Antonio.  Founded back in 1939, this is a huge area (over 57,000 acres in total) that encompasses wetlands, grasslands and irrigated farms that serve as a refuge for all kinds of feathered friends.  You can photograph hundreds of different bird species here, and the site is open all year round, but most visitors come to watch the magnificent migration of sandhill cranes every fall.  The sight of thousands of graceful cranes soaring overhead is a view you won't soon forget.
Albuquerque International Balloon Fiesta
New Mexico is home to more than one balloon fiesta providing unique and breathtaking vistas, but the Albuquerque International Balloon Fiesta is the state's largest.  It's hard to describe the whimsical wonderland in store as you gaze up at a sky filled with hot air balloons of every shape, size and color!  The fiesta occurs every October for 9 days, during which more than 500 balloons take to the sky, witnessed by nearly a million captivated viewers.  If you're in search of a view unlike any other, then Albuquerque is where you'll want to be this fall!