Nevada
Experience a Real Dude Ranch in Nevada
Sandy Valley Ranch is fantastic, rustic fun in the Mojave Desert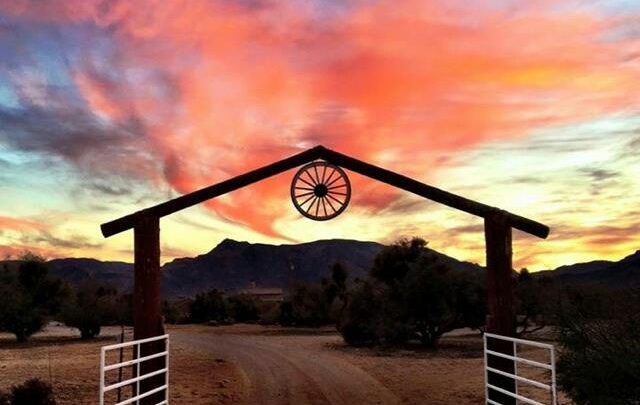 When thinking about the state of Nevada many people will automatically picture the lights and glamour of Las Vegas. Less than an hour's drive away is a place that will make you forget about it all. The slogan of Sandy Valley Ranch is "Sandy Valley Ranch is 45 minutes and 100 years from Las Vegas!".
If you are looking for a way to leave the problems of modern day life behind, this dude ranch could be exactly what you are looking for. Here are some of the reasons why you should skip the casinos and head to the Old West and Sandy Valley Ranch instead.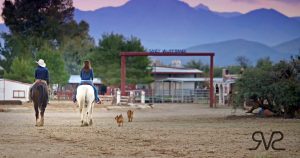 Horseback Riding
If you do not have experience as a cowboy or a cowgirl, you might want to start with horseback riding. You will ride among the tumbleweeds in the Mojave Desert, so you will have your fill of beautiful scenery. Your horse will be handpicked for you. All horseback rides are private, which means that it will just be you, your guide, and the other members of your group. If you have never ridden before, that will not be a problem. If you are an experienced rider, you will be allowed to trot or maybe even gallop. You might even have the opportunity to help round up cattle and get them into the pen while on horseback. There are different horseback riding experiences available, for different lengths. You can add breakfast, lunch, or dinner to your adventure so that you will truly feel as if you are a cowboy out on the trail.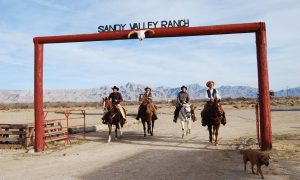 Cowboy for a Day
Of course, there is more to being a cowboy or cowgirl than just riding a horse. If you would like to fully experience what it is like to be a cowboy, sign up for more than just a ride. Instead, make a reservation to be a Cowboy for a Day. The program begins with basic instructions on riding a horse and also herding cattle. The wrangler who is teaching you will also share plenty of stories with you. After that, you will practice what you learned for the rest of the morning. You'll enjoy a hearty lunch, then it's time to become a true working cowboy. You'll spend the afternoon herding cows for real. It's hard work, but you will have the time of your life! Once evening rolls around, you'll enjoy wine and hor's d' oeuvres as well as the sunset. That's followed by dinner by candlelight. The day will wrap up with a campfire. Don't be surprised if you find yourself singing along to a cowboy song while watching the flames. After all, you will have earned the title.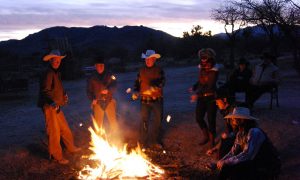 Cowboy Campout
You do not have to spend only a day as a cowboy. At Sandy Valley Ranch you can also sign up for Cowboy Campout. You'll start by learning to ride, and then the wrangler will take you on a three-hour ride to the campsite. You'll water your horse and set up your campsite the way that you want it. Your dinner will be cooked on a Dutch oven, and you'll enjoy a campfire on this experience as well. You will then sleep better than you expect under the stars. In the morning you'll enjoy coffee and breakfast before saddling up and riding back to the ranch. It is an experience that you will never forget. There is also a Cowboy Camp for Kids option available.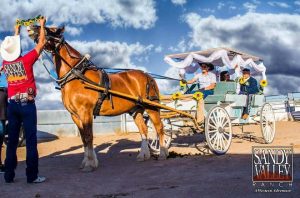 Surrey Rides
If you would like to experience a dude ranch but have no real desire to ride a horse, Sandy Valley Ranch has you covered. Instead of riding the horse, you can sign up for a surrey ride. The horse-drawn surrey will still make you feel as if you are in the Old West, but you can just sit back and enjoy the ride. A surrey ride lasts around 45 minutes, so you will still have time to enjoy some of the other activities at the ranch, such as the petting zoo.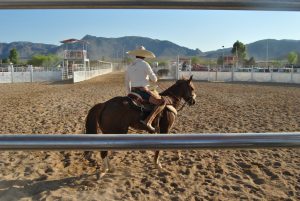 Rodeo
If watching rather than riding is more your speed, you can enjoy an American Rodeo at Sandy Valley Ranch. The cowboys and cowgirls who participate are real athletes, and they will show off their skills in ways that will astound you. Some of the activities that you could see are tie-down roping, steer wrestling, barrel racing, and bull riding.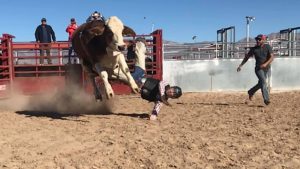 Bull Riding
The rodeo might inspire you, which is why at Sandy Valley Ranch they also offer bull riding to their guests. You can actually try it for yourself! You will not just climb on a bull and then fend for yourself. There is plenty of instruction so that you will know exactly what you need to do in order to enjoy your bull ride and stay on as long as possible. You will wear a Go Pro on your ride so that you will have a video of your experience. That way, you will be able to relive it as often as you want. You will also be able to prove to those back home that you did it, because your friends will probably not believe you otherwise.
Corporate Events
What better way to learn to work together as a team than to spend a day at Sandy Valley Ranch? If you are looking for a great place to reward your employees with a fun day away from the office, this could be exactly what you have been hoping to find. They also offer team building activities and games that will help everyone to work together to come up with the best solution. Your employees will become a closer knit group, and have a great time while working together.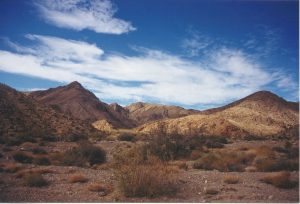 Weddings
If you are looking for a wedding venue that you and your guests will all remember for a lifetime, consider booking Sandy Valley Ranch. The bride can ride up in the surrey, or maybe she would prepare to arrive on horseback. Your wedding can be simple, or up to 200 people can be included. Contact Sandy Valley Ranch and they will work with you to create your dream wedding and reception.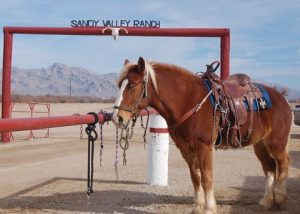 Location
Sandy Valley Ranch is located at 1411 Kingston Road, Sandy Valley, NV, 89019. If you would like more information on the ranch or any of the activities offered, call 702-242-0955.