Oregon
Oregon is Beautiful – and Fun
6 must-see attractions in the Beaver State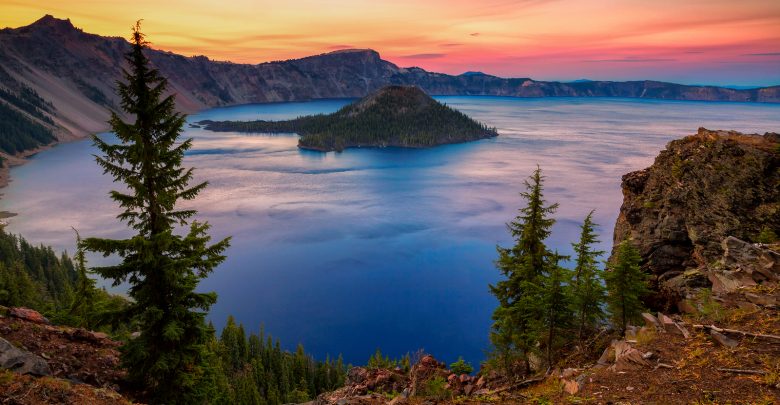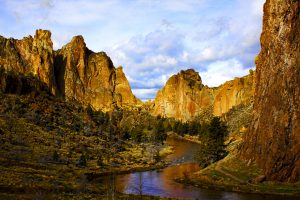 The state of Oregon is home to more than 4 million Americans. It was the 33rd state to enter the union, and its statehood birthday is Valentine's Day. It's home to the deepest lake in the United States and the largest mushroom, shortest river, largest cheese factory, tallest barbershop pole and largest log cabin in the world. Mushroom "hunting" is a thing in the Beaver State—so much so, that every year, there's a Festival of the Fungus. (Yes, we're serious.)
But aside from these accolades and accomplishments, Oregon is chock-full of attractions for both residents and visitors to enjoy. We've included six of them here, but rest assured there are many more to enjoy in the West Coast state of Oregon!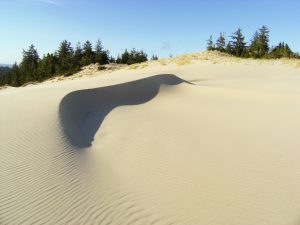 Oregon Dunes National Recreation Area
At Oregon Dunes National Recreation Area, visitors can find sand dunes as high as a 50-story building. The dunes extend 40 miles along the Oregon coast and make up the largest expanse of coastal sand dunes in North America. This beautiful area is home to more than 30 lakes and ponds, affording visitors the opportunity to swim, water ski, scuba dive, go canoeing and fish. The park offers other activities for the whole family—some that can only be enjoyed on the dunes, such as sandboarding. There are also places to enjoy hiking, camping, horseback riding, photography and more. For more information about Oregon Dunes National Recreation Area, visit www.stateparks.com/oregon_dunes.html.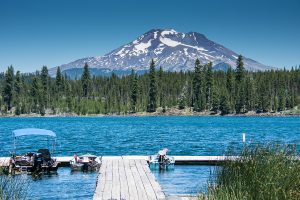 Cascade Lakes Scenic Byway
You'll want to allow yourself 3 to 5 hours (or more) to enjoy all the beauty on display along this scenic drive. Cascade Lakes Scenic Byway is a 66-mile-long highway in central Oregon. It runs through Deschutes and Klamath counties on the east side of the Cascade Range. The drive begins on the west side of the bustling tourist town of Bend, Oregon, where Oregon Highway OR-372—often called Cascade Lakes Highway—begins its ascent toward Mt. Bachelor. OR-372 is often called Cascade Lakes Highway. The drive ends at OR-58 near Crescent Lake and Odell Lake. It takes visitors along a path that cuts through mountains, lakes, and forests. The drive is well known for lava flows, alpine lakes, and meadows. This experience is best enjoyed from June to October.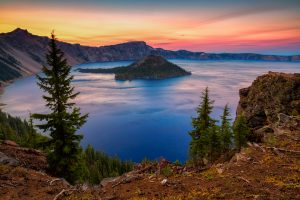 Crater Lake National Park
This national park is—as the name suggests—centered around Crater Lake. What makes this lake so special that it is protected in a U.S. national park? Crater Lake was formed when the 11,000-feet-tall Mt. Mazama collapsed into its lava chamber around 5000 B.C. A series of destructive and violent eruptions took place, causing the peak to collapse. The result was a massive crater that is 6 miles wide. The crater filled with water over time, giving birth to Crater Lake. It is the deepest lake in the United States and the seventh deepest in the world, with depths of up to 1,932 feet. When you visit, ask about the "old man of the lake." It was once a full tree but is now only a stump, and it bobs in the water vertically. It has been doing so for more than 100 years and remains well preserved because of the cold water in the lake. For more information on Crater Lake National Park, visit www.nps.gov/crla.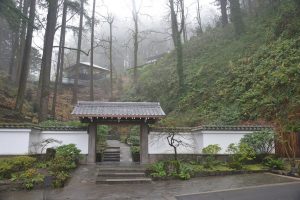 Portland Japanese Garden
Portland Japanese Garden was developed on the site of the old zoo in Washington Park in the 1950s as a symbol of a connection and healing of pain between the United States and Japan on the heels of World War II, during which Japan bombed Pearl Harbor in Hawaii. There are 8 different garden styles, as well as koi ponds, an authentic Japanese tea house and more in this beautiful place. The garden is a place for quiet reflection, as well as a place at which to learn about Japanese culture. Events and celebrations take place throughout the year, including Japanese Tea Ceremonies, a celebration of the Japanese New Year, Storytelling and "Tanabata," which is called the Star Festival. Admission is $16.95 for adults, $14.50 for seniors, $13.50 for students, $11.50 for kids ages 6 to 17 and free for children ages 5 and under. For more information or to plan your visit to the garden, please visit www.japanesegarden.org.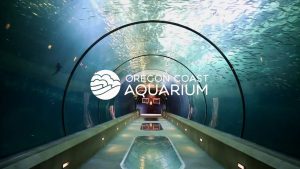 Oregon Coast Aquarium
The Oregon Coast Aquarium is not just any aquarium. It's located in Newport, Oregon, and sits on 23 acres along Yaquina Bay near the Pacific Ocean. From January 1996 to September 1998, the aquarium was home to Keiko, the killer whale in the movie Free Willy. But perhaps the more impressive bragging rights go to the Oregon Coast Aquarium because it ranked among the top 10 aquariums in North America by Coastal Living Magazine. Exhibits include the giant Pacific octopus, sea otters, Harbor seals, sea lions, a seabird aviary and more. The aquarium also offers a behind-the-scenes tour, as well as a special event called "Sleep in the Deep," during which visitors can stay overnight at the aquarium inside a 360-degree tunnel, filled with almost 1 million gallons of water full of sharks, rays, halibut and more. General admission (which does not include tours or special events) is $22.95 for adults, $19.95 for seniors and kids ages 13 to 17, $14.95 for kids ages 3 to 12 and free for kids ages 2 and under. Visit www.aquarium.org to learn more about this fascinating aquarium!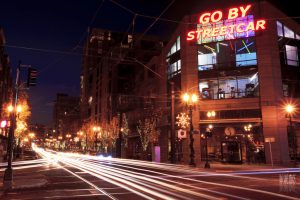 The Pearl District
Portland's Pearl District was once an area dotted with warehouses and railroad yards. Today it is home to more than 70 restaurants, as well as hotels, entertainment venues and more. Enjoy everything from delicious burgers and craft brews to Asian dishes and more. There are retail shops that sell home décor, clothing, accessories, and shoes, and on the first Thursday of each month, the Pearl District hosts an art festival.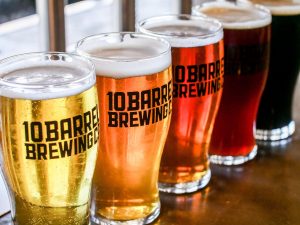 If you're looking for a great pub, hit up 10 Barrel Brewing. If you like the open-kitchen-style restaurant, sample Vietnamese cuisine at Bambuza Vietnamese Kitchen and Bar. Andina Restaurant serves South American dishes, and Bluehour is the best in upscale dining inside a modern classic dining room—it's perfect for date night, girls' night, any night! And dinner always goes better with dessert, so be sure to stop in at Ben & Jerry's for ice cream! For more information about the Pearl District and all it has to offer, visit www.explorethepearl.com.