Oregon
Want the Quintessential Portland Visit? Start With These Suggestions
Plan the perfect weekend in Portland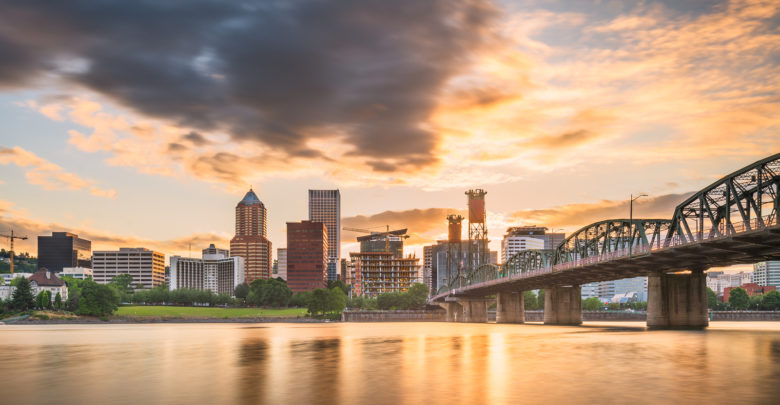 Portland, Oregon is a unique and beautiful city. Its culture developed from a combination of the gloomy weather, plentiful greenery, sloping mountains, delicious coffee, and its creative residents. If you'd like to enjoy the perfect Portland weekend, this is the list for you.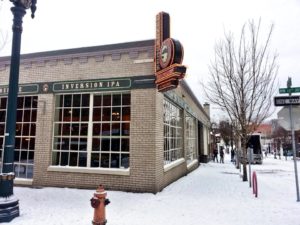 Deschutes
If you're in pursuit of a hearty meal, Deschutes is your destination. Enjoy an elk burger and some of the best beer in Portland here. This brewery pub opened in Bend in 1988 and has since expanded to Portland and Roanoke, Virginia. What makes Deschutes unique is their intentional efforts to give back to their community through in-kind donations (including beer) to local non-profit organizations. Their current focus in giving back is on water and land conservation, hunger prevention, and youth services. They even have a grant program offered through their Community Involvement Committee. On top of all that, they offer a variety of delicious food and beverages. Book ahead to go on a brewery tour.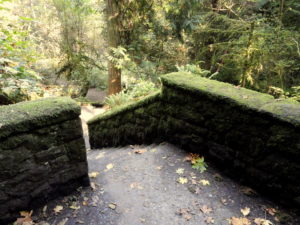 Forest Park
Explore 5,200 acres of Forest Park, one of the largest urban forests in the United States. There's plenty to do here – 80 miles of trails mean you can hike here or go trail running multiple times and get a different experience each time. The Forest Park Conservancy also offers guided hikes and "discovery" events.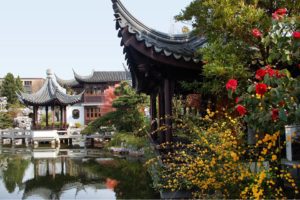 Lan Su Chinese Garden
Portland and Suzhou, Portland's sister city in China, collaborated to make this garden happen. Its mission is to cultivate an oasis of tranquil beauty and harmony to inspire, engage and educate our global community in the appreciation of a richly authentic Chinese culture. Step outside of the US and into China during your visit to this garden. It is inspired by the 2,000-year-old Chinese tradition of building a garden that combines art, architecture, design, and nature.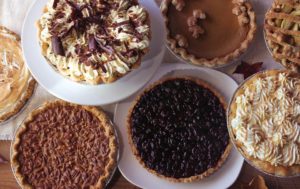 Lovejoy Bakers
One of the most popular spots in Portland for breakfast, Lovejoy Bakers is a must during your visit. Brunch is served Saturday and Sunday from 8 AM until 3 PM. Enjoy French toast, a classic American breakfast, waffles, eggs benedict, biscuits and gravy, avocado toast, one of their breakfast sandwiches, or housemade granola, among other options.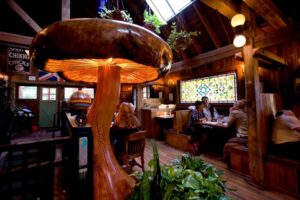 McMenamins
For over thirty years, McMenamins has been serving handcrafted ales, wines, spirits, and Northwest pub fare to the people and visitors of Portland, Oregon. With countless locations across the state, McMenamins has certainly made a solid footprint in the soil of Oregon. Their Black Rabbit Restaurant & Bar in Troutdale on the outskirts of Portland is great for wine tasting and concert watching while patrons go to their Kennedy School location in the heart of Portland for Cajun tots, a chance to sit in the soaking pools there, and a drink in the boiler room.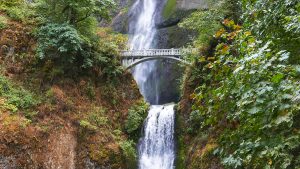 Multnomah Falls
If you're going to see any waterfall while you're in Portland, it should certainly be Multnomah Falls. These falls tower at 611 feet and offer a close-up experience to the beauty of the wilderness just outside of Portland's downtown. Enjoy the view from the base or walk up to the bridge and get a closer look at the falls.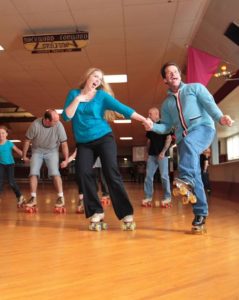 Oaks Park Roller Rink
Did you know that roller rinks used to typically house pipe organs to entertain skaters? Today, Oaks Park Roller Rink is the very last roller skating rink to keep this tradition alive. This rink has been around since 1906 and has been enjoyed by locals and tourists alike for over 100 years. Open skate admission is $7.50 and skate rental is $2. You can take a skating class taught by a USA Roller Sports certified instructor or celebrate your birthday there with a private party. You can also attend "Adult Rhythm Skate Tuesdays" Tuesday nights at 8 PM, "Preschool Play & Skate" on Tuesdays and Wednesdays at 10 AM, and Kids' Morning Skate Saturdays at 10:30 AM.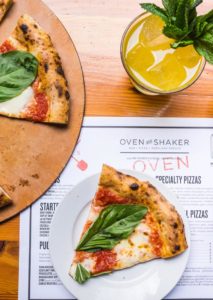 Oven and Shaker
With a cozy vibe and dedication to deliciousness, Oven and Shaker is home to a long list of creative crisp-crust pizzas and fun cocktails. Six-time James Beard-nominated chef Cathy Whims, restauranteur Kurt Huffman, and cocktail artisan Ryan Magarian are the geniuses behind this spot, guaranteeing you will have a high-quality experience. Cocktails at the bar include unique drinks such as the Louisiana Handshake and the Corleone. Pizzas include the traditional margherita and creations such as the Maple Pig (apple butter, pork belly, smoked ham, maple mascarpone, ricotta) and the Fennel Diavolo (garlic, calabrese salami, red onion, mozzarella, fennel pollen, parmigiano, basil).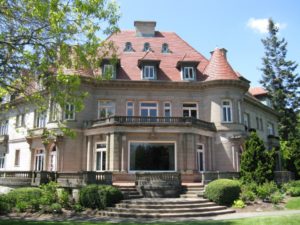 Pittock Mansion
Overlooking the city of Portland, the Pittock Mansion offers a beautiful view as well as a fascinating look into some Portland history. This historical spot was built in 1914 and tells the story of Portland's evolution from small town to bustling city through the perspective of the Pittocks. Take a tour through the 16,000 square foot mansion and the 2,400 square foot gate lodge which was occupied by the Pittocks' chauffeur and his wife followed by the estate steward and his wife. Admission is $12 for adults and $8 for kids.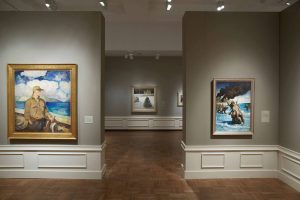 Portland Art Museum
This art museum is a staple of the Pacific Northwest as a whole. It is the oldest art museum in the PNW, founded in 1892 when the Portland Art Association started. Its beginnings were in the Portland Public Library. It moved into its present-day location in 1932 at the corner of SW Park Avenue and Jefferson Street. The building was designed by noted architect Pietro Belluschi. The mission of the museum is to engage diverse communities through art and film of enduring quality, and to collect, preserve, and educate for the enrichment of present and future generations. Currently on exhibition are collections entitled: "The Bell, the Digger, and the Tropical Pharmacy," "Japanese Actor Prints," "Squirrels, Tigers, and Towering Peaks," "Italian Excellence," "Toughened to Wind and Sun," and more.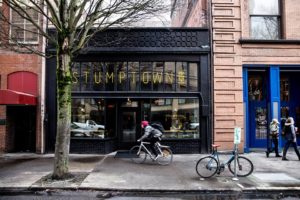 Stumptown
Stumptown is a must-visit destination while you're in Portland because it originated in Portland, they create absolutely delicious coffee, and it is quintessentially Portland-esque. From the sourcing to the roasting to the brewing, Stumptown holds itself to the highest of standards. They will not settle for subpar coffee, and they will always deliver when it comes to caffeinating their customer. As they say, "Coffee is about pleasure. It's that moment when your hand is warmed by the mug, you raise it to your nose, inhale deeply and then take a sip. That sip is the culmination of years of work, three-thousand-mile journeys, and passion."