Florida
You Will Love this Pristine Getaway in the Florida Keys
Explore the Natural Beauty of Biscayne National Park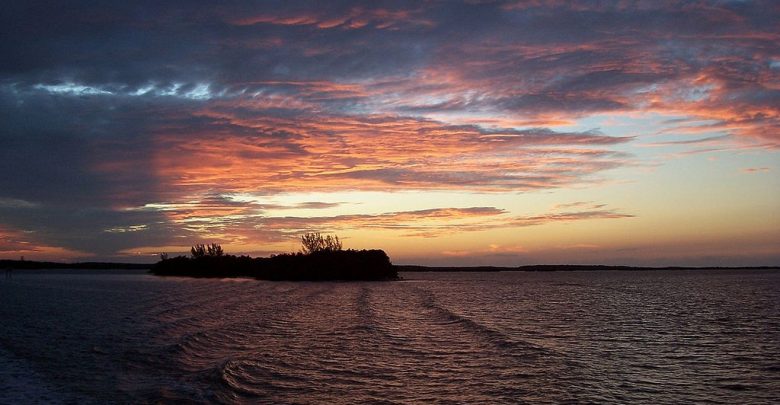 A truly gorgeous and unique park, Biscayne National Park is the perfect addition to any Florida getaway. The crystal clear waters, gorgeous plants, and abundant wildlife in this park allow guests to effortlessly reconnect with nature, relieving their stress and leaving them feeling relaxed and refreshed. Best of all, this natural attraction is just minutes outside of Miami, making it an easy nature getaway even if you prefer the majority of your vacation to be spent in the hustle and bustle of the city.
Of course, as is the case with any attraction or park, a bit of research is required to ensure you have the best time possible at Biscayne National Park. After all, it's always a good idea to know what to pack, what to see, and what exactly you're getting into. Therefore, we've taken the time to compile a list of things to know before you go.
Use these tips to do your planning, and you should be good to go!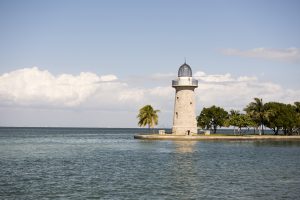 A Watery Wonderland
Perhaps the strangest thing about this park is that it's about 94% water. That's right, there is very little land to walk on in Biscayne National Park. For this reason, you'll want to plan on spending plenty of time on or in the water.
For us, this is just fine. The cool, clear waters are incredibly inviting. In fact, we can't imagine anyone turning down a day spent in, on, or near these sparkling pools and waves.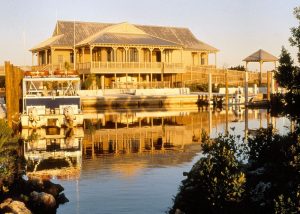 Awesome Visitor Center
Despite the fact that there's very little land available, the National Park Service made a point of building a visitor center. Yes, it is on dry land, but more than that it's an amazing place to learn something new, and is easily one of the best visitor centers offered by the NPS. Considering how good most of their visitor centers are, that's saying a lot.
The center offers a variety of exhibits, including some hands-on options that little ones tend to enjoy quite a lot. Additionally, the center has information on the various boat, snorkeling, and SCUBA tours offered in the park.
A gift shop is found in this building, as is information on the park's super fun Junior Ranger Program. Sometimes you'll even find park rangers giving talks or interacting with guests in other ways, something that can really enhance any trip.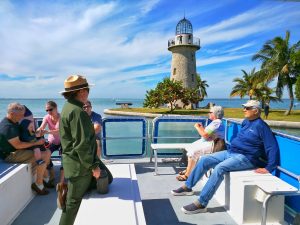 Super Cool Boat Tours
Boat tours are probably the most popular thing to do in the park. This is easy enough to understand. After all, most of the park consists of water, and swimming for an entire day-long visit would be tiring, to say the least. Luckily, there are plenty of really great boat tour options.
One of the best tour options takes guests on an hour-long boat ride to Boca Chita Key, where they can explore the island for a bit before returning. Other options include sailing, paddlecraft tours, and boat rides to Elliot Key.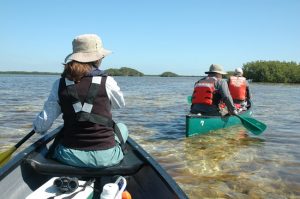 Self-Guided Tours
Of course, not everyone wants a guided tour. If self-guided is more your style, you might opt to use a kayak or other paddle-driven watercraft to do a bit of exploring on your own.
Those with their own kayaks, canoes, or paddle boats are welcome to use those. However, rentals are also available and super affordable, making this a great option for visitors on a budget.
When touring the waters on your own, be sure to practice safe paddling practices. According to the NPS website, these include the following tips:
"Paddle with a buddy. Have a float plan – let someone know where you're going, when you plan on returning, and who you're with. Check the weather – be prepared for wind, rain, and unexpected weather. Carry water, food and sun protection. Paddle within your experience level."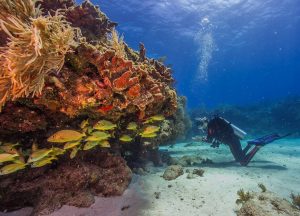 Amazing Snorkeling and SCUBA Diving
For some, viewing only what's on top of the water simply isn't good enough. That's where snorkeling and SCUBA diving step in. Because the park is home to several shipwrecks as well as some coral reefs, it is a wonderful place to get in some underwater viewing.
Snorkeling and SCUBA tours are available from a few different companies. Additionally, guests are allowed to enjoy these activities on their own in certain locations. That said, because the best underwater viewing locations are located far from shore, you'll probably want to invest in a tour.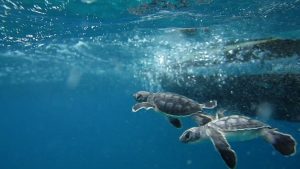 Wildlife All Around
Biscayne National Park is a protected piece of nature. For this reason, you can expect to see plenty of wildlife during your visit.
Many guests report seeing manatee activity, especially when visiting during the cooler months. Exotic birds may be sighted, and many people in kayaks and other paddle-driven craft have the chance to view rays swimming in the shallow waters of the Jones Lagoon.
Obviously, fish will also be seen should you choose to get in the water, and sea turtles are often spotted among them.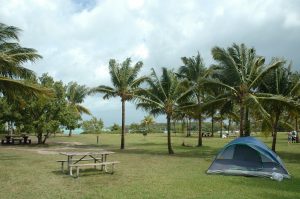 In-Park Campgrounds
Don't think one day is enough time to see it all? You're probably right. Luckily, there are two in-park campgrounds for those who want to spend the night surrounded by the amazing flora and fauna found here.
Both campgrounds are located on islands, meaning they have to be accessed by boat. Obviously, this means no RV camping is available. However, tent camping is a much more adventurous way to experience it all anyway.
The camping fee is $25 per night, which includes a boat ride to and from the campground. Both campgrounds have toilets available, but only one has sinks, showers, and drinking water.
We highly recommend reading the park website before your Biscayne camping trip.
There is so much to see and do at this amazing national park that we are 100% positive you'll find an amazing way to experience it. In fact, we recommend participating in a few different activities if possible. This will ensure you see a good portion of the natural wonders found here.