New York
You Must See these Incredible Waterfall Hiking Trails in New York
The Empire State has some of the most stunning waterfall paths in America.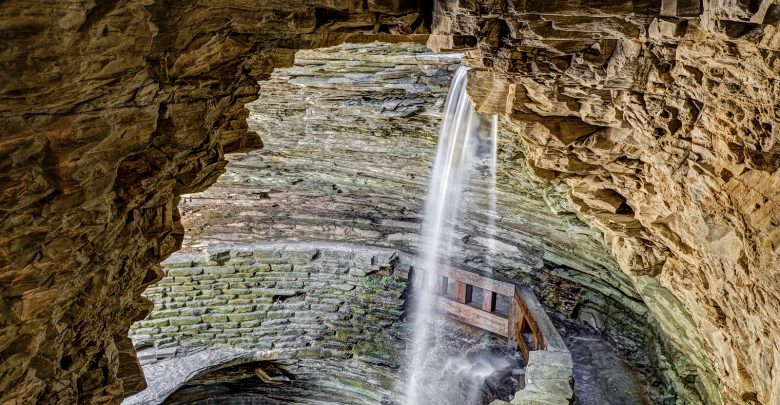 When many travelers picture New York, they immediately conjure up images of Manhattan and the iconic skyscrapers, museums, parks, and city life found there. While Manhattan is certainly a popular area to explore in New York State, it is a very small spot compared to the rest of the state which is home to natural beauties such as beaches, trails, mountains, and more. One of the most beautiful natural phenomena that any individual can enjoy are waterfalls, and New York is home to over two thousand of them scattered across the state. While some are small and gentle, others are large and impressive and many can be reached by hiking some beautiful trails. Visitors who spend time exploring New York State have plenty of waterfalls to choose from, but some are simply so beautiful and unforgettable that they must be hiked to and enjoyed. Here are the most incredible waterfall hiking trails in New York.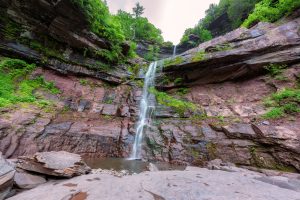 Kaaterskill Falls
The Hudson Valley in New York State is home to plenty of amazing hiking trails thanks to its plethora of parks and woodlands. The area is also very popular with travelers thanks to its proximity to Manhattan and the other boroughs, making it a great location to either spend a day exploring or much more time enjoying. The town of Hunter, in particular, is also popular for its mountain and outdoor activities including a busy trail that leads to a beautiful waterfall. Kaaterskill Falls features two levels of waterfalls as the first level drops into a shallow pool before spilling over onto another level below. Hikers who are looking to get close to Kaaterskill Falls are in for a short but steep hike totaling two miles round trip. With steep moments and staircases to conquer, this hike is quick but definitely intense at times.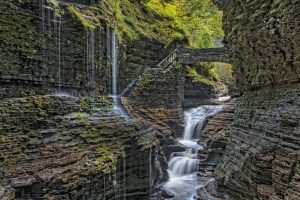 Rainbow Falls
The small town of Watkins Glen in Western New York is home to one of the state's most beautiful parks which boasts some of the most beautiful waterfalls around. Watkins Glen State Park is popular year-round thanks to camping, fishing, hiking, and more, and one of the park's most popular destinations is also very family friendly. The gorge trail brings hikers on a two-mile-long journey past several waterfalls that offer up picturesque moments in nature. The beautiful Rainbow Falls is a must-see natural beauty on the trail as it brings hikers behind another waterfall and across a charming bridge for the perfect view.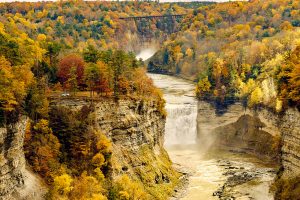 Middle Falls
Another very popular New York State Park can be found in the small town of Castile in Northern New York. Letchworth State Park is simply massive, spanning over fourteen thousand acres of hiking trails, quiet forests, and much more. The Genesee River flows through Letchworth State Park presenting many beautiful water views that hikers can explore. Perhaps the most popular view is that of Middle Falls which is the largest waterfall in the park. After a relatively short walk from a nearby parking lot, hikers can explore all angles of Middle Falls including a vista overlooking the falls and several paths surrounding the base of the falls. Combining easy access with beautiful views, Middle Falls is a great location for beginner hikers or those who simply would like to enjoy a leisurely walk.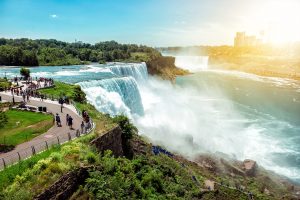 Niagara Falls
One of the most recognizable waterfalls in the world is located in upstate New York sharing a border with Canada. Niagara Falls is located in a town of the same name and features three unique falls. Horseshoe Falls is the largest of the three and straddles both countries whereas American Falls and Bridal Veil Falls are both completely on the American side. While there are plenty of scenic overlooks that visitors can enjoy, hikers who are looking to get as close as popular to the amazing waterfalls can enjoy a thrilling experience like no other. The Cave of the Winds brings hikers underneath American Falls to the Hurricane Deck where pounding water makes ponchos and sandals a necessity. This stunning view of underneath the falls allows hikers to experience an unforgettable image that will forever stay with them!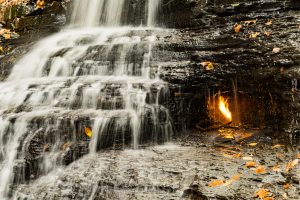 Eternal Flame Falls
Western New York is home to the beautiful town of Orchard Park which features the popular Chestnut Ridge Park. Inside the park is the Shale Creek Preserve and a completely unique and beautiful waterfall that absolutely must be enjoyed. Eternal Flame Falls emits a natural gas that produces a small flame near the base of the waterfall which never is extinguished. The combination of naturally flowing water and gently burning flame make for an amazing combination of nature that hiker will absolutely love seeing. The hike to the falls is just over one mile long and is moderately difficult with some inclines, but the view of External Flame Falls is absolutely worth the trek!