Florida
South Florida's Most Awesome Sights and Sounds
The best things to do in Miami - Fort Lauderdale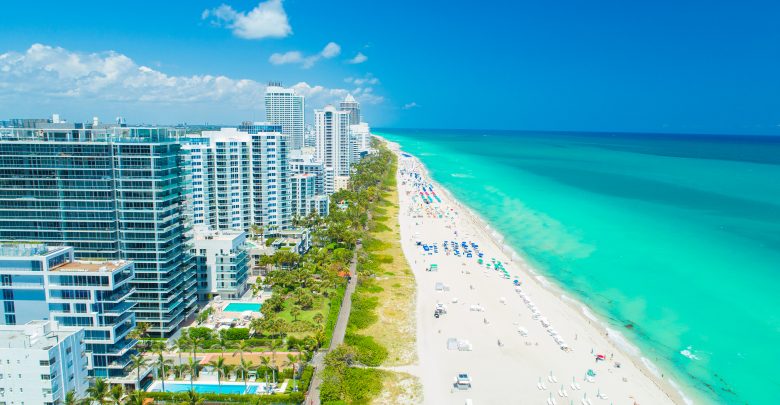 Fort Lauderdale and Miami are often referred to together. They are actually about 25 miles apart, with Fort Lauderdale being slightly north. Both are beach towns, and both are known for an active nightlife, fantastic weather all year long, and beautiful people. There is plenty to do in either city and activities for all ages. Here are some of the best things to do in the Miami and Fort Lauderdale area.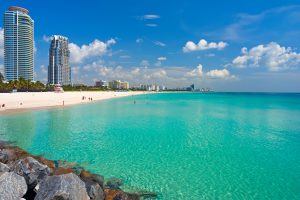 Beaches
One of the nicest things about the state of Florida is that you are never more than an hour or so from a beach. The beaches are all different, so you will want to visit more than one. In the Miami and Fort Lauderdale area, you will discover some of the most famous beaches in the country. In Fort Lauderdale, you'll find seven miles worth of Atlantic Ocean beaches. The sand is unspoiled and the water is clearer than you ever imagined possible. There are also plenty of water sports going on. You can participate in anything from windsurfing to scuba diving. On land, there is volleyball, rollerblading, and more. You might want to stop by Fort Lauderdale Beach Park. There's a playground, grills, outdoor showers, and a non-motorized boat ramp. Fort Lauderdale Beach Park is located at 1100 Seabreeze Boulevard, Fort Lauderdale, Florida, 33316.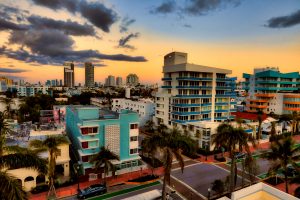 South Beach
Over in the Miami area, the most famous beach is South Beach. This famed beach is actually part of Miami Beach, not the city of Miami. The average high temperature in the winter ranges within the 70's, and even in the summer the breeze from the water makes the air temperature tolerable. There is more to South Beach (or SoBe as it is called locally) than just a beach. Much of the architecture is Art Deco, because the area needed to rebuild after a hurricane in 1926. If it is the actual beach that you are looking for, try Lummus Beach. Also known as Glitter Beach, this section of beach is perfect for young children, their grandparents, and every age in between. During the day you'll enjoy the clear blue water, and after the sun goes down you might find street performers who are entertaining beachgoers. You'll also want to check out Lummus Park, where you can play volleyball, rollerblade, or pick up something created by a local craftsman. Lummus Park is located at 1130 Ocean Drive, Miami Beach, Florida, 33139.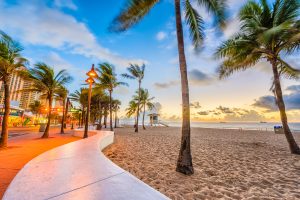 Las Olas Boulevard
Not too far from the beach in Fort Lauderdale you will find a different type of destination. Las Olas Boulevard is more than just a road. There are over 35 dining establishments, 120 shops, museums, galleries, and more. Las Olas means "the waves" in Spanish. You will want to take your time, browse, and see what is going on. The whole area really comes alive at night. If you want a different way to see Las Olas Boulevard, how about a gondola tour? Fort Lauderdale is sometimes called the "Venice of America", and there is no better way to experience it. For more information on Las Olas Boulevard Gondolas, call 800-277-1390, or 201-919-1999.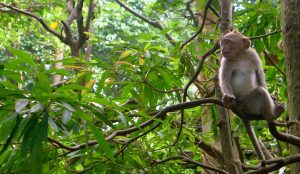 Monkey Jungle
You might think that a beach area would have plenty of attractions that are based on marine animals, and Miami and Fort Lauderdale certainly have their fair share. Miami is also home to some animals that you might not expect to find. Monkey Jungle dates back to 1935. The premise is that "humans are caged and monkeys run wild". The idea is to see the animals in an environment as close as possible to their natural habitat. You can visit the Wild Monkey Swimming Pool, Cameroon Gorilla Forest, and more. There are shows throughout the day, and you can purchase food to feed the monkeys. You won't actually touch them to feed them, you will put the food into a container and they will retrieve it. If you'd really like to get up close and also learn more about these magnificent creatures, sign up for the Rainforest Adventure Tour. Monkey Jungle has been thrilling guests for decades. It is found at 14805 SW 216th Street, Miami, Florida, 33170.

Jungle Queen Riverboat
Seeing Fort Lauderdale in a gondola is an intimate experience. If you'd like to see the area on a much larger scale, how about the Jungle Cruise Riverboat? Also in business since 1935, you can sign up for a variety of different cruises. You might want to take a 90-minute sightseeing cruise, or maybe you would prefer to make an evening of it. You can take a cruise that includes dinner and live entertainment. There are also cruises for holidays and special events. Jungle Queen Riverboat is perfect for any age. There have been over 18 million people who have already enjoyed seeing Fort Lauderdale on a Jungle Queen Riverboat cruise, because it is such a fun way to see the city. Jungle Queen Riverboat is found at Bahia Mar Yachting Centre, 801 Seabreeze Blvd, Fort Lauderdale, Florida, 33316. Reservations are highly recommended.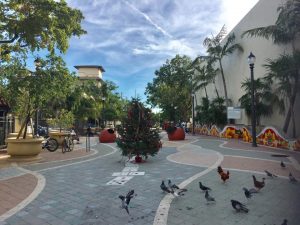 Little Havana
Many of the people who live in Miami are descended from those who at one point in time lived in Havana, Cuba. Many of the Cuban exiles settled in one part of Miami, and that is now known as Little Havana. The Cuban culture is evident throughout the neighborhood. In Little Havana, you can find plenty of delicious Latin food, as well as music and art. You'll truly feel as if you have left Florida and headed south while visiting. If you're in Miami on the last Friday of the month, you won't want to miss Viernes Culturales. The local arts and cultural scene is featured. Little Havana also has a Walk of Fame. That features nods to celebrities with ties to the area such as Gloria Estefan and Willy Chirino. There are also many popular festivals held in the area throughout the year, including the Calle Ocho Festival. Little Havana is located on the western side of Miami. It has been declared a national treasure by the National Trust for Historic Development.