Virginia
One of Virginia's Great State Parks: Pocahontas
Natural beauty, picnicking, camping and waterslides in Chesterfield, VA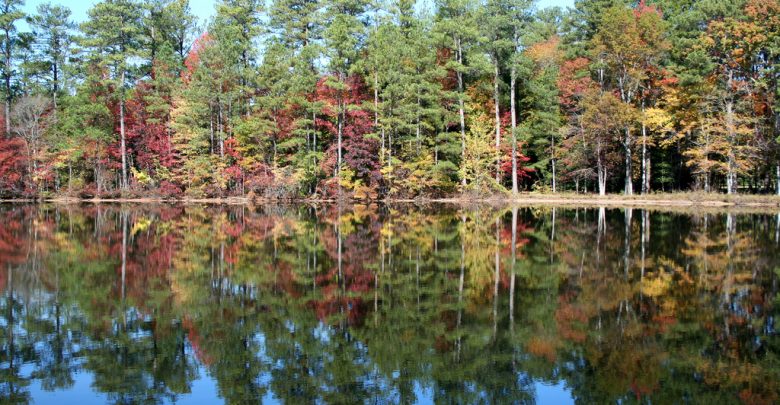 Pocahontas State Park is located in Chesterfield, Virginia. It is about 20 miles south of Richmond, the state capital. The physical address, if you are headed there, is 10301 State Park Road, Chesterfield, Virginia, 23832. Pocahontas State Park is open all year long, although it could close for extreme weather. Not all parts of the park are open year-round, there are seasonal closures. Once you see Pocahontas State Park, you will understand why it is popular with tourists and locals alike. You will want to spend a full day there, and maybe even longer.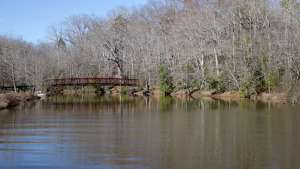 History
Pocahontas State Park is filled with history. It is named after the famous Native American, who once lived in Central Virginia. It was the first state park in the area, the land was donated in 1946. At the time it was also the largest state park in Virginia. For a time it was called Pocahontas State Park and Pocahontas State Forest. Now it is just known as Pocahontas State Park, although locals may still refer to it by either name.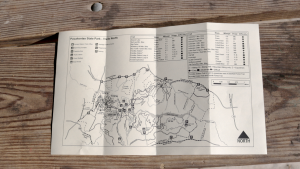 Layout
One of the things that might immediately strike you about Pocahontas State Park is the size. It is huge, it is almost 8,000 acres in size. Inside the park, you'll find both Swift Creek Lake and the much smaller Beaver Lake. Many of the park's activities take place at one of the two lakes.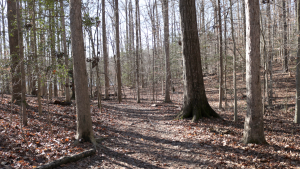 Trails
One of the reasons why people love Pocahontas State Park so much is because of the abundance of trails. There are 14 trails that total approximately 60 miles in length. There are trails for hiking, for biking, and for equestrians.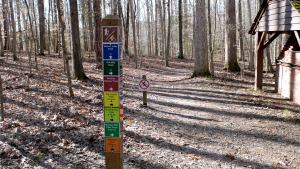 Over 25 miles of the trails are specifically for mountain biking, making it one of the best places in the state for the sport. Some of the trails are for both hiking and biking. One of the most popular trails is the Beaver Lake Trail. It consists of a 2.4-mile loop around Beaver Lake. Another one of the favorite trails is Blueberry Hill. At 3.9 miles, this biking trail is the longest in the park.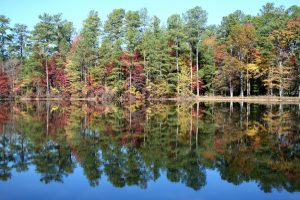 Boating and Fishing
If you'd like to spend a day on the water, Pocahontas State Park is a great place to do it. If you plan to bring your own boat, you'll need to stay on Swift Creek Lake. Electric motors are allowed, but gas-powered motors are prohibited. If you do not have your own boat, you can rent one seasonally. Rowboats, paddleboats, canoes, and kayaks are all available for rent. Fishing is also allowed in both of the lakes. Largemouth bass, catfish, and crappie are some of the fish that you might catch. If you plan to fish, you will need a valid Virginia fishing license.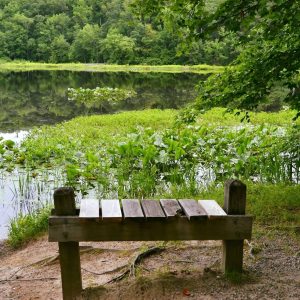 Seasons
No matter which season you plan to visit Pocahontas State Park, you will fall in love with how beautiful it is. While the area does not have a constant snow cover in the winter, there is a stillness and beauty to the park during the colder months. During the spring everything comes to life once again. There are plenty of wildflowers, adding color around every corner. By the time summer rolls around you will see plenty of wildlife on the trails. The summer months can be quite warm and humid, so if you plan to explore make sure that you have water with you. Arguably the best season to visit is during the fall. The leaves on the trees will change color, and those colors will be reflected in the water of the two lakes. You will want to have your camera ready because you will take pictures that will look like they belong on a postcard.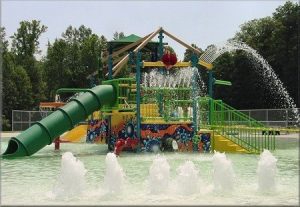 Aqua Center
While much of Pocahontas State Park centers around nature, there is one area that is definitely manmade. There is an Aqua Center that is quite popular with the local crowd. The Aqua Center features areas for the kids (including a kiddie pool), two water slides, leisure pools, and an activity pool. The Aqua Center is open seasonally, and there is an extra fee to use it.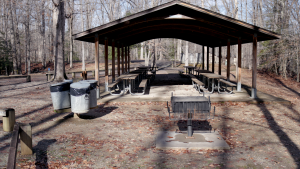 Picnicking
Another popular thing to do at Pocahontas State Park is picnicking. After all, hiking, biking, and swimming will make you hungry. There are picnic tables that can be used on a first-come, first-served basis. If you plan to be there with a group, you might want to consider renting a picnic shelter. You can rent a shelter for an entire day if you'd like. Some of the shelters have grills and drinking water. You will want to reserve your shelter in advance by calling 800-933-7275.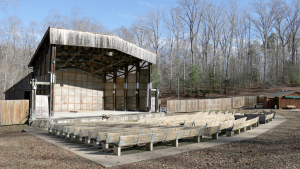 Heritage Amphitheater
Also at Pocahontas Stake Park, you will find the Heritage Amphitheater. This is a 2,000 seat outdoor venue. 350 of the seats are benches, and the rest of the seating is on the ground. Heritage Amphitheater hosts concerts, movies, and other events, especially during the summer months. In the past, there has been a series known as Pocahontas Live, which featured both local and nationally known bands. The concerts held in the Heritage Amphitheater are family-friendly, and food and beverages from outside vendors may be available.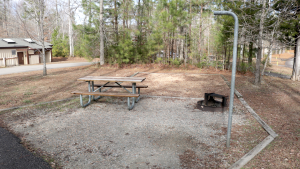 Camping
Many people do not want to spend only one day at Pocahontas State Park. There are plenty of camping opportunities as well. If you have a camper or a recreational vehicle, there are campsites with water and electric hookups, but no sewer. If you do not have an RV, you might want to stay in a cabin. There are six of them available, and they sleep up to four people. The cabins need to be reserved for a minimum of two nights. The cabins do not have kitchens, air conditioning, or bathrooms. There is a bathhouse nearby. If you want to take it down one level, think about reserving one of the four yurts. The yurts provide better protection than a tent, but they are not quite like a cabin. The yurts sleep three to four people, and there is a two-night minimum stay required. Call 800-933-7275 for more information or to make a reservation.