Florida
6 Awesome Beaches Within an Hour of Central Florida
Great spots on both coasts!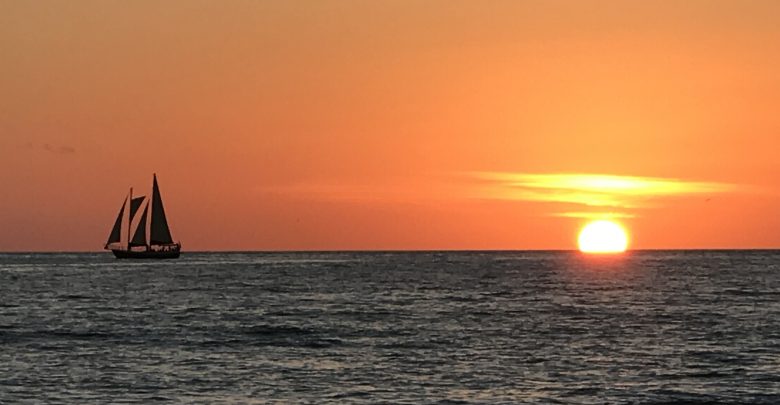 One of the best things about Florida is that you are never too far away from the beach. In fact, you're never too far away from several beaches! Central Florida has the luxury of being close to both the Atlantic Ocean and the Gulf of Mexico. If you are looking for an incredible sunrise you will want to be on the Atlantic, while the Gulf Coast has magnificent sunsets. Some people will watch both in one day, it's not that long of a drive across the state. Here are six of the best beaches that are about an hour or so away from Central Florida. They are in no particular order. Remember that "Central Florida" isn't an exact location, so the distance to the beach could be a little more than an hour, depending on your starting point.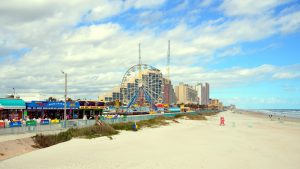 Daytona Beach
There is a good reason why Daytona Beach is billed as "The World's Most Famous Beach". There is always something going on! The sand is hard packed, and there are sections where people can drive on the beach. There is a boardwalk, carnival games, and even thrill rides. There's a bandshell where you can sometimes catch live music, a water park, and plenty of places to eat and shop near the water. The beach itself spans approximately 23 miles on the Atlantic Ocean. Daytona Beach is also the home of the Daytona International Speedway. Each March the city celebrates Bike Week, it's an annual event that has drawn bikers from all over the globe for over 75 years. If you're looking for peace and quiet, Daytona Beach might not be the best option, but if you love to be busy, it's a great choice.
Clearwater Beach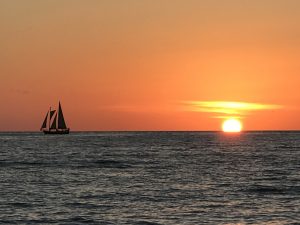 Clearwater Beach might take a little more than an hour, depending on where in Central Florida you are leaving from, but the few extra minutes will be worth it. As a Gulf Coast beach, you'll see the sunset over the water, and it might be the most incredible sunset you ever experience. The sunset is so important in Clearwater that there is a board on Pier 60 that will tell you what time it will take place that day. You can gather on the pier, watch it from the beach, or take a cruise and see it from the water. Stay after the sunset and enjoy the antics of the street performers in the area. There's more to Clearwater Beach than just the sunset. The white sand stretches for a little over two miles. There are several festivals held throughout the year near Pier 60. You might want to take a dolphin tour, go parasailing, or visit the Clearwater Marine Aquarium. It's the home of Hope and Winter, two of the most famous dolphins in the world. You might know them from the Dolphin Tale movies.
Canaveral National Seashore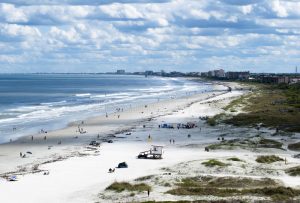 Cape Canaveral is the home of the Kennedy Space Center, and the region is also known as a port for cruise ships. That is just part of what you will find in the area. Cape Canaveral is also the home of Canaveral National Seashore. It's a national park that encourages you to "reflect on the Real Florida". It's the home of many endangered species. It runs for about 25 miles on the Atlantic Ocean, it's the longest piece of undeveloped land on Florida's East Coast. Swimming, hiking, and canoeing are just a few of the activities that you can enjoy. Canaveral National Seashore is also known as a sea turtle nesting area. Thousands of turtles hatch there each year. If you'd like to experience a beach that has been mostly untouched by the modern world, Canaveral National Seashore might be what you're looking for.
Cocoa Beach
If it's surfing that you're interested in, you might want to head to Cocoa Beach. The headquarters for Ron Jon Surf Shop is located here. It's the world's largest surf shop and they not only sell plenty of surf-related gear, but they also offer surf lessons. Cocoa Beach has about five and a half miles of Atlantic Ocean beachfront, and it is home to a famous pier that was built in 1962. The village features restaurants, plenty of shopping, and artist's studios. You can also visit the East Coast Surfing Hall of Fame. Each Easter there is a surfing festival that draws up to 100,000 visitors. If you're a classic sitcom fan, you might want to look for I Dream of Jeannie Lane. The name is a nod to the two times that the cast of the 1960's show visited the area and the return of Barbara Eden 27 years later.
Treasure Island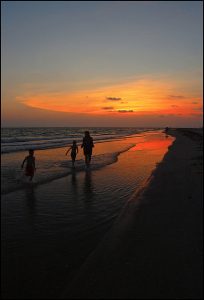 If you're looking for a small-town feel that is near one of the fastest-growing areas in the country, you might want to check out Treasure Island. This Gulf Coast town is near Tampa, but is much less intense. There are four miles of beaches, divided into three main areas. Treasure Island has become a popular beach wedding destination. It is another sea turtle nesting area, and you can sign up for a sea turtle walk so that you can learn more information. There is also a marina, and there are several boat ramps. The sunsets are spectacular.
Flagler Beach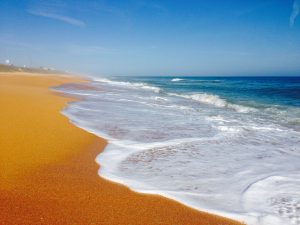 Flagler Beach is a little bit north of Daytona Beach, but you'll feel like you are thousands of miles away. There's a lot less hype and a more relaxed feel on this Atlantic Ocean beach. There's shopping, surfing, and a pier, but you won't feel like you're a tourist in this town. One thing that is nice about Flagler Beach is that there is free access to the beach, you won't even have to pay for parking. In fact, in many areas you can just park on the side of the road and walk to the beach. The beach itself stretches about 19 miles, and parts of it are pet-friendly. If you bring your pet, please make sure that you clean up. In many ways, Flagler Beach is a bit of a hidden gem, because it's not as well-known as some of the other Atlantic Coast beaches, but it's every bit as beautiful.