Alaska
The Best Way to Experience Alaska? Take the Train
Ideas and options for riding the rails through the Last Frontier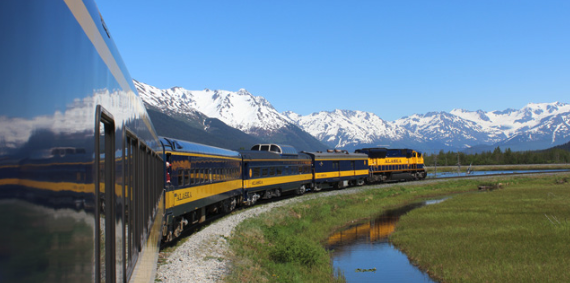 In most of the United States taking a train is a method of transportation. It can be for the commute to work, or it might be a way to get to a new place for vacation. That is not at all the case in Alaska. Instead, in Alaska, the train ride is a good part of the vacation. The Alaska Railroad covers 400 of the most scenic miles in the country. If you would like to see Alaska by train, here are some tips to make the most of your journey.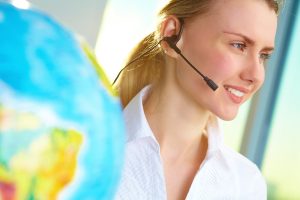 Talk to a Travel Agent
Unless you have a vast knowledge of traveling by rail, it is a good idea to talk to a travel professional. Find someone who is an expert on booking experiences in Alaska. Sometimes a travel agent will have deals available that the general public may not have access to, so this could help you to get a deal. Keep in mind that a travel agent might try to upsell you sometimes, but if this is a once in a lifetime vacation it might be worth it.

Book a Tour
There are plenty of tours that allow you to see a good part of the state of Alaska that include time on the Alaska Railroad. Some of these tours last as few as three nights, for others you might be gone a week or longer. The tours allow you to see Alaska by train, but you will also have stops in places like Denali National Park and Fairbanks. Some of the tours are themed, such as Gold Rush or Halloween. (The themed tours tend to sell out fast.) If you have never been to Alaska before, taking a tried and true railroad tour might be the best way to hit as many highlights as possible.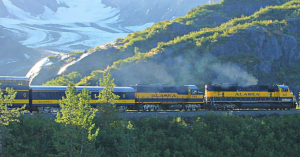 Plan Your Own Tour
If you do not like any of the itineraries that are available on the prepared tours, you can also make one yourself. This will require a lot more preparation on your part because you'll need to study the routes to know where you can go and when. Still, there is something special about being able to go at your own pace and visiting the places that are most important to you.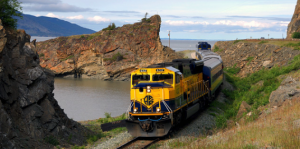 Day Trips
Day trips can be an important part of seeing Alaska by train. You could decide to take a guided hike, explore by air, or head out onto the water. There are many different adventures that wait for you, depending on the itinerary for your trip. If you book a tour the day trips might be included. If you make your own tour, you can decide which experiences are right for you.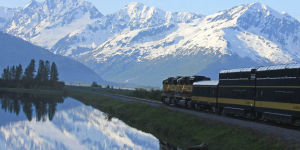 Think About Winter
While riding the train during the cold winter months in the most northern state in the country may sound like a crazy thing to do, it can actually be wonderful. The trains are less crowded during the winter, and the scenery is more beautiful than a snow day back home. There are two things that you will need to remember if you travel by train during the winter. First, research what you will need and pack accordingly. You do not want to miss an opportunity because you did not have the proper warm clothing. Second, the days are very short in Alaska during the winter. There won't be much daylight, but at night the stars will look like they go on forever.
The Cost of Food
Be warned that the food on the train is going to cost more than what you would pay for a comparable item at home. The price is more in line with what you pay at your local amusement park. You can bring food if you want, but do you really want to carry that around with you? Dining is part of the Alaska Railroad experience, so add a bit more to your budget and enjoy your meals.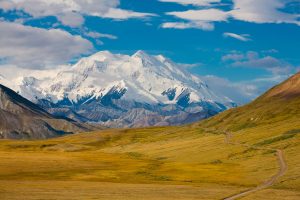 Have Your Camera Ready
You will want to always have your camera ready while on the train, because you never know what you might see. There is plenty of wildlife, and you will also be passing some magnificent scenery. If you have a real camera instead of just a cell phone, you will want to set it to a fast shutter speed. You do not want to end up with blurry pictures because of the motion of the train.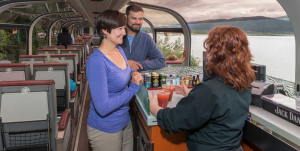 Book GoldStar Service
If you want to feel pampered on the vacation of a lifetime, book GoldStar Service for your Alaska Railroad journey. You will enjoy the best views because GoldStar has glass dome ceilings. All of the seats face forward, which will also give you better views. There is an inclusive dining area reserved for GoldStar guests. There is also a private bar, and each guest will receive two complimentary beverages. Tour narration is included as well. These are just a few of the reasons why you should consider GoldStar Service. If money is no object, or if you are traveling the Alaska Railroad with a large group, you might want to go one step further and consider looking into a private dome railcar. It's the ultimate way to see Alaska by train.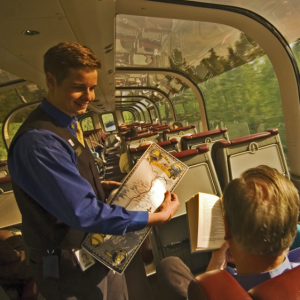 Try Adventure Class
If GoldStar Service is not quite within your budget, try Adventure Class instead. There are large picture windows, and you will have a confirmed seat. All of the seats in Adventure Class face forward. With Adventure Class you can also try for a seat in the Vista Dome Car. You will be able to purchase food and beverages in the Wilderness Cafe, and you can explore other Adventure Class cars as well. Adventure Class is a real step above the standard fare.
Combine With Alaska Bus Lines
Alaska Bus Lines travels to many of the same destinations that the Alaska Railroad stops at. Some people enjoy taking the train one way and the bus the other. That is a great way to see everything from slightly different perspectives. Make sure that your agendas work together. If you work with a travel agent, this could be something that you ask about.