North Carolina
You'll Find Hiking Happiness in the Tar Heel State
These 10 North Carolina trails are a must for outdoor lovers
The state of North Carolina is filled with natural beauty and offers a great variety of destinations to enjoy.  From the mountains filled with sweeping vistas, waterfalls, and woodland plants, to the middle part of the state with historic towns and farmland, to the coastal region with pristine beaches, swamps, and diverse wildlife.  Each part of the state has hiking trails to help outdoor lovers take advantage of all beauty and natural diversity of North Carolina.  Here are 10 you don't want to miss: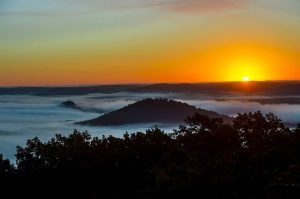 10. Morrow Mountain State Park
Morrow Mountain State Park is located in the central part of North Carolina near Albermarle, and features hiking trails and boating options on Lake Tillery.  Morrow Mountain is part of the ancient Uwharrie Mountains that span several counties in the North Carolina Piedmont.  Trails here range from beginner to experienced hikes of varying lengths with more than 15 miles of trails in total.  Views from the top offer nice vistas of the area, and there are lots of wildlife and woodland areas to explore along the trails.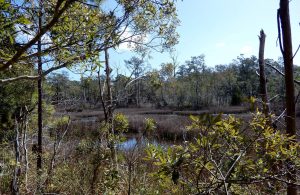 9. Carolina Beach State Park
While Carolina Beach State Park offers several recreational offerings, the 9 miles of hiking trails are also very appealing to nature lovers.   Located in the Southeastern part of the state near Wilmington, this park is on the Cape Fear River and part of the Intercoastal Waterway.  Along the trails, you will discover Pocosin Wetlands that are home to carnivorous plants like Venus Flytraps, Pitcher Plants, and Bladderworts.  The park offers some guided hikes to explore the Carnivorous Plant habitats.  One of the park's trails takes you through a variety of Coastal habitats including forests and swamps and ends at Sugarloaf Dune, a large sand dune geological feature that pre-dates colonial times.  Most of these trails are flat and easy hikes for outdoors enthusiasts, but those carnivorous plants don't eat all of the bugs, so it is advised to use bug repellant.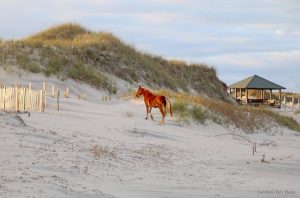 8. Currituck Banks Reserve
Let's continue our hikes on the opposite end of the North Carolina Coast, the Northeastern portion near Currituck on North Carolina's Northern Outer Banks.  Located along Highway 12 in Corolla, the Currituck Banks Reserve is a Coastal Estuarine Reserve with 965 acres from the sound to the ocean.  It is an undisturbed barrier island with a unique estuarine system.  There are handicap accessible trails along a boardwalk through a maritime forest with signage, or you may choose to hike the more primitive trail to the sound.  Either way, you are rewarded with beautiful views of the Currituck Sound at the end, and a glimpse into this special ecosystem along the way.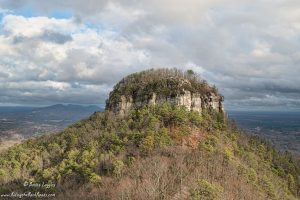 7. Pilot Mountain State Park
Pilot Mountain State Park, located in Surry County, North Carolina, offers two areas of hiking opportunities for visitors.  There are 7 trails in the Mountain section ranging from easy to strenuous, with several moderate options.  There is even a kid-friendly trail with children's activities.  The popular Jomeokee Trail offers a moderate hike that crosses over to the iconic Big Pinnacle and circles its base before returning to the trailhead.  Views from the trail overlook lots of farmland as well as larger cities in the distance.  The Yadkin River Section trails take visitors along the river at the base of Pilot Mountain.  Pilot Mountain is a popular day trip destination for residents of the Piedmont.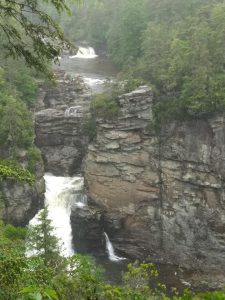 6. Linville Falls
If you are looking for gorgeous waterfall views look no further than the trails around Linville Falls which are easily accessible from the Blue Ridge Parkway.  There are easy to moderate trails that offer different vistas of the three-tiered falls.  The Erwin's View Trail is about 1.6 miles easy to moderate round trip offering 4 overlooks of the falls and the surrounding area. This is one of my family's favorite trails because it is a good fit for varying ability levels, and the views are a huge payoff.  Linville Falls is part of the Linville Gorge which is sometimes called the "Grand Canyon of the Southern Appalachians."  The trails are part of the Blue Ridge National Park.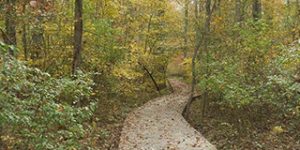 5. Haw River State Park
Located in Central North Carolina in Brown's Summit, Haw River State Park offers several recreational activities for visitors.  "The Summit" has over 1400 acres at the headwaters of the Haw River.  Three hiking trails are available ranging from .43 miles to 1.42 miles allowing hikers to enjoy the flora and fauna of the area which includes migratory waterfowl, songbirds, a Piedmont forest, a floodplain swamp, and wetlands.  The park also features the Summit Environmental Education Center that offers programs to adults and children with hands-on immersive programs in the natural environment.
4. Croatan National Forest
Croatan National Forest is 160,000 acres administered by the USDA Forest Service.  Located in Havelock, NC, this is the only true coastal forest in the East, and has three borders of water including the Bogue Sound.  Exploring the area you will encounter pine forests, saltwater estuaries, pocosin swamps, and bogs, along with wildlife varying from ospreys to black bears.  Croatan National Forest offers both day hiking along several diverse trails, along with backpacking.  Visit the Forest's website to get directions to specific trailheads, and for updates on trails that may be closed due to weather or other circumstances.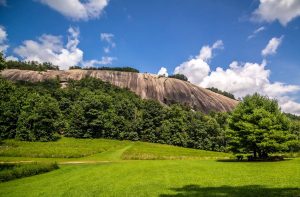 3. Stone Mountain State Park
Stone Mountain State Park in Roaring Gap is one of my family's favorite day trips for a hike . . . but there are so many recreational activities to be found here.  18 miles of trails traverse the area around the massive granite dome of Stone Mountain.  The trails range in ability levels and encompass various sites and experiences.  You'll see gorgeous mountain views, waterfalls, wildlife, as well as the human effect on the area from destroyed prohibition era liquor stills to the Hutchison Homestead, a 19th Century Farm.  Backpacking is also an option, and portions of the Stone Mountain trails are part of North Carolina's Mountains to the Sea Trail system.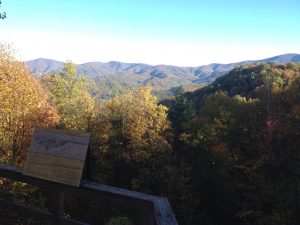 2. Roan Mountain
Roan Mountain is a range that spans the North Carolina-Tennessee border with gorgeous Catawba Rhododendrons that paint the area purple with blooms in mid-June.  Ranging from easy to strenuous hikes, Roan Mountain's trails include portions of the Appalachian Trail.  In addition to the Rhododendrons, you'll find several balds that you can reach with a moderate hike like Round Bald—the grassy bald is perfect for a picnic after your hike.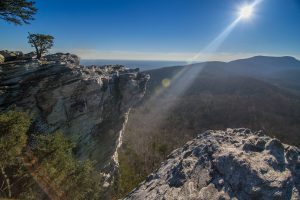 1. Hanging Rock State Park
Hanging Rock is another great day trip for people living in the Piedmont, and rewards you with fresh air, moderate hikes/climbs and some spectacular views of the area.  20 miles of trails, along with other recreation activities like kayaking and biking make this a great weekend destination as well.  Views include sweeping vistas from high atop the rocks, waterfalls, a cave, and beautiful mountain forests.  Hanging Rock State Park is well worth the trip to Stokes County to enjoy all of its natural beauty and well-maintained trails.
What are your favorite spots for a hike in North Carolina?