New Jersey
Hungry for a Sandwich? Try These New Jersey Favorites
Grab these famous eats of the Garden State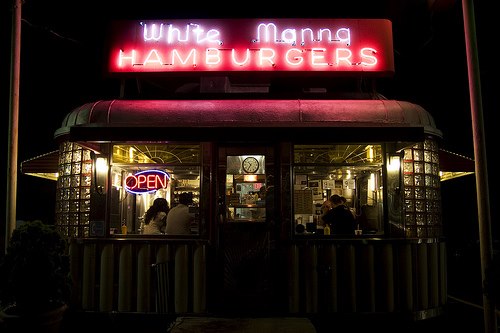 Sandwiches are a convenient way to dine on the road. When you are visiting the Garden State, you need to eat like a local. This state is famous for fried hot dogs, Taylor ham rolls, and roast beef sandwiches. If you are looking for the best of New Jersey, check out these spots and grab yourself a bite.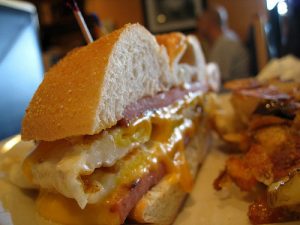 Taylor Ham, Egg, and Cheese Sandwich
Taylor ham has a legendary status with New Jersey natives. Depending on your location, some New Jersey residents may refer to it as a pork roll. Diners across the state serve up Taylor ham sandwiches on a daily basis. Spices, sugar, and salt combine to season this processed pork product. At breakfast time, you can find this New Jersey delicacy served alongside sausage and bacon. Remember that not all pork roll products contain Taylor ham though. The salty pork sandwich is often hailed as the unofficial sandwich of the Garden State. People are loyal to their Taylor ham sandwich makers too. When you are in the state, you must grab yourself a Taylor ham sandwich. Sunrise Bagels in Montclair serves up plenty of Taylor ham rolls throughout the day. You can grab a grilled slice of Taylor ham with a scrambled or a fried egg on top of a baked bagel. If you want to mix things up, order a roll on a rainbow-colored bagel.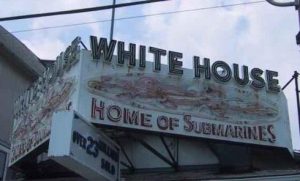 White House Special
The Jersey Shore is one of the most visited places in the Garden State. White House Subs have been serving up legendary sandwiches on the Boardwalk since 1946. You can find their locations throughout the state. If you are looking for the original, head over to Atlantic City. Patrons can get their favorite meats and cheeses stuffed into a freshly baked bread loaf. The White House Special is a must for any visitor at this location. This special Italian sub has extra servings of provolone, ham, capicola, and salami.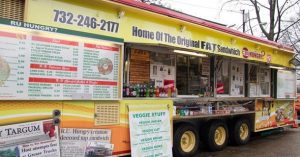 The Fat Sandwich
Fat sandwiches are a rite of passage for many people in New Jersey. Hungry college students and ravenous Rutgers football fans have made these sandwiches famous. Where can you find a fat sandwich? Wherever there is a grease truck roaming around the streets. R U Hungry is the most famous of all these trucks. This establishment has been creating fat sandwiches since 1979. The menu started out with a roll stuffed with tomato, lettuce, fries, and a cheeseburger. Today, their menu has over thirty fat sandwiches and six vegetarian options. Names like the Fat Darrell (chicken fingers, French fries, mozzarella sticks, and marinara sauce) and the best seller -the Fat Knight (cheesesteak, chicken fingers, French fries, marinara sauce, and mozzarella) complete the menu. If you are looking to get a true New Jersey experience, try the Fat Romano. It has a little bit of everything with a cheesesteak, egg, beef salami, tomato, lettuce, French fries, mayo, and ketchup. These sandwiches are not for those looking for a little nosh. When you are in New Brunswick, get in line and grab a true New Jersey original.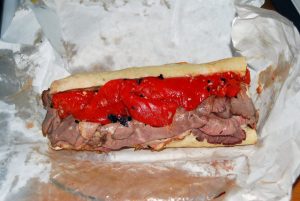 Roast Beef and Fresh Mutz
Hoboken is the home of Frank Sinatra, baseball, and fresh mozzarella. If you want to blend in with the locals, make sure you call mozzarella by the nickname "mutz." This town takes pride in its fresh mozzarella. You find many delis around town serving up freshly made cheese.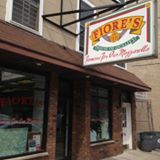 Fiore's is one of the best mutz makers in town. Since 1903, patrons have lined up for a taste of homemade mozzarella. Homemade sandwiches are one of the most popular ways to enjoy mutz. The Roast Beef and Mozzarella is a favorite at Fiore's. The creamy and salty cheese blends perfectly into the freshly carved meats and veggies. If you are looking for a snack while exploring the town, grab a pound of the cheese too.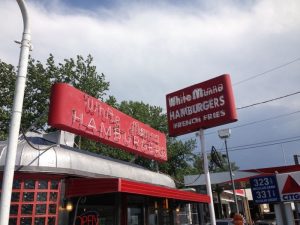 White Manna Burger
Every state has their own "best burger" joint. New Jersey is no exception. White Manna Hamburgers beats all of the competition. They have been serving award-winning burgers since 1946. You may have even watched a television special or two about the place. Their specialty is a slider-type burger cooked with onions and cheese. These made-to-order burgers are placed on top of a fresh potato roll. You can cap off the meal with a handmade shake and crinkle-cut order of fries. Whether you are a local or tourist, a stop in Hackensack is not complete until you eat here.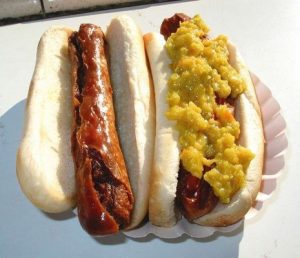 The Ripper
While you can make an argument that a hot dog is not a sandwich, there is no reason not to try The Ripper at Rutt's Hut. Since 1928, this roadside shack has been perfecting their hot dogs in Clifton. They have created a frying process that makes the casings split and crack. When the dogs have finished cooking, they looked ripped apart. That's how the "Ripper" nickname was born. Rutt's Hut hot dogs all have a little snap when you bite into them.  Their relish condiment is another famous offering of this establishment. The relish contains Rutt's secret blend of mustard and various spices.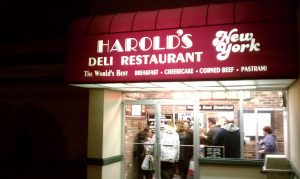 The Giant Deli Sandwich
New York is not the only state with a delicious selection of delis. Harold's New York Deli in Edison has been serving up massive portions of corned beef, pastrami, and roast beef. If you are hungry, this is the place for you. The classic Jewish deli has a big menu with a wide variety of meats and cheeses. For those wanting to eat like a true local, you should choose their famous "Abe Lebewohl." This triple-decker sandwich has double helpings of corned beef, pastrami, Russian dressing, and coleslaw on rye bread. You might want to bring your friends; this sandwich can serve six to eight people.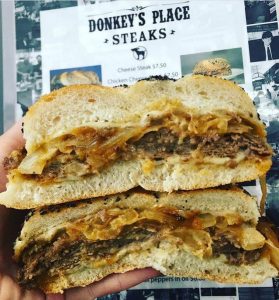 Cheesesteak
Think Philadelphia is the only home of the cheesesteak? You may want to think again. Since 1943, Donkey's Place serves one of the best cheesesteaks in the Garden State, and possibly the whole country. Many national and local news outlets have featured this Camden restaurant in the spotlight. Their cheesesteaks rank high on everyone's list. When you are there, grab a beer and enjoy their cheesesteak served on a poppy seed bun. You can add some onions and hot peppers for an extra kick.