Georgia
The Perfect Island Getaway in Georgia
Our suggestions for how to best spend a weekend on Jekyll Island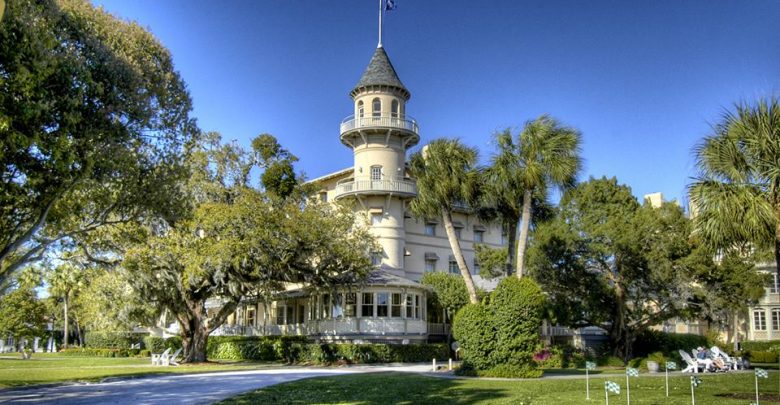 When I want to get away from it all, one of my favorite escapes is Jekyll Island, Georgia.  One of Georgia's Golden Isles, Jekyll Island is a State Park and offers so many great opportunities for a weekend (or longer visit).
History
Jekyll Island got its name in 1733 from General James Oglethorpe honoring Sir Joseph Jekyll his financier in England.  The island's early history was a hunting ground for Native Americans living in the area, with the first permanent settlers being English settlers.  Major William Horton established a plantation on the island, and the ruins of his home can still be visited.  Following his death, the island continued to be used as a plantation for Sea Island Cotton through the Civil War.  In the 1880s the island was purchased by the Jekyll Island Club whose members included Gilded Age industrialists and leaders like J.P. Morgan, Joseph Pulitzer, William Vanderbilt, and others.  They established a club and built residences around it as a vacation resort.  The Jekyll Island Club stands today as a resort for guests, along with many of those private residences that serve as hotel buildings, museums, and shops.  In 1947 Jekyll Island was sold to the State of Georgia, and luckily for us, we can all enjoy its many recreational opportunities—even if we are not millionaires.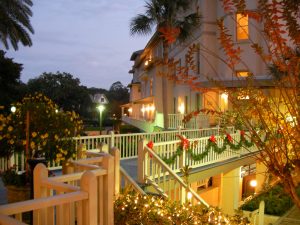 Where to Stay
Jekyll Island offers a variety of activities for its visitors, but the first thing you need to know is where you are going to stay.  Once you get a taste of the island's enchanting atmosphere with hundred-year-old moss-draped Live Oaks, huge expanses of sandy beaches, and romantic historic homes you are not going to want to leave!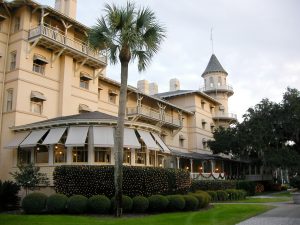 Many chain hotels are on the island, but the Jekyll Island Club offers you the opportunity to pretend you are a Rockefeller if only for the weekend.  The Club also operates a newly constructed resort right on the beach, the Jekyll Ocean Club.  On a recent visit, my husband and I stayed in the Sans Souci building of the Jekyll Island Club Resort.  Our historic room was well appointed and had access to a huge porch overlooking the Club and the River with nice breezes.  Guests of the Jekyll Island Club can access the beach at the Jekyll Ocean Club where there are additional amenities including beach chairs for guests.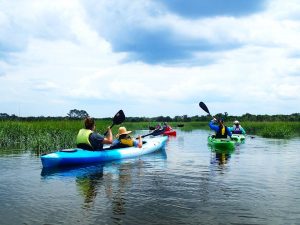 What to Do
With your weekend accommodations established you'll want to find activities.  If you are looking for adventure and to learn more about the natural beauty of Jekyll Island I would recommend taking to the water with a guided kayak tour.  My husband and I signed up for a guided tour with the Tidelands Nature Center, and our time spent in the Intercoastal Waterway and tidal creeks was fascinating.  We saw dolphins frolicking and feeding, a manatee coming up the waterway, and lots of birds including a beautiful pink roseate spoonbill (my new favorite water bird).  We spent a couple of hours kayaking around and loved every minute of it.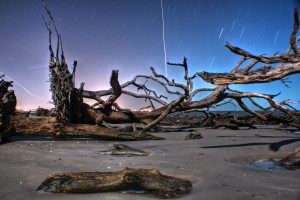 If you are looking for other ways of exploring the island, Jekyll features lengthy bike paths that take you all over the island from the Driftwood Beach to the historic Club area, and all around the beach.  We encountered the historic Horton House ruins, untouched forest areas of the island, nearly deserted beaches, and marshlands teeming with wildlife.  You can bring your own bikes, or rent them there.  Another great option is to do a guided horseback tour of parts of the beach.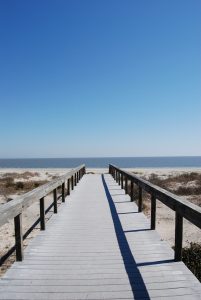 The Beaches
If you are looking for a truly relaxing beach getaway, Jekyll Island has miles of wide, sandy beaches.  In some of our bike explorations, we found stretches of beach with nearly no one in sight.
I highly recommend "scheduling" some downtime to relax on the beach with a good read (I recommend something set in a nearby area by author Dorothea Benton Frank or Mary Kay Andrews—her High Tide Club is particularly appropriate).  If you are traveling with children splashing and swimming in the ocean is also a great way to spend some Island time.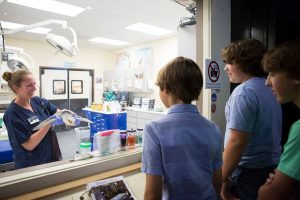 Local Attractions
Jekyll Island has several attractions that you will not want to miss.  The Georgia Sea Turtle Center is located near the Jekyll Island Club, and it is a rehabilitation facility for sea turtles as well as a museum.  Here you can learn about Sea Turtles, conservation and protection, and visit the facility where the turtles are recovering to be released back into the ocean.  If you time your visit just right you may be able to see them releasing a turtle back into the ocean after successful treatment.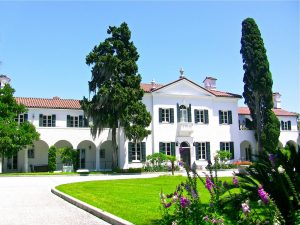 Historic Homes
Are you a history buff and would like to learn more about the history of the Island from the late 19th Century-early 20th Century when the Jekyll Island Club was in its heyday?  Then you can visit the Jekyll Island Museum, or take one of their trolley tours.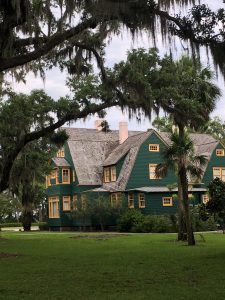 You'll get to visit a few of the historic homes that are preserved as house museums, while learning more about the club and its members.  Interpretive signs in the area also allow you to learn more if you are walking through the Club, or riding through on your bikes.  In the area of the Club, you can also find some cute boutique shops housed in some of the historic buildings, along with an art gallery.   Not to mention some top-notch restaurants.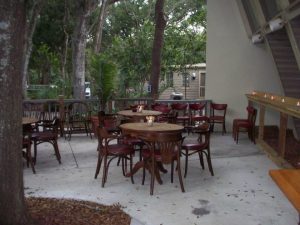 Where to Eat
And speaking of restaurants, you'll want to make plans because there is plenty of fresh, local seafood to enjoy on Jekyll Island, and lots of creative chefs preparing it.  The Driftwood Bistro is a traditional favorite and has some amazing wild Georgia shrimp prepared the way you want them, along with great choices for sides (Lynn's Squash Casserole is yummy), but save room for Georgia Bourbon Peach Cobbler for dessert.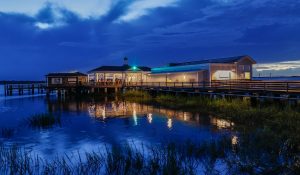 The Wharf is located at the Jekyll Island Club right over the water offering some amazing views and great dishes (try the Shrimp & Grits), likewise Zachry's Riverhouse is a great restaurant to add to your list.  If you are looking for something fancy with a historic flair the Jekyll Island Club's Grand Dining Room is the perfect place, especially for a celebration.  I also highly recommend taking a trip across the Sidney Lanier Bridge to St. Simon's Island for a meal at Southern Soul Barbecue.  This place is the home to absolutely amazing smoked meats (the brisket may be my favorite, but the pulled pork is fantastic too—luckily you can get more than one), and some of the best "Soulful Sides" (my picks are fried okra and mac & cheese).
Depending on the time of year you visit you can also take part in some great festivals on Jekyll Island.  The Shrimp & Grits Festival is held in late September, around Christmas they have some great family-friendly events, in the winter you can hunt for Island Treasures, and the Sea Turtle Center hosts a Turtle Crawl race in March, among other events.
I highly recommend Jekyll Island, Georgia as a destination the next time you need a beach escape.