Florida
You Must See Florida's Most Amazing Natural Wonder
The Everglades -- An amazing place to explore
The Everglades are, in our opinion, Florida's most amazing natural wonder. In fact, this incredible park is pretty high on our list of the best national parks in the entire country. The unique landscape found here makes it a truly incredible place to see. It also makes for the ideal habitat for a number of gorgeous and fascinating creatures, some of which are rarely seen elsewhere in the US.
Clearly, we really appreciate this beautiful park, and we believe everyone should see it at least once in their lives. Therefore, if you're looking for something to do in southern Florida, this should most certainly make its way into your plans.
That said, while any trip to Everglades National Park is likely to be amazing, there are some things you should know to ensure your visit is as wonderful as possible. Here's what you should know before you go.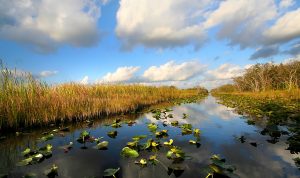 Keep Wet Season in Mind
First and foremost, you'll want to know that in the Everglades, not all seasons are created equal. In fact, what would normally be considered the "tourist season" is not the best time to visit this park at all.
You see, from May through November, the park is in its wet season. During this time, the whole place is very hot, muggy, and even wetter than usual. There are daily rainstorms and the water levels rise, causing many of the local animals to disperse. Lastly, because the rainy season is much less accommodating weather-wise, many of the ranger-led programs are called off.
Obviously, this season is not the best time to visit. However, if you can only visit during the summer, go for it. It's better to see the park during the rainy season than not to see it at all.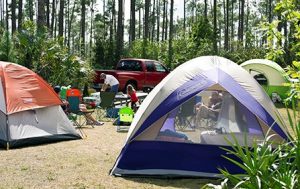 Camp in the Park
Spending a day in the Everglades is great, but spending a few days is even better. For this reason, we highly recommend camping in the park if at all possible. This will help you to fully immerse yourself in the glorious nature around you, making your experience even more magical.
The park actually offers a few different camping options. For those who enjoy camping in comfort, the two campgrounds are your best set. These include Long Pine Key Campground and Flamingo Campground. Both of these options offer drinking water and flush toilets, and a number of other typical campground amenities, as well as both tent and trailer spots.
Flamingo Campground is open year-round and even has some electric hookups available. Meanwhile, Long Pine Key Campground closes for the winter season and does not have any electricity available to guests.
Of course, some people prefer backcountry camping over the comfort of staying in a campground. Lucky for them, this is also an option. A backcountry camping permit is required and can be obtained at the visitor center.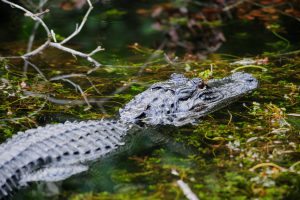 See Amazing Animals
One of the best things to do at Everglades is checking out the local wildlife. There are gators galore, and on some days guests even have the opportunity to hold a baby alligator. Other animals you might see include manatees, water birds of all kinds, and the elusive Florida black panther.
You can catch glimpses of these beautiful creatures by driving, hiking, or boating through the park, and the more time you spend there, the better chance you have of seeing some really cool animals. Just be sure to give these wild animals their space for the safety of all involved.
Check Out Ranger Programs
In addition to self-guided tours of the park, there are also plenty of ranger-led programs available. These include talks, guided hikes, and more—each of which is extremely informative and fun.
To learn when ranger-led programs are scheduled during your trip, be sure to visit a visitor center first thing. This will give you the opportunity to become oriented in the park and plan your visit in such a way that you get to see and do everything that interests you.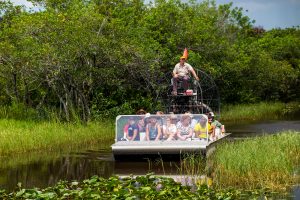 Hop in a Boat
Because this park is so very watery, one of the best ways to see it is by boat. Luckily though, you don't have to own your own boat. There are plenty of private airboat tour companies offering tours to anyone who'd like to see the park from a different point of view.
Additionally, guests will have opportunities to rent kayaks and other paddlecraft, meaning you can take a self-guided tour over the vast waters of the Everglades.
Go on a Treasure Hunt
Nearly every national park has some pretty great geocaching opportunities, and the Florida Everglades are no exception.
Therefore, whether you're an avid geocacher, or someone who simply enjoys a good treasure hunt, you will want to make time for a long hike and a search for lost treasure. This will provide your group with plenty of bonding time, opportunities to explore paths you may not have noticed otherwise, and an amazing feeling of accomplishment once you've succeeded in your goal.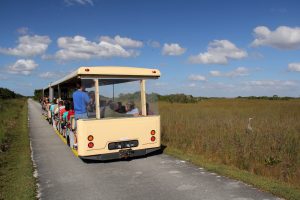 Take a Ride
For those who prefer land tours over boat tours, but don't want to hike for any reason, a tram tour is the perfect answer. Tram tours run daily in the Shark Valley section of the park and are run by Shark Valley Tram Tours. The guides for these tours are fabulous and provide plenty of interesting information during the ride, meaning you'll leave well informed about the Florida Everglades.
That said, if you plan on visiting during the busy season or on a weekend, we highly recommend booking tickets in advance in order to ensure you have a seat.
Knowing these simple tips will help you head into a visit to the Everglades with confidence and a good idea of what to expect. Keep them in mind while doing your planning, and remember to have a wonderful time!